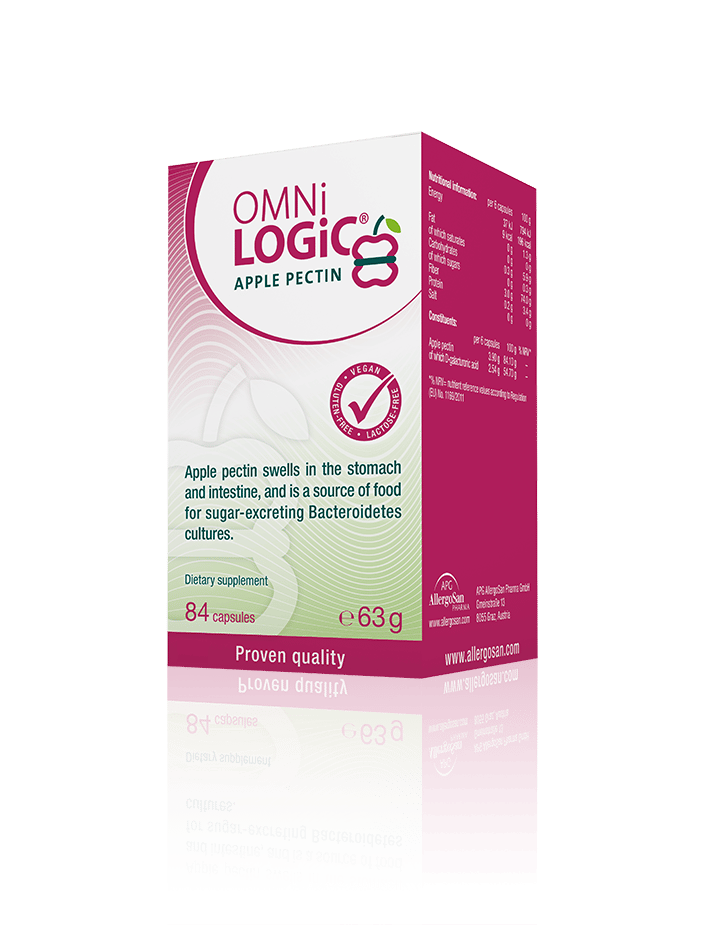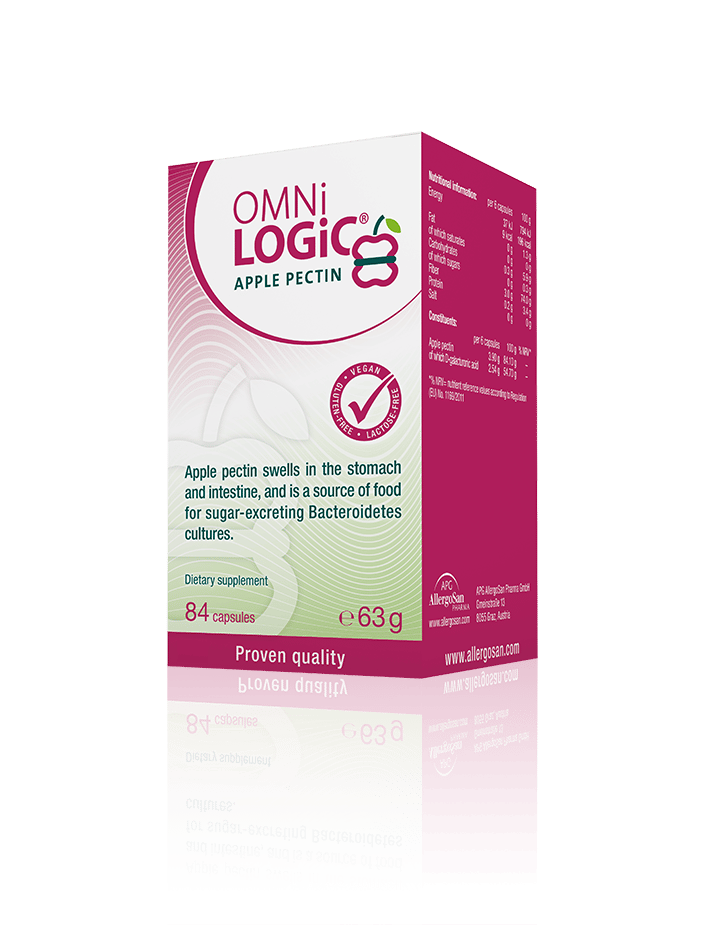 OMNi-LOGiC® APPLE PECTIN
Support your weight management
OMNi-LOGiC® APPLE PECTIN contains apple pectin – the optimal food source for Bacteroidetes. These are the bacteria that support the excretion of sugar from the body. However, these bacteria don't only help people who are unhappy with their figure. If there are too few Bacteroidetes and too many Firmicutes in the intestines, then we absorb enough sugar to actually harm the body.
Information
Function
Interesting facts
Recommended use
Composition
Nutritional information
Ingredients
Package size
Online Shop
Information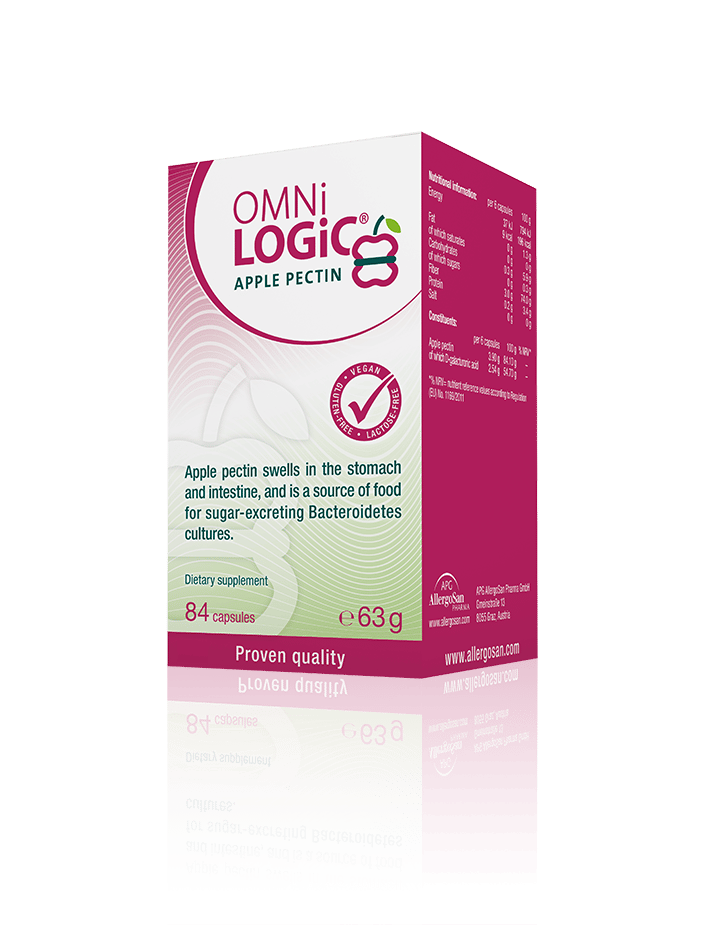 Our intestinal bacteria perform numerous tasks, including food digestion. The intestinal bacteria can be divided into two major groups: The Bacteroidetes and Firmicutes. In a healthy intestinal flora, these two groups balance each other out in an optimal ratio of 1:1, which means that there are approximately the same number of bacteria from both groups in the intestines.
However, this intestinal balance is often disturbed in overweight people, with the Firmicutes gaining the upper hand and shifting the ratio 2.000:1 in their favour. In other words, the intestines contain 2.000 times more Firmicutes than Bacteroidetes!
Firmicutes have the special ability to break down foods that humans usually can't digest (i.e., so-called dietary fibres and complex carbohydrates). This leads to an excess of easily digestible carbohydrates (much more than in an intestine with the optimal bacteria ratio), which means that we also then absorb more calories. This "hidden" intake can easily add up to 200 calories more every day!
Furthermore, this bacterial shift towards the Firmicutes can take on a life of its own: The more carbohydrates (e.g. sugar, pasta, etc.) we eat, the more comfortable the Firmicutes feel, and the better they can multiply in the intestines – a vicious circle has begun!
Function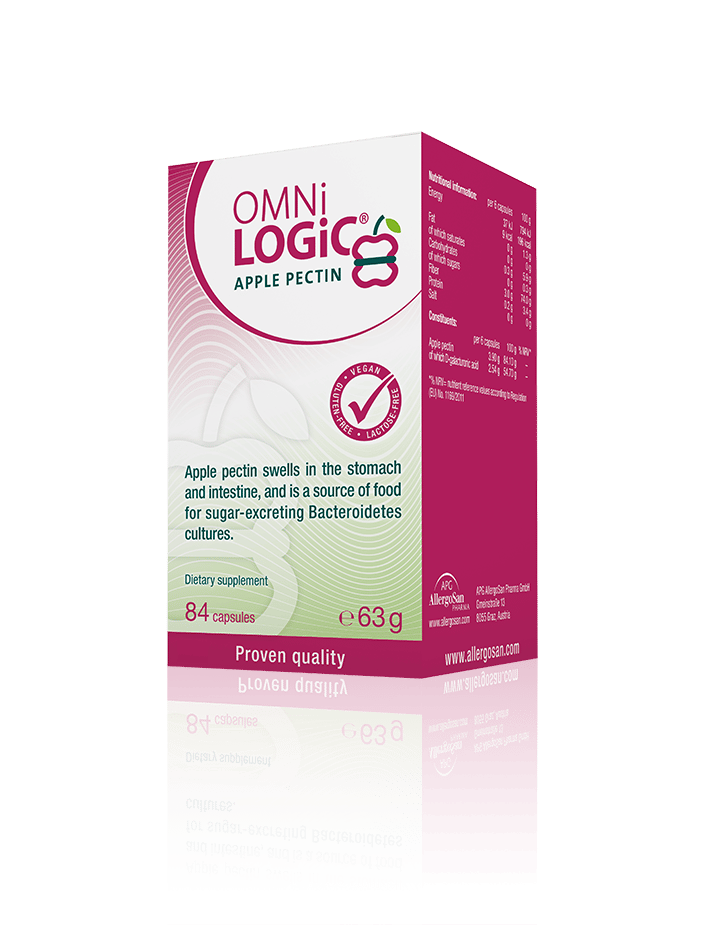 Apple pectin is the optimal food source for Bacteroidetes – the bacteria that promote the excretion of sugar from the body. If enough apple pectin is available for the Bacteroidetes, they can multiply and sustainably settle down in our bodies.
Interesting facts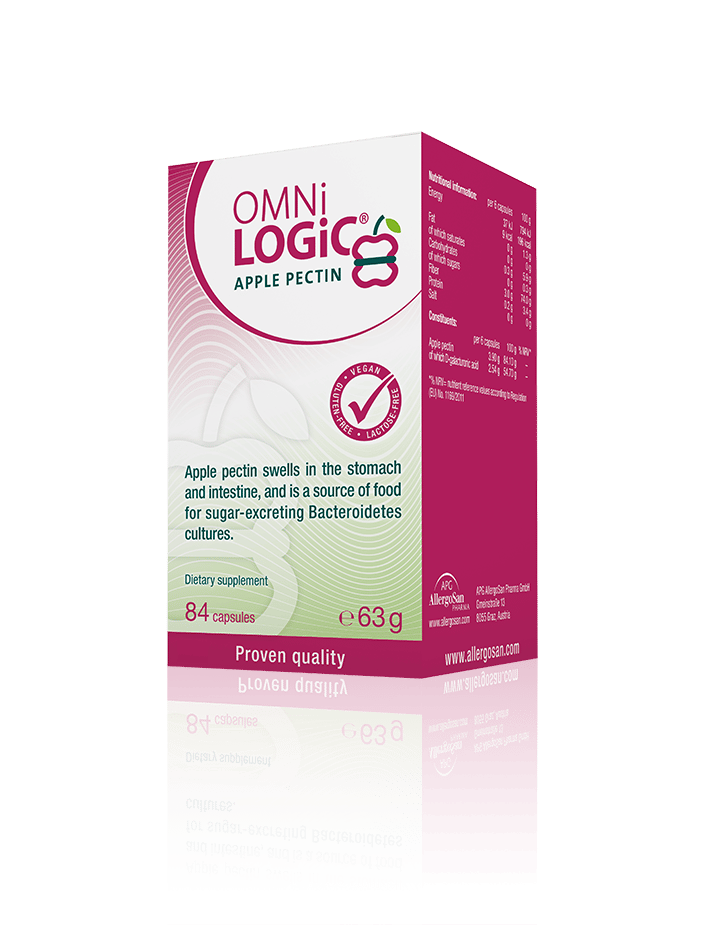 Probiotics and prebiotics
Through the supply of viable symbionts (= probiotics), the amount of commensal intestinal bacteria increases. These bacterial species are either aerobic or facultative anaerobic and need oxygen for their metabolism.
However, not all bacterial strains can be easily taken in form of dietary supplements – a big part of our intestinal bacteria are strictly anaerobic and cannot be cultivated or stored outside the body. As soon as they encounter oxygen, they die. This is the main reason why the anaerobic bacteria need prebiotics as "food". Once a perfect surrounding has been created, the commensal intestinal bacteria can multiply and perform in the best way possible.
Recommended use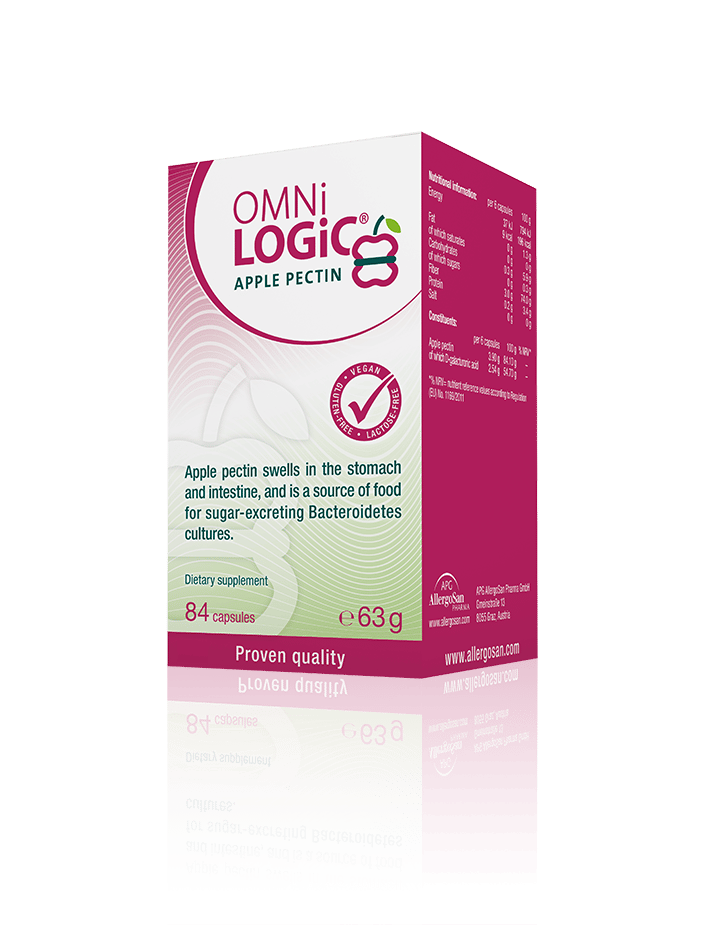 Take 3 capsules twice daily before meals with plenty of fluid.
Composition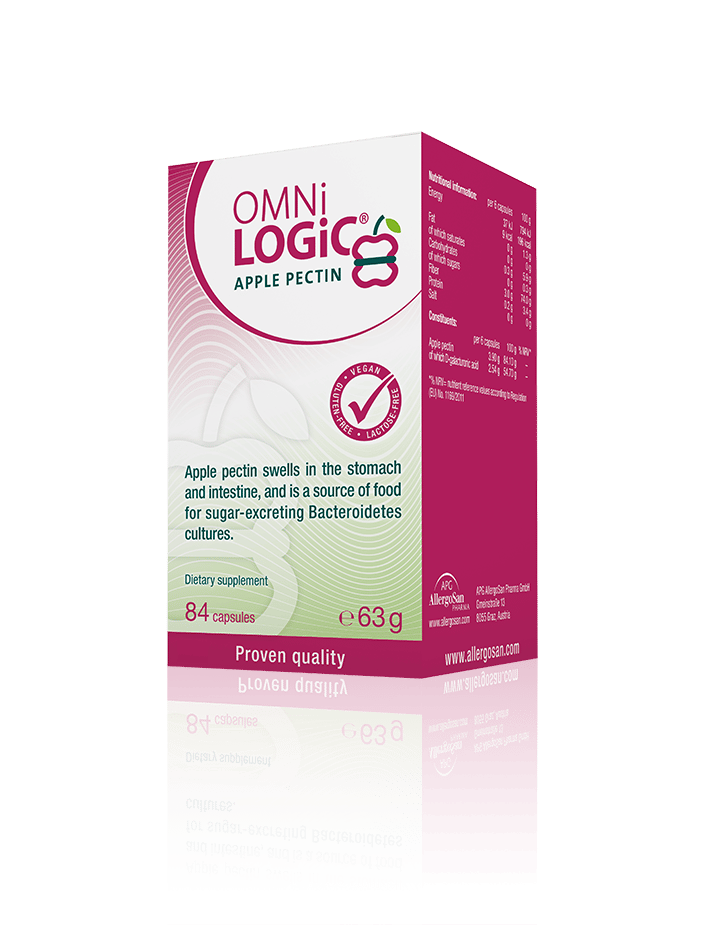 Ingredients
Apple pectin, hydroxypropyl methylcellulose (capsule shell)
Important information
The product does not contain any added animal protein, gluten, yeast or lactose and is suitable for people with a milk allergy.
Dietary supplements are not a substitute for a varied and balanced diet. Do not exceed the recommended daily dose. Keep out of reach of young children.
Nutritional information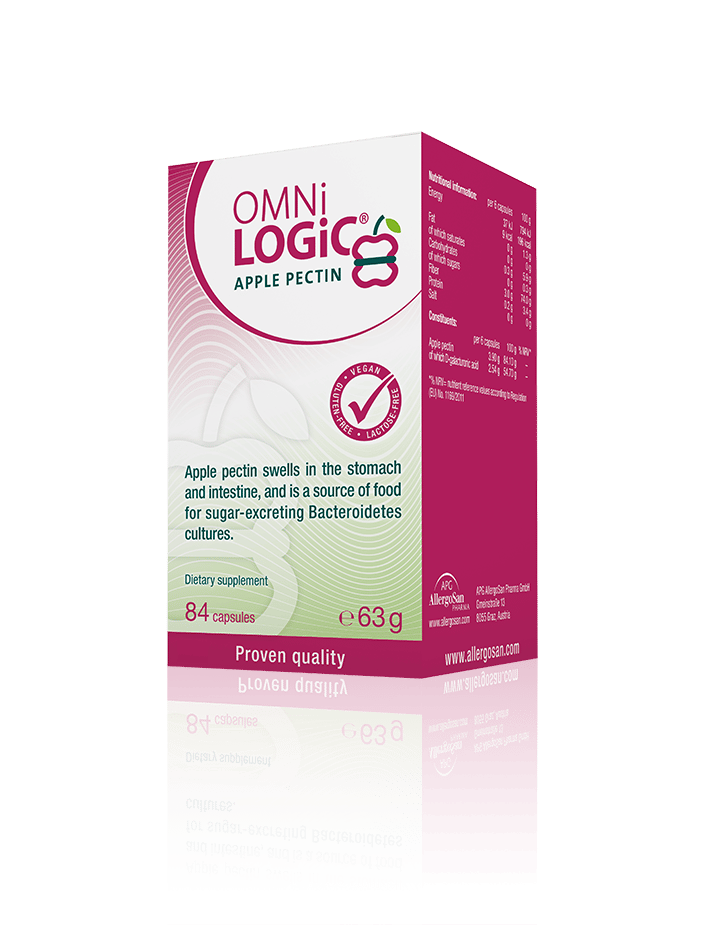 per 6 capsules
100 g
Energy
37 kJ
9 kcal
794 kJ
196 kcal
Fat
0 g
1.3 g
of which saturates
0 g
0 g
Carbohydrates
0.3 g
5.9 g
of which sugars
0 g
0.3 g
Fibre
3.0 g
74 g
Protein
0.2 g
3.4 g
Salt
0 g
0 g
Ingredients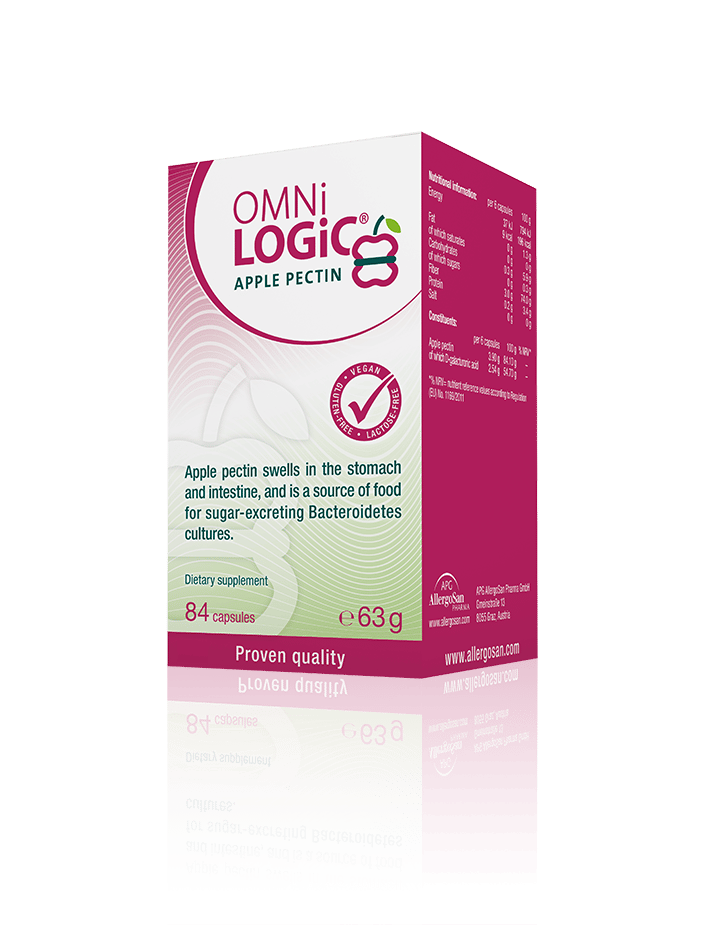 Constituents:
| | per 6 capsules | 100g | %NRV* |
| --- | --- | --- | --- |
| Apple pectin | 3.90 g | 84.10 g | – |
| of which D-galacturonic acid | 2.54 g | 54.70 g | – |
*% NRV= nutrient reference values according to Regulation (EU) No. 1169/2011
Package size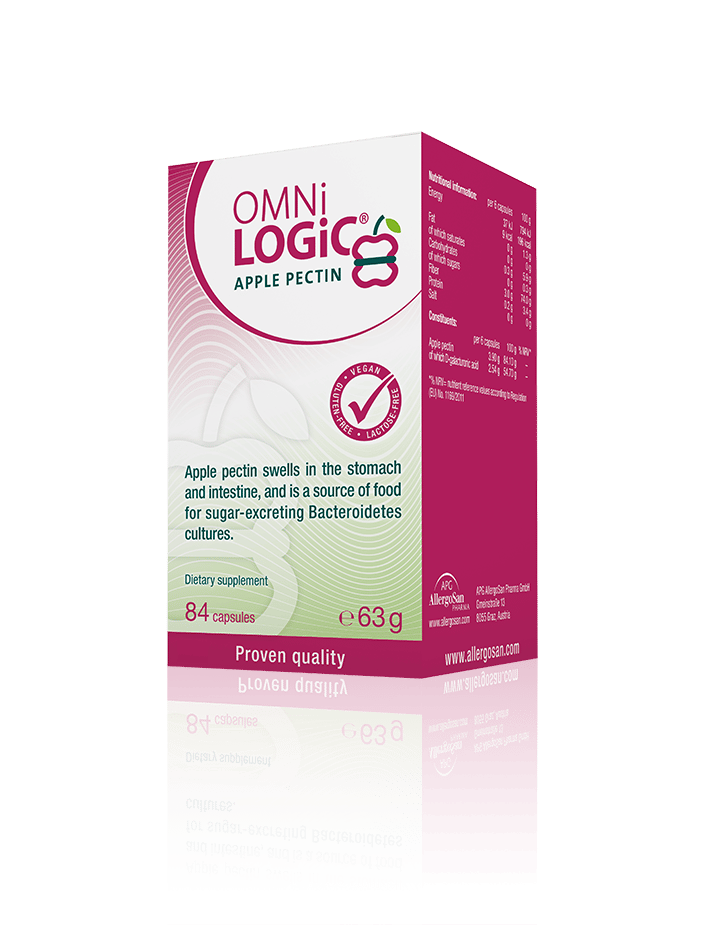 84 capsules or 180 capsules
Apple pectin swells in the stomach and intestines and is a source of food for sugar excreting Bacteroidetes.