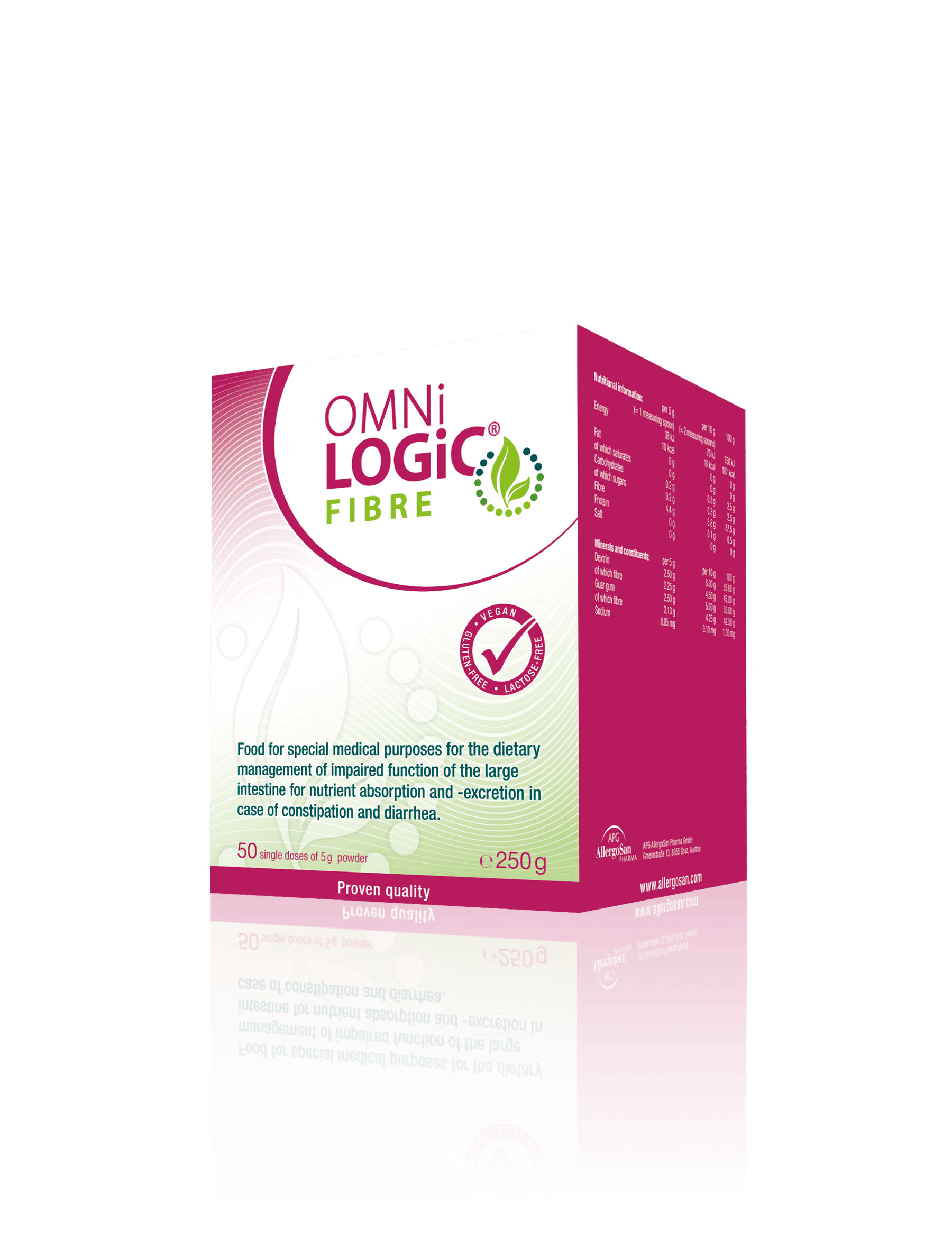 Information
Function
Interesting facts
Recommended use
Composition
Nutritional information
Ingredients
Package size
Online Shop
Information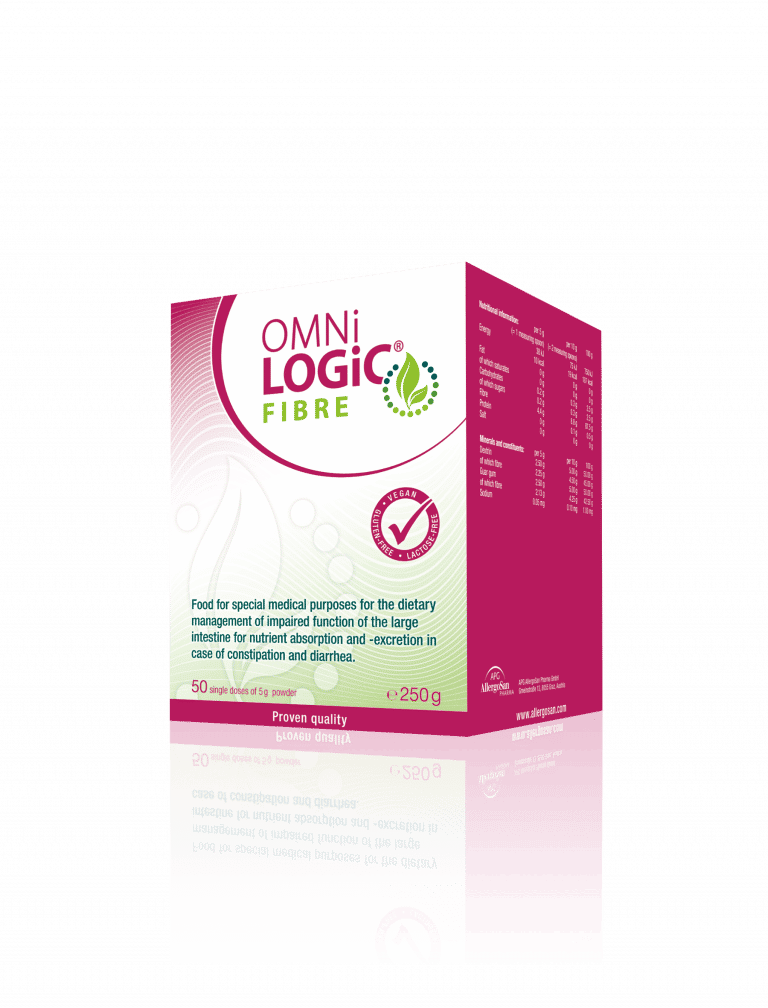 Modern eating habits with their many finished products, processed foods, and lack of fresh fruit and vegetables lead to an insufficient supply of fibres in many people.
This not only leads to digestive problems such as constipation, but also to a reduction in important bifidobacteria and lactobacilli in the intestines.
As a result, the number of beneficial bacteria is reduced, less nutrients are absorbed from our food, and the production of important short-chain fatty acids (= the energy source for the epithelial cells of the colon) is restricted.
All in all, fibres are essential for normal digestion and the elimination of toxins and germs. Fibres also the support our immune system as 80% of its cells can be found within the gut.
Daily use of OMNi-LOGiC® FIBRE reduces the fibre deficit and provides the important intestinal bacteria with essential nutrients, and regulates digestion:
During constipation, fibres increase stool volume and makes it softer so that it is easier to excrete.
During diarrhoea, fibres can thicken runny stool due to its high swelling abilities.
Function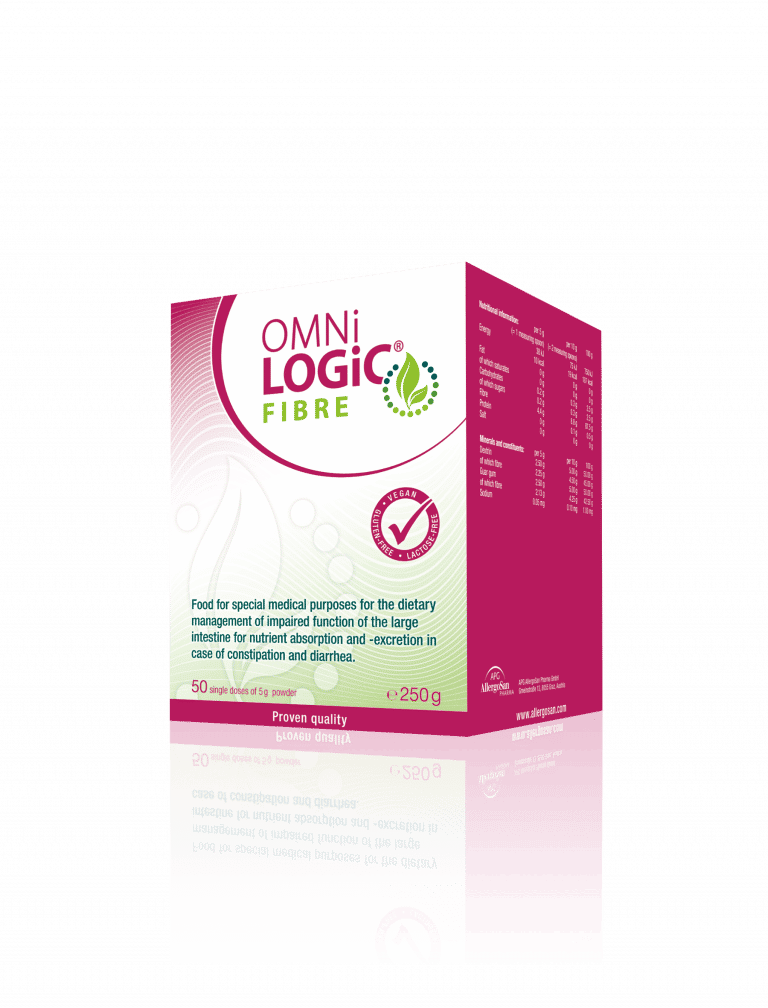 Thanks to the natural ingredients in OMNi-LOGiC® FIBRE, it is recommended for the following situations:
compensating fibre deficit and providing important intestinal bacteria with sufficient food to regulate digestion
increasing stool volume and softening stool during constipation
thickening runny stool during diarrhoea thanks to the strong swelling properties of fibre.
Furthermore, OMNi-LOGiC® FIBRE is also suitable for children and pregnant women.
Interesting facts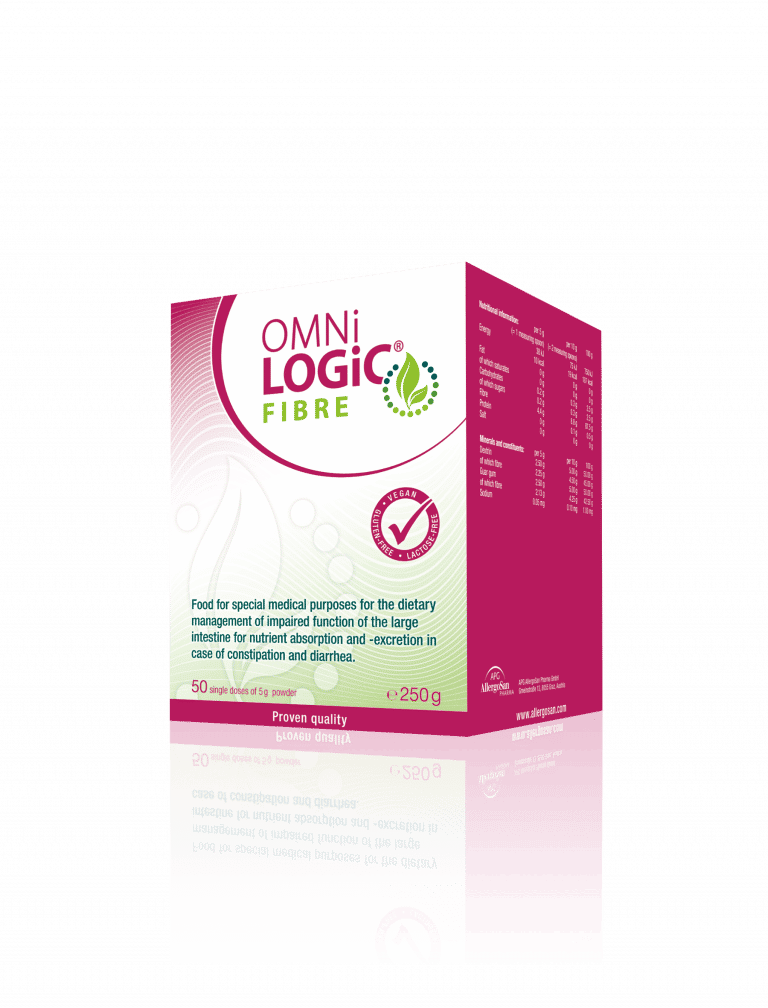 Probiotics and prebiotics
Through the supply of viable symbionts (= probiotics), the amount of commensal intestinal bacteria increases. These bacterial species are either aerobic or facultative anaerobic and need oxygen for their metabolism.
However, not all bacterial strains can be easily taken in form of dietary supplements – a big part of our intestinal bacteria are strictly anaerobic and cannot be cultivated or stored outside the body. As soon as they encounter oxygen, they die. This is the main reason why the anaerobic bacteria need prebiotics as "food". Once a perfect surrounding has been created, the commensal intestinal bacteria can multiply and perform in the best way possible.
Recommended use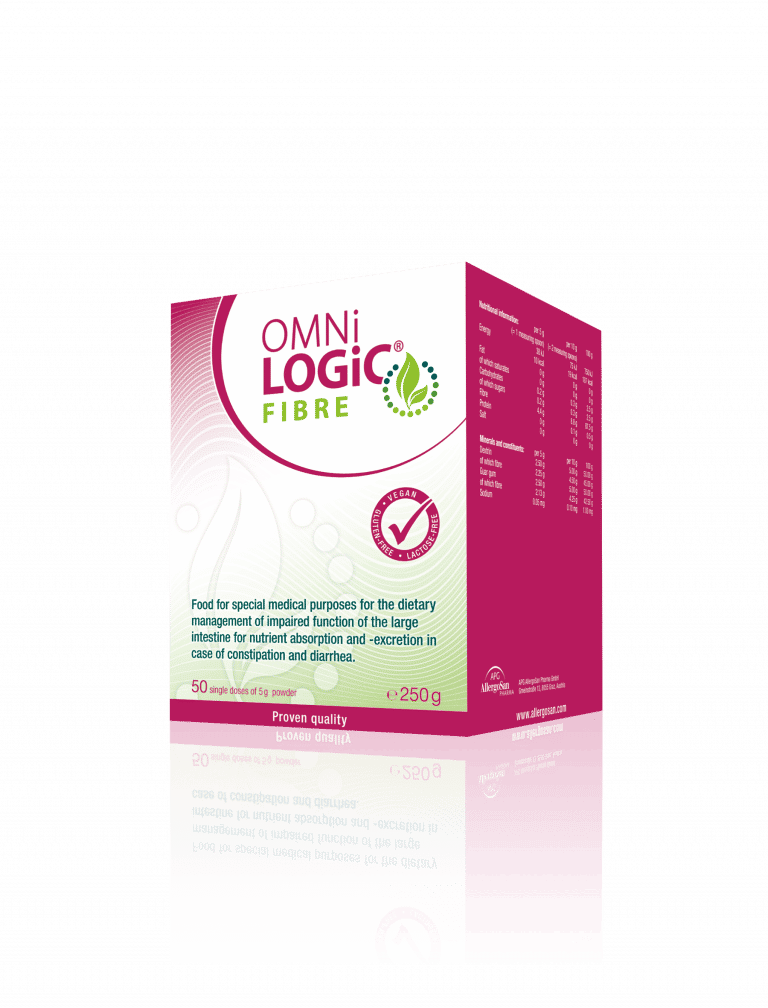 2 x 1 levelled scoop (= 2 x 5 g) per day. If necessary, intake can be increased by 1 measuring scoop per week up to a maximum of 5 scoops per day.
Mix one level measuring scoop (5 g) with about 200 ml of liquid and stir the contents until the powder has completely and clearly dissolved. OMNi-LOGiC® FIBRE can be stirred into drinks (non-alcoholic), soups or yoghurts without changing the taste and consistency.
Additional information
The ingredients in OMNi-LOGiC® FIBRE have the following properties and characteristics:
Contains corn starch, specially refined for human consumption, as well as guar gum. OMNi-LOGiC® FIBRE is a water-soluble fibre mixture, which combines the properties of both soluble and insoluble fibres.
10% of the ingredients are immediately absorbed by the body, 40% are slowly fermented in the colon as soluble fibres, and 50% are excreted through the stool as insoluble fibres, therefore increasing stool volume.
Composition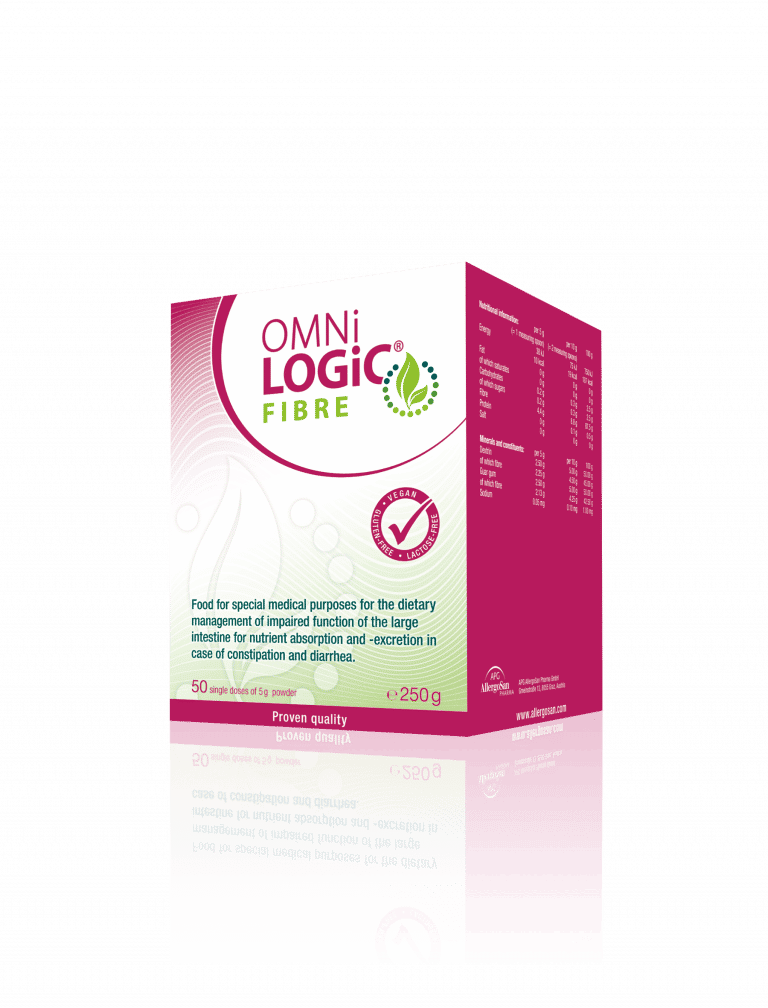 Ingredients
Resistant dextrin (corn), partially hydrolysed guar gum
Important information
No animal protein or allergens (e.g. gluten, lactose, soy etc.) are added to the product and it is suitable for people with a milk allergy.
Foods for special medical purposes only to be taken under medical supervision. Not suitable for intravenous feeding.
Do not exceed the daily recommended dose. Keep out of the reach of children. Complementary balanced diet.
Nutritional information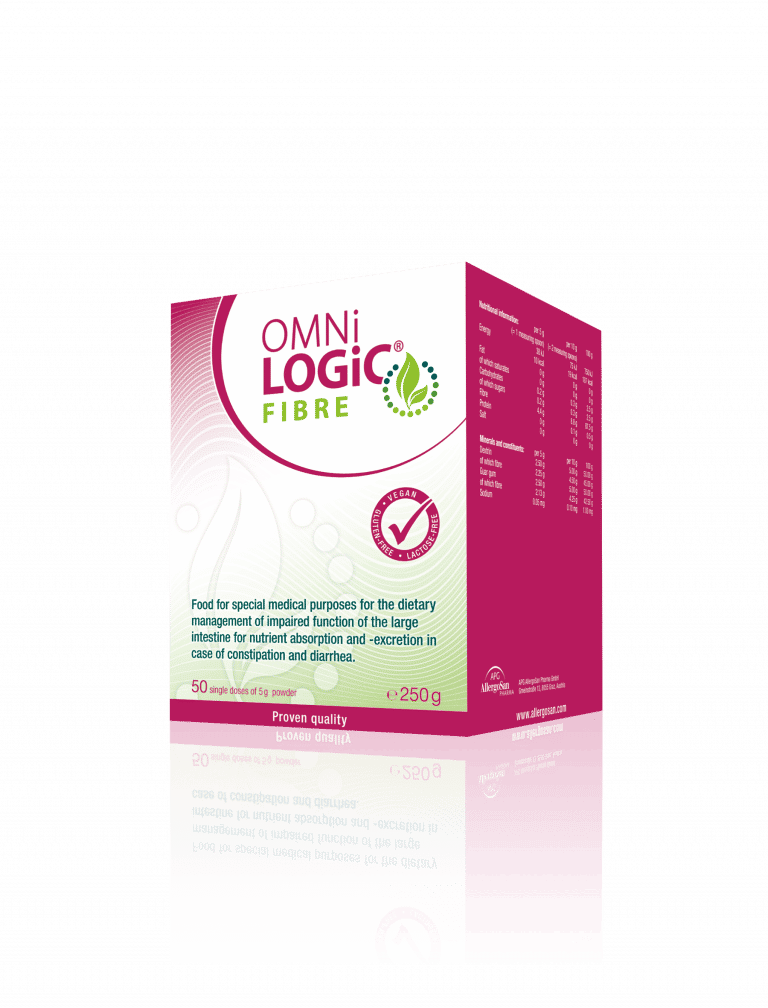 per 5 g (= 1 measuring spoon)
per 10 g (= 2 measuring spoons)
100 g
Energy
38 kJ
10 kcal

75 kJ
19 kcal

750 kJ
187 kcal
Fat
0 g
0 g
0 g
of which saturates
0 g
0 g
0 g
Carbohydrates
0.2 g
0.3 g
2.50 g
of which sugars
0.2 g
0.3 g
2.50 g
Fibre
 4.4 g
8.8 g
87.5 g
Protein
0 g
0.1 g
0.5 g
Salt
0 g
0 g
 0 g
Ingredients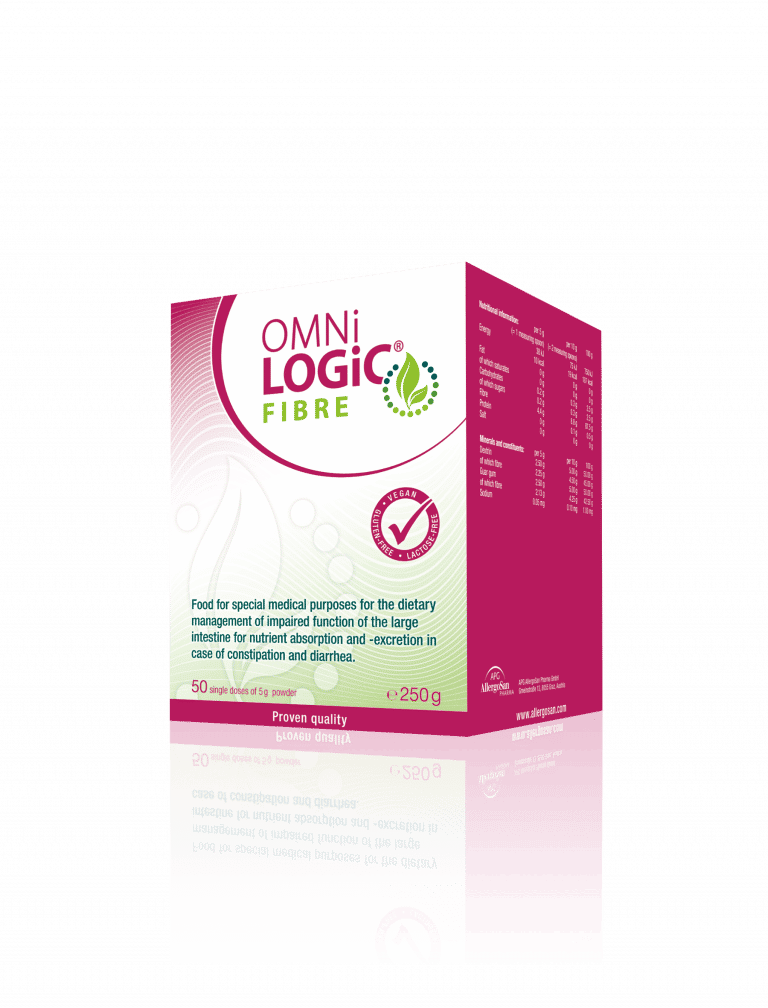 Minerals and constituents:
| | per 5 g | per 10 g | 100 g |
| --- | --- | --- | --- |
| Dextrin | 2.50 g | 5.00 g | 50.00 g |
| of which fibre | 2.25 g | 4.50 g | 45.00 g |
| Guar gum | 2.50 g | 5.00 g | 50.00 g |
| of which fibre | 2.13 g | 4.25 g | 42.50 g |
| Sodium | 0.05 mg | 0.10 mg | 1.00 mg |
Package size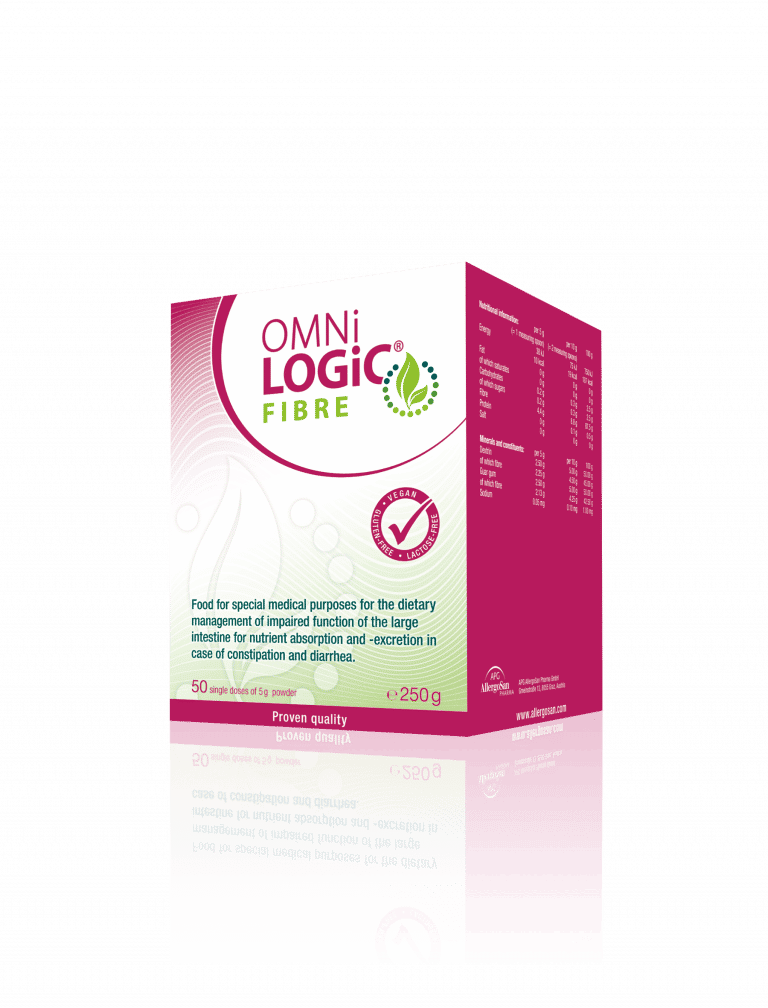 50 single doses of 5 g powder
Food for special medical purposes for the dietary management of impaired function of the large intestine for nutrient absorption and -excretion in case of constipation and diarrhoea.