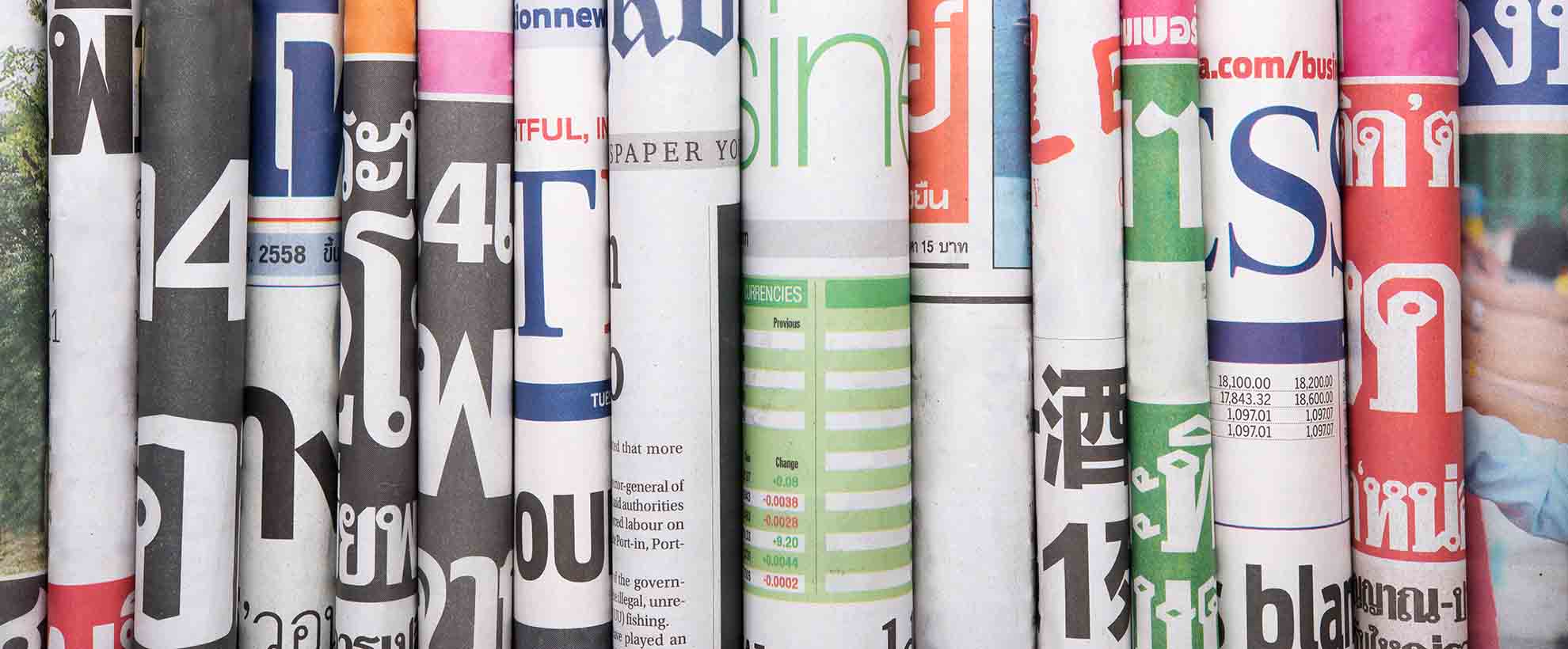 Institut AllergoSan
Press section
Here you will find all current press releases, contact information for press enquiries, as well as further information.
HERMES.Business.Award
Award-winning: All good things come in fours!
This year, Institut AllergoSan was awarded the HERMES.Business.Award as the best company run by a woman for the fourth time.
The HERMES.Business.Award has been awarded for outstanding achievements in the Austrian economy for seven years. After 2017, 2018 and 20191, Institut AllergoSan can look forward to receiving this award as Austrian Business Champion2 for the fourth time in 2022: "It is a great honour to receive this prestigious award again. It clearly shows us that our products are more in tune with the spirit of the times than ever before. After all, health has taken on a new significance for many people in recent years," says a delighted Anita Frauwallner, founder and CEO of Institut AllergoSan.
The recipe for the continuing success: innovative product development, scientific research and noticeable quality. OMNi-BiOTiC® is quite rightly called the "benchmark in probiotics" in international expert circles - and this is also evident when looking at the market: In German-speaking Europe (Austria, Germany, Switzerland), OMNi-BiOTiC® has been number 13 for years, and among the probiotics brands with the highest sales worldwide, OMNi-BiOTiC® already occupies the fourth place4, and the trend is rising.
Mag. Frauwallner sees the business prize not only as an award for work done: "Every award is at the same time our incentive - because every person deserves the best possible quality of life and health, and that is what my team and I work for with full commitment."
Sources:
1) https://hermes-wirtschafts-forum.at/hermes-wirtschafts-preis/wirtschafts-gala/
2) https://kurier.at/wirtschaft/das-sind-die-hermes-wirtschaftspreistraeger-2022/402207645
3) IQVIA / sell-out by value as of end December 2021
4) IQVIA Global OTC Insights – Local Currency Eur based on Public Price, Calender Year 2021 03F1 Probiotics Digest Health and 03D5 Antidiarr Micro-Organisms, IQVIA OTC audits
---
Now for the whole family!
OMNi-BiOTiC® iMMUND -
Defence starts in the MOUTH!
Oral microbiome forms first defence barrier against foreign germs in mouth, nose and throat.
Autumn is just around the corner and the season for problems in the upper respiratory tract begins. The mouth, nose and throat is the first stop that unwanted airborne microorganisms and viruses reach, and in fact this area holds a key function in the immune defence. The central defence bastion is occupied by the beneficial bacteria that reside there. With OMNi-BiOTiC® iMMUND, Institut AllergoSan focuses on the natural strengthening of the oral flora, supplemented with vitamin D for the normal function of the immune system. Now OMNi-BiOTiC® iMMUND is also available for adults.
Graz, September 2022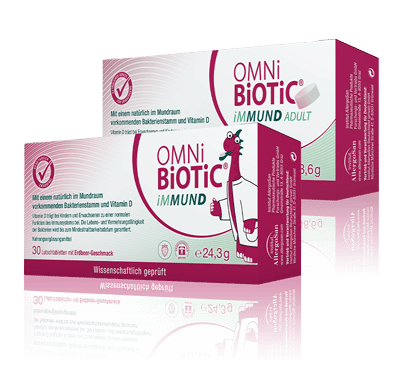 A healthy oral microbiome consists of about 800 to 1,000 different species of bacteria. Its composition varies depending on age and state of health. Our lifestyle also has a strong influence on this bacterial community: unhealthy diets, medications or strong fluctuations of the pH value within the oral cavity, for example due to sugar-rich food, can negatively influence the oral microbiome and reduce both the diversity and the number of beneficial bacteria. Possible consequence: An imbalance develops, a so-called dysbiosis, which leads to the fact that our oral microbiome can no longer adequately fulfil its tasks in the immune defence. Unwanted germs can thus multiply in the mouth, nose, throat and ears and even spread throughout the entire body. However, the probiotic bacterial strain Streptococcus salivarius K12 showed convincing effects not only in children, but also in adults. It has also been shown in adults that the administration of Streptococcus salivarius K12 in the form of lozenges can significantly and sustainably reduce the occurrence of recurring problems in the upper respiratory tract.
Streptococcus:
"Streptococcus is a widespread type of bacteria that is generally associated with illness. It is less well known that - similar to the intestinal flora - there are also "good" and "bad" bacterial species from the same family in the oral flora," explains microbiome expert Anita Frauwallner. While bad streptococcus strains (e.g. Streptococcus pneumoniae or Streptococcus pyogenes) cause tonsil, lung or sinus problems, other representatives of this species have the exact opposite effect - they protect against them!
Streptococcus salivarius K12 is such a good one! This bacterial strain, which has been excellently researched in 19 studies, is crucial for the development of an intact oral flora and can be detected in babies' mouths shortly after birth. The important lead bacterial strain produces antibacterial substances, so-called BLIS (BLIS: bacteriocin-like inhibitory substances), which specifically kill their unwanted bacterial "relatives" within a very short time - this benefits especially the mouth, nose and throat area, but also the entire body's own immune system. With recurring problems in the throat, pharynx and ear area, useful streptococcus strains such as Streptococcus salivarius K12 are demonstrably found in lower numbers. On the other hand, there is an increased number of undesirable germs. Around 60 % of the population even lose this beneficial organism altogether in old age. It therefore makes sense to supplement the oral microbiome in the mouth and throat with Streptococcus salivarius K12 and to supply the immune system with vitamin D.
OMNi-BiOTiC® iMMUND was therefore developed especially for this purpose: Each one of these innovative lozenges contains 1 billion Streptococcus salivarius K12 germs - and by slowly dissolving in the mouth, this valuable lead germ strain is released directly at its destination.
---
Expansion of the product range around the oral microbiome
Acquisition of Dr. med. Schütze GmbH
One of the most innovative Austrian family businesses in dental care is now under one roof with Institut AllergoSan. In July, Institut AllergoSan took over Dr. med. Schütze GmbH from Attnang-Puchheim (Salzburg, Austria), thus expanding its product range around the oral microbiome.

Graz, 21.09.2022
More than 30 years ago Reinhold Schütze founded the company Dr. med. Schütze GmbH together with his wife, the dentist Dr. Margit Schütze-Gößner. From the import of the first electric toothbrush to Europe to new concepts in professional tooth cleaning, the family business was and is a pioneer in the development and distribution of relevant innovations in the field of dental care.
With the development of a biologically holistic concept for periodontitis therapy, the company has broken new ground in recent years: The focus is on coenzyme Q10 in the form of ParoMit® Q-10 Spray and the inclusion of mitochondrial therapy as a new innovative approach in combating problems in the dental and jaw area. ParoMit® Q-10 Spray contains the coenzyme Q-10 as a microscopically small liquid particle. It can be applied locally very quickly via the oral mucosa and is then already available in the surrounding cells.
This innovative strength convinced the founder of Institut AllergoSan, Anita Frauwallner. "Mrs. Dr. med. Schütze-Gößner and I are not only connected by a long personal friendship, but also by the drive to offer innovative and natural products for people's health. The moment Mrs. Dr. med. Schütze-Gößner approached me in search of a successor, the potential was immediately clear to me and I decided to include this so successful company in the AllergoSan group."
Institut AllergoSan has highly trained specialists in its sales force and products that can also be used in a supportive manner for the numerous problems that often accompany acute or chronic periodontitis. Periodontitis is a severe chronic inflammation that can not only lead to tooth loss, but can also cause general diseases, including cardiovascular problems, diabetes or rheumatism. The Institute is thus expanding its area of expertise and can provide dentists with optimal advice. Dr. med. Margit Schütze-Gößner is also pleased about this continuation of her business: "Of course, I am particularly happy that I know our business is in good hands with a long-time friend and the AllergoSan Institute. In addition, I can be sure that my team and my employees will continue to be committed to dental health and will be able to further develop our products in the future," says Dr. med. Margit Schütze-Gößner.
---
Leading Companies Austria
Institut AllergoSan certified as Austrian leading company
Institut AllergoSan pharmazeutische Produkte Forschungs- und Vertriebs GmbH has been certified as an Austrian leading company. After a comprehensive qualification process, exemplary companies that are committed to sustainable corporate success, innovation and social responsibility are awarded the title of "Leitbetriebe". The award was presented by Leitbetriebe Austria Managing Director Monica Rintersbacher to Managing Director Anita Frauwallner during a company visit.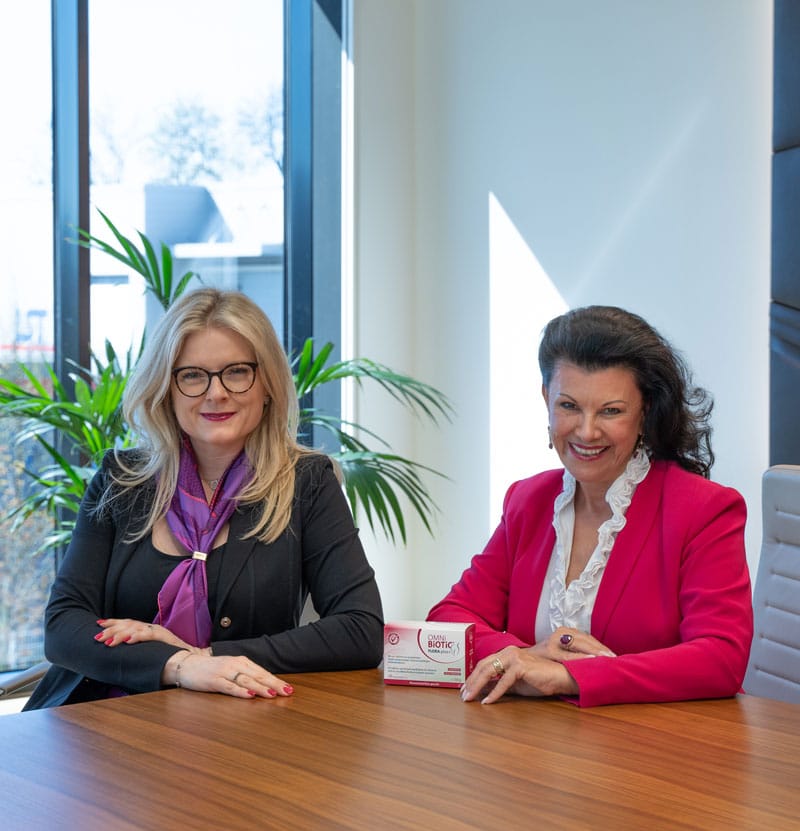 "Insitut AllergoSan has asserted itself as a provider of innovative products based on intensive research in the pharmaceutical market dominated by large global corporations and has been sustainably successful for more than 30 years," said Monica Rintersbacher on the occasion of the presentation of the certification certificate. "Orientation towards customer needs, highest quality and an innovative product range distinguish the company and have enabled continuous growth over a long period of time."
"At Institut AllergoSan, we pursue an integrative approach that aims to strengthen people's health foundation with natural substances even before diseases arise," explains company founder and CEO Mag. Anita Frauwallner. "Our goal is to help as many people as possible achieve greater well-being and quality of life with our products. That's why we think internationally and are constantly working to make our products available to people all over the world. At the same time, we are proud Austrians, because our home country stands for the highest quality, integrity and sustainability around the globe. Characteristics that also apply 100% to Institut AllergoSan. That is why we are particularly pleased to have been awarded the title of Austria's leading company and wear this seal of quality with pride and joy," says Frauwallner.
Leitbetriebe Austria offers the excellent companies of the Austrian economy a unique platform to intensify the exchange of know-how across industry and federal state borders. "Together we are setting new milestones to sustainably strengthen the development of Austria as a business location," explains Rintersbacher.
About Leitbetriebe Austria
Leitbetriebe Austria has represented the exemplary companies of the Austrian economy for more than 30 years. The showcase companies, which were awarded on the basis of a comprehensive qualification procedure, meet the urgent challenges of our time with innovative concepts, consistent orientation towards sustainable corporate success and social responsibility. Leitbetriebe Austria offers a unique platform to proactively intensify the exchange of practical know-how across sector and province borders.
Together with the certified leading companies, Leitbetriebe Austria sets milestones for the sustainable further development of Austria as a business location. www.leitbetriebe.at
---
Institut AllergoSan strengthens its global position
OMNi-BiOTiC®, the evidence-based probiotic brand, has jumped up two positions and is now number four worldwide!
Graz, 04.05.2022
When Anita Frauwallner decided 30 years ago to embark on the largely unknown and risky path of microbiome research and the development of innovative probiotic products, she was met with much scepticism. Her passion, research and pursuit of the highest quality, combined with a large international network of renowned scientists, eventually led to the founding of Institut AllergoSan and the creation of the probiotics brand OMNi-BiOTiC®, which is now the number one probiotic in German-speaking countries.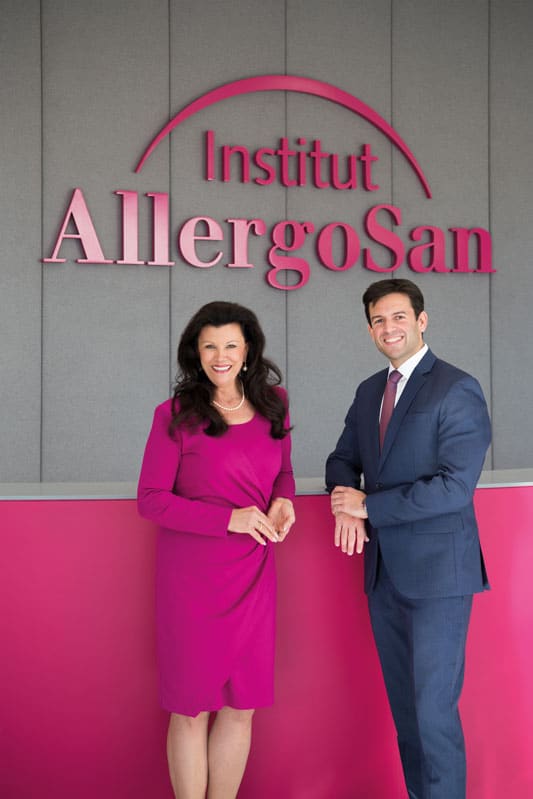 However, the success of OMNi-BiOTiC® is spreading around the globe - in 2021 the brand was ranked no. 6 (in pharmacy sell out) and at the beginning of 2022 it reached number 4 on the probiotic market worldwide  [1].
"Among experts, OMNi-BiOTiC® is already considered as a benchmark in probiotics," says Anita Frauwallner, founder and CEO of Institut AllergoSan. "Excellent clinical research data paired with fast noticeable positive effects are the main reasons why OMNi-BiOTiC® enthuses so many customers and business partners worldwide", adds Cornelia Schweinzer, responsible for International Business Relations at Institut AllergoSan. "Beside our subsidiaries in Germany, USA, Italy and Croatia, we are now represented by more than 25 countries worldwide - and the interest shown from potential new partners is only increasing", comments Christian Gsöll, Director of Business Development at Institut AllergoSan.
Today the brand OMNi-BiOTiC® consists of fourteen medically relevant and indication specific probiotics which contain carefully selected synergistically acting bacterial strains of human origin embedded in an individually designed matrix based on the strains´ needs to sustain their activity and function. Institut AllergoSan is a Competence Center for Microbiome Research and is well known worldwide for innovative and state of the art products which are highly awarded, such as recently with the US NutraIngredients Award for the category "Probiotic of the Year 2021" [2].
Currently more than 40 clinical studies are ongoing, more than 100 studies have been conducted and the scientific track record in high-ranked peer-reviewed journals is outstanding. This ensures our further portfolio expansion and the success of OMNi-BiOTiC®. These incredible study results combined with excellent educational concepts and a proven international marketing toolbox gives new distributors the chance to quickly gain top-positions in their local probiotic OTC market.
"Our story, which began 30 years ago in a small Austrian city, gives many founders in the healthcare sector the courage that - even in this highly competitive market - with outstanding commitment, the right ideas and, above all, personal enthusiasm, you can achieve outstanding results on an international level," summaries Anita Frauwallner, CEO Institut AllergoSan.
Sources:
[1] IQVIA Global OTC Insights - Local Currency Eur based on Public Price, Calender Year 2021 03F1 Probiotics Digest Health and 03D5 Antidiarr Micro-Organisms, IQVIA OTC audits.
[2] https://www.nutraingredients-usa.com/Article/2021/04/27/NutraIngredients-USA-Awards-2021-Winners-Revealed
---
More sustainability and quality of life through the power of nature:
Institut AllergoSan becomes a partner in the BioBienenApfel project
The successful Styrian companies Frutura and Institut AllergoSan share a philosophy: the careful use of nature's resources - on a large and small scale - is the best recipe for a healthy and responsible lifestyle. For the protection of biodiversity and the environment, the two family businesses now want to work together: Institut AllergoSan will become a partner in the BioBienenApfel project. The aim is to jointly create flower meadows as a new habitat for bees.
The unique project "BioBienenApfel" was launched in April 2021 to get the whole society involved in protecting nature. It is primarily about creating new habitats for bees (already in the first year, around 400 hectares of new flower meadows were created in Austria), but also about protecting the climate through demand-oriented production in the region and stopping food waste via the good taste of local food. The Frutura initiative is - as the first and so far only project in Europe - officially recognised by the EU Parliament as part of the "Green Deal".

With Institut AllergoSan and its CEO Mag. Anita Frauwallner, a new strong partner has now come on board the BioBienenApfel project. The company, based in Graz (Styria), was founded in 1991 and has been researching and developing products from natural substances such as probiotic bacteria, micronutrients and plant extracts for more than 30 years. Just like Frutura, Institut AllergoSan with its research and competence centre has always pursued a holistic approach: it aims to strengthen the human health foundation even before diseases arise - and to do so with what nature has provided for this purpose. The institute prefers to use regional raw materials such as apples from Styria.
In the BioBienenApfel project, Institut AllergoSan is already supporting the creation of a total of 25 hectares (250,000 m2) of flower meadows for bees in Austria and Germany within the next five years. Thus, 1 hectare of new habitat for the important pollinators will be created in each Austrian and German province.
Manfred Hohensinner, Managing Director of Frutura, says: "With the BioBienenApfel project we have shown that something big can be created when many make a small contribution. With Institut AllergoSan we now have a new partner whose international success is based precisely on this awareness that everyone has the opportunity to change something and make a positive difference. I would like to thank Mag. Anita Frauwallner for her support and look forward to the Styrian cooperation under the motto: If you want to achieve new goals, you have to be willing to go new ways."
Mag. Anita Frauwallner is fully convinced and passionate about the project: "At Institut AllergoSan, we work exclusively with substances provided by nature. It is not only our source, but also our mission and our inspiration. Therefore, it is natural for us to preserve our environment and the valuable resources that nature offers us. The BioBienenApfel project gives us the opportunity to be even more active in protecting biodiversity and thus preserving our nature."
The microbiome expert discovers many parallels to the beneficial bacteria in our intestines, which form the research focus of Institut AllergoSan: "Bees are among the underestimated creatures - similar to our intestinal bacteria. Both are small, inconspicuous and taken for granted - and they are vital for all of us. I have spent my life working to bring the importance of gut bacteria to people's attention, and now I want to help bring attention to the importance of bees. Because both of them mean life to us," says Mag. Frauwallner.
"Give Bees a Chance" - the "BioBienenApfel" project
The "BioBienenApfel" project was launched by Frutura, producer and largest marketer of fruit and vegetables in Austria, to promote a social rethink. The creation of new habitats for bees is intended to counteract the advancing loss of pollinators. In the first year, more than 400 hectares of new flower meadows have already blossomed. Since autumn 2021, the EU Parliament has also been an official "BioBienenApfel" partner and the initiative is - as part of the EU's "Green Deal" - the first and so far only society project to be part of the European path towards ecological balance. Other prominent ambassadors include tennis pro Dominic Thiem, singer Sting, top model Charlott Cordes, F1 world champion Sebastian Vettel and ski double world champion Lizz Görgl.
---
Aboca: Italy's top OTC brand made from 100% natural ingredients now also in Austria for the whole family.
New family member at Institut AllergoSan!
Institut AllergoSan brings Aboca, Italy's top OTC brand* exclusively to Austrian pharmacies. The health care company Aboca supports people's health with 100 percent natural substances. With the purest plant power, Aboca products protect the mucous membranes and help with complaints of the upper respiratory tract and the gastrointestinal tract. Aboca is sustainability in action for the whole family. The products are produced in organic farming in Italy and their effectiveness and quality are proven by numerous studies.
Graz, February 2022.
Aboca is an Italian company specialised in the production of 100 percent natural products for maintaining or regaining health. With its research platform, Aboca develops products from this according to the criteria of evidence-based medicine. The medical products are used in particular for the self-medication of numerous illnesses, especially excellent for coughs, sore throats, heartburn, haemorrhoidal conditions, etc.
"The company was founded in 1978 in Sansepolcro, an idyllic place in the beautiful hilly landscape of Tuscany, with the aim of finding new solutions in nature for the treatment of human beings, completely avoiding the use of chemicals. The consistency with which Aboca implements its claim convinced us from the very beginning," explains Aboca Business Unit Head Klaus Kutschera.
In its entire value chain, from organic cultivation to pharmaceutical production, Aboca does not use artificial substances or genetically modified organisms. To ensure quality, research, cultivation, extraction and distribution are exclusively in Aboca's hands. To ensure that the plants get the purest water without even the slightest traces of sprays and other environmental sins, Aboca even maintains its own reservoir in the mountains from which the irrigation of the organically managed fields takes place. This has created a fascinating company whose naturally effective products are now also available in Austria.
Aboca now available in Austria
From Aboca's extensive range of products, Institut AllergoSan will in future sell products for the upper respiratory tract: Grintuss for the treatment of dry and productive coughs, Golamir for sore throats and Fitonasal for blocked and irritated noses. For the gastrointestinal tract: NeoBianacid for heartburn and reflux and Colilen IBS for irritable bowel syndrome, NeoFitoroid for haemorrhoidal disease and the multivitamin and tonic Natura Mix.
"It gives me great pleasure that we have succeeded in bringing the number 1 on the Italian cough market to Austria. The company Aboca is an ideal partner for Institut AllergoSan in terms of our own claim - namely to help people with natural substances. The purely herbal products are not only quick problem solvers for complaints, but are also suitable for preventing illnesses from occurring in the first place. An approach and value that Institut AllergoSan has been pursuing for more than 30 years," says the founder of Institut AllergoSan, Anita Frauwallner.
Evidence-based medicine
At Aboca, the study of the plant world is based on scientific principles. Together with national and international universities, preclinical and clinical studies are carried out. For this purpose, Aboca has a science department consisting of 142 people who worked on 107 research projects in 2020 alone. 24 preclinical and 18 clinical studies, 36 basic research projects, 11 pharmacovigilance studies, 9 regulatory studies and 3 projects for the development of bioinformatics platforms were carried out.
Organic cultivation
Aboca cultivates 1,700 hectares of land in Umbria and Tuscany, where 67 different medicinal plants are grown using organic methods, specially selected to suit the prevailing growing conditions. In part, self-developed and patented seeds are used. No fertilisers, pesticides or genetically modified organisms are used. The rotational cultivation of medicinal plants used by Aboca preserves the structure and biological balance of the soil. In 2016, the company was certified by the Biodiversity Alliance as having a high level of soil biodiversity. In 2020, Aboca was the only company to date to be certified with 100 out of 100 points.
* Source: IQVIA, No 1 in cough market, No 4 in OTC market, MAT 10/2021.
---
30 years of Institut AllergoSan
In 30 years to a global brand
In 2021, Institut AllergoSan - a centre of excellence in the study of the intestines and its inhabitants, - truly proved that "All good things come in threes ...". 30 years ago, research in the field of gut health was still in its infancy.  Very few were aware of what the gut really means for our overall health. However, the founder of the Institut AllergoSan, Anita Frauwallner, had an especially good gut feeling! She dedicated her life to our gut health and now after 30 years of Institut AllergoSan, we are able to celebrate two more milestones in 2021.
Our feelings lie at the centre of our body – not in the brain. It's not really hard to believe, because anger and anxiety usually hit the stomach and intestines. Likewise we are told that the best way to a heart is through the stomach. The intestines may look strange, or maybe even a bit ugly – but we should all be more aware of how important our gut is for whole bodies. Our intestines are surrounded by more nerve cells than we find in the entire spinal cord, and more nerve cords lead from the intestines to the brain than vice versa. Our gut brain has a lot to say to our head brain and can do almost everything completely autonomously. In addition to processing food, the intestine protects us from disease. That is because 80 per cent of our immune defences can be found in the gut. Our intestines are home to an army of trillions of useful bacterial soldiers. They belong to hundreds of different strains of bacteria that are much like our best friends, keeping us as happy and as healthy as possible. Unfortunately, our way of life doesn't always suit them. However, there are ways in which we can support our gut – and that has been Institut AllergoSan's mission for decades
Pioneering spirit and courage
30 years ago Anita Frauwallner was already convinced of the importance and the capabilities of the intestine and its inhabitants. And as ever, behind the motivation to solve a problem that affects us all, there are often personal strokes of fate. This was also the case for the founder and managing director of Institut AllergoSan, before she decided to unlock the secrets of our central organ. The gut, its trillions of bacteria and their countless interactions with our health became the focus of her life. From the very beginning, cooperation with doctors and other scientists has been the basis of a successful history, but also the personal claim to the quality and scientifically proven effect of probiotics.
This year, Institut AllergoSan celebrates its 30th anniversary and has meanwhile established itself as a globally recognised company and competence centre for gut health and microbiome research. A lot has been achieved in that time. Nowadays we know that both our physical and mental health is decisively influenced by commensal bacteria, a fascinating microcosm in the gut. Upon this anniversary, Anita Frauwaller looks back to how it all started, "I can still remember how I was laughed at in the beginning, as many were not aware of the enormous importance of intestinal bacteria for our health. Today, we use the findings from our more than 100 studies that enable the targeted use of probiotic bacteria for numerous conditions."
Multispecies probiotics
The breakthrough came 25 years ago with the sensational all-rounder probiotic - OMNi BiOTiC® 6. Institut AllergoSan developed an absolute novelty, a multispecies probiotic consisting of six completely different bacterial species. These strains work synergistically as a team, and their scientifically researched properties support the function of our intestines.
A decisive finding relating to the bacteria and furthermore implementation was revolutionary. According to findings, freeze-dried bacteria should not be packed in capsules, but should first be rehydrated outside the body in neutral liquid in order to immediately attain a high level of activity, therefore ensuring a safe passage through the stomach with high amounts of bacteria despite the aggressive acids. By producting the probiotic in powder, the very first OMNi-BiOTiC® product already ensured that the bacteria are active and functioning precisely where they are needed.Institut AllergoSan then set two new standards in the application and production of medically relevant probiotics. Thanks to modern research methods, findings were able to show that the targeted combination of bacterial strains is superior to the administration of a single strain in a variety of application areas, and that the combination in multispecies formulations increases the potential of the individual strains even further.
Becoming a global brand!
Today, it is impossible to imagine the German-speaking world without the OMNi-BiOTiC® brand. What started with a small team has now grown to include over 250 employees. The company, with its headquaters in Graz (Austria), is active in almost 40 countries and recently 'conquered' the Gulf region after the USA and Taiwan. his is, however, not just a coincidence, but was part of Anita Frauwallner's goal: "For 30 years, we have focused on the research and development of products made from natural substances – primarily probiotic bacteria – with the aim of maintaining or restoring the health of our fellow human beings." In doing so, we pursue a holistic approach, namely to strengthen the health foundation of the human being even before problems arise – and using what nature has provided for this purpose. Our clear future direction is to make OMNi-BiOTiC® available globally."
Over the past 30 years, numerous high-quality probiotics have been brought to market under the OMNi-BiOTiC® brand. Their positive effects, proven by globally renowned studies at internationally recognised university clinics, have been the cause for amazement. – And the journey through the intestinal cosmos is far from over. With 40 ongoing studies, Institut AllergoSan is underlining its claim to continue to be regarded worldwide as a centre of excellence for microbiome research. In addition, we have some more great news, that the OMNi-BiOTiC® brand has been declared a "Global Brand". With an outstanding fourth place among all probiotics brands worldwide1, Institut AllergoSan now ranks among the international leaders in the industry.
A great start in the USA!
It was only in 2019 that Institut AllergoSan entered the American market. And now – just two years later – OMNi-BiOTiC® has been named Probiotic of the Year2. NutraIngredients-USA, the institution that presents this award, is one of the most important news sources for the industry Institut AllergoSan received the internationally highly esteemed award for OMNi-BiOTiC® STRESS Release – the formulation known in Austrian as OMNi-BiOTiC® STRESS Repair and in Germany as OMNi-BiOTiC® SR-9.  "After only two years in the USA, which were also heavily influenced by the pandemic, I am all the more pleased that the extraordinary quality and effectiveness of our OMNi-BiOTiC® products was also recognised there very quickly," says Frauwallner. Such an award is not only particularly valuable for the company because it makes the OMNi-BiOTiC® brand even better known internationally, but it also confirms the excellence of the decades of research work behind the brand. One anniversary, two awards. All good things come in threes.
Sources:
1) IQVATM Global OTC Insights - Local Currency Euro based on Public Price €M, MAT 12/2019, 03F1 PROBIOTICS DIGEST HEALTH/ A7F ANTIDIARR MICRO-ORGANISM, IQVIA OTC audits (Excl.Venezuela).
2) https://www.nutraingredients-usa.com/Article/2021/04/27/NutraIngredients-USA-Awards-2021-Winners-Revealed
---
OMNi-BiOTiC® iMMUND and OMNi-BiOTiC® Pro-Vi 5
Immune power for young and old:
With natural bacteria and vitamin D through the cold season
Graz, November 2021 - Freezing cold and a wide variety of germs pose a great challenge to the immune system every autumn and winter, putting a strain on adults and children alike. On top of that, the immune system has been exposed to fewer germs than usual due to hand hygiene, masks and the like - and therefore shows a large training deficit.
Oral microbiome: key function in the immune defence
The mouth, nose and throat are the first places that viruses and germs from the air reach. The central defence bastion is occupied by the beneficial bacteria that live there. However, an unhealthy diet, medications or strong fluctuations in the pH value within the oral cavity can negatively influence the oral microbiome.
Harmful pathogens can then multiply in the mouth, nose, throat and ears and even spread throughout the entire body. Children are particularly susceptible to problems in this area due to their close contact with their peers and their not yet fully developed immune system. It therefore makes sense to specifically support the oral microbiome of children in the mouth and throat area and to supply the immune system with vitamin D.
OMNi-BiOTiC® iMMUND was therefore developed especially for this purpose: Each one of these innovative lozenges contains 1 billion germs from the naturally occurring Streptococcus salivarius K12 bacterial strain that has been tested in many studies in the oral cavity - and by slowly dissolving in the mouth, this valuable lead germ strain is released directly at its destination. Due to the child-friendly, completely sugar-free formulation - with a fruity strawberry flavour - OMNi-BiOTiC® iMMUND can be used on a daily basis to support the oral flora and immune system.
5 Bacteria professionals & vitamin D for the immune system
As a central component of the immune system, the intestine has to perform great defensive work during the cold season: Our intestinal bacteria form an important protective barrier against unwanted germs, and around 80% of our immune cells are located in the intestine and determine the health and well-being of us humans.
High exposure to a wide variety of viruses and germs challenges our defences just as much as dry air and constant temperature changes. An unhealthy lifestyle and an unbalanced diet also contribute to unfavourable changes in the intestinal flora and a lack of important nutrients (e.g. vitamin D) that the immune system needs to perform at its best. Probiotic bacteria play an essential role in maintaining the immune system. They are able to stimulate the body's own immune cells and some of them can even displace unwanted germs.
For times when the immune system is challenged, there is OMNi-BiOTiC® Pro-Vi 5: 5 bacterial professionals have been selected based on their specific properties and combined with care. The unique combination of bacteria is supplemented with vitamin D, which helps to maintain the normal function of the immune system.
Available in our online shop!
---
Probiotic shows its potential for more energy and emotional well-being
Graz, November 2021 - As part of a situation analysis, the effect of probiotics under psychological stress was examined in 558 doctors and pharmacy employees in Croatia. The results impressively show that specially combined bacterial strains are the right nerve food for all of us, positively directing both our energy and our mood.
Especially for health professionals, the COVID-19 pandemic still represents an enormous burden. Therefore, as part of a situation analysis by Institut AllergoSan , the effect of a probiotic specifically acting on the gut-brain axis was investigated with regard to psychological stress parameters in 558 pharmacists and physicians during the COVID-19 pandemic. This previously unpublished analysis yielded impressive results: After only 2 weeks of using the probiotic, gastrointestinal complaints had decreased in 83% of the participants; in addition, many participants showed a clear reduction in mental exhaustion and the occurrence of nervousness, frustration and fatigue. This was associated with a significantly increased energy level. This situation analysis clearly confirms the influence of the gut flora on mental health, positive emotions and behaviour, and underlines the importance of an intact microbiome especially in psychologically demanding situations.
Gut to brain - please report!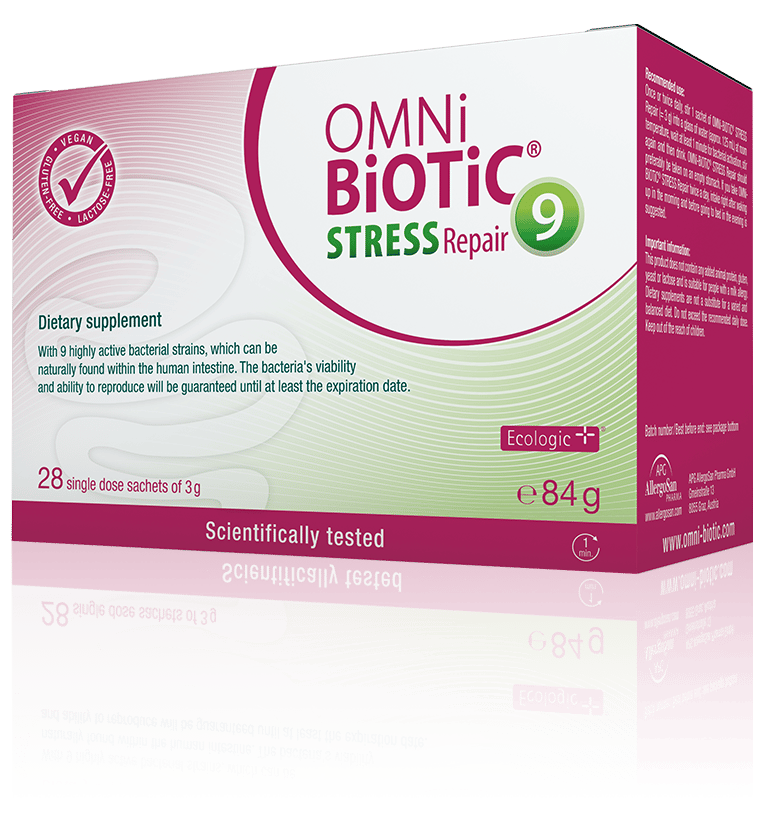 Because the communication between the gut and the brain via the so-called "gut-brain axis" is significantly influenced by the gut flora. Intestinal bacteria release metabolites and influence the increased production of hormones such as serotonin, which can change behaviour as well as mood. Conversely, chronic stress leads to a change in the intestinal flora and damage to the intestinal mucosa. A disturbed intestinal barrier - the so-called "leaky gut" - enables pathogens as well as toxins and chemical food components (dyes, emulsifiers, etc.) to enter the bloodstream and trigger inflammatory reactions in the body. The gut-brain axis is therefore an important approach for the development of new, particularly promising and side-effect-free therapeutic strategies for mental illnesses, knows gut expert Anita Frauwallner: "Special bacteria in sophisticated combinations have the potential to restore emotional balance in stressful and distressing situations and promote our well-being."
Stress? Do something about it!
When persistent psychological stress increases inflammation in the intestines and the intestinal barrier suffers as a result, OMNi-BiOTiC® STRESS Repair* is the proven companion: the 9 combined bacterial strains not only improve the function of the intestinal barrier quite decisively, but also regulate inflammation in the intestines. The noticeably high quality of this probiotic was even recently awarded a renowned prize: OMNi-BiOTiC® STRESS RELEASE (as the product is called in the USA) was named Probiotic of the Year1 by NutraIngredients-USA due to its impressive study record.
As a supplement - for a peaceful sleep even in stressful times - META-CARE® Sleep Easy was developed: Our "sleep hormone" melatonin is produced from the happiness hormone serotonin, which in turn is largely produced in the gut. If the intestinal mucosa is affected by inflammation, the production of this hormone no longer works properly - depressive days and restless nights are the result. META-CARE® Sleep Easy contains melatonin and thus makes an important contribution to shortening the time it takes to fall asleep. The 5-fold plant complex of passion flower, lemon balm, hops, withania root (ashwagandha) and saffron also supports the quality of sleep and peaceful sleep through. In addition, zinc contributes to normal cognitive function and to the protection of the cells against oxidative stress - so you start the day well rested and refreshed.
---
Contact Press Office
For press enquiries please contact:
Jürgen Teuschler, MSc
PR & Communication Manager
E-mail: presse@allergosan.at
Phone: +43 (0) 316 405 305 127
We are at your disposal!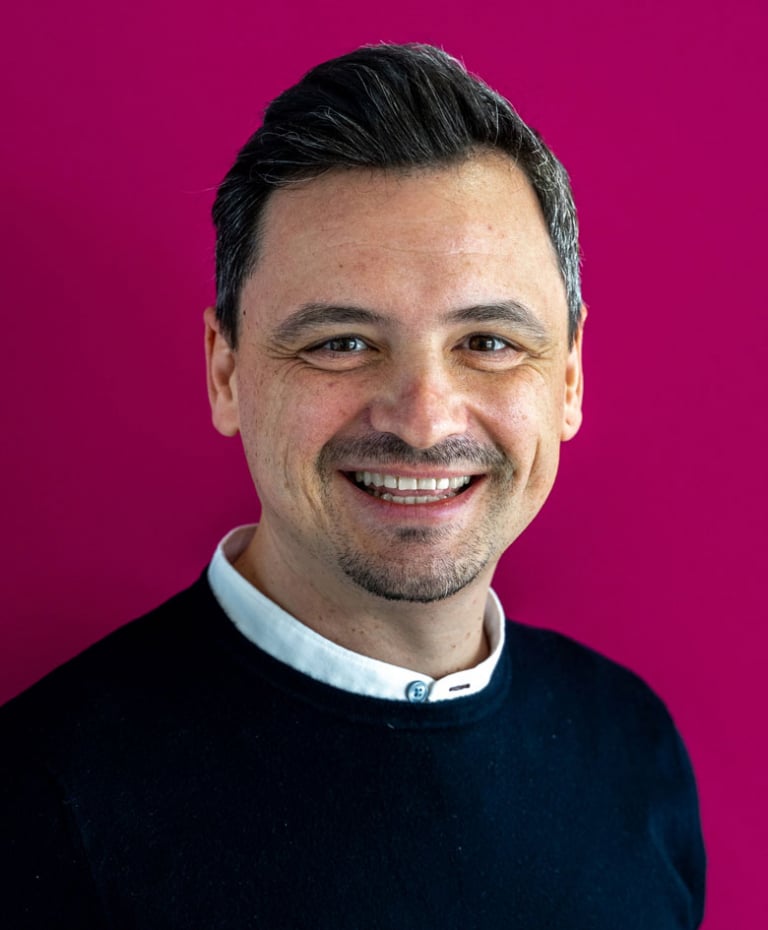 News from Institut AllergoSan
For a good gut feeling!