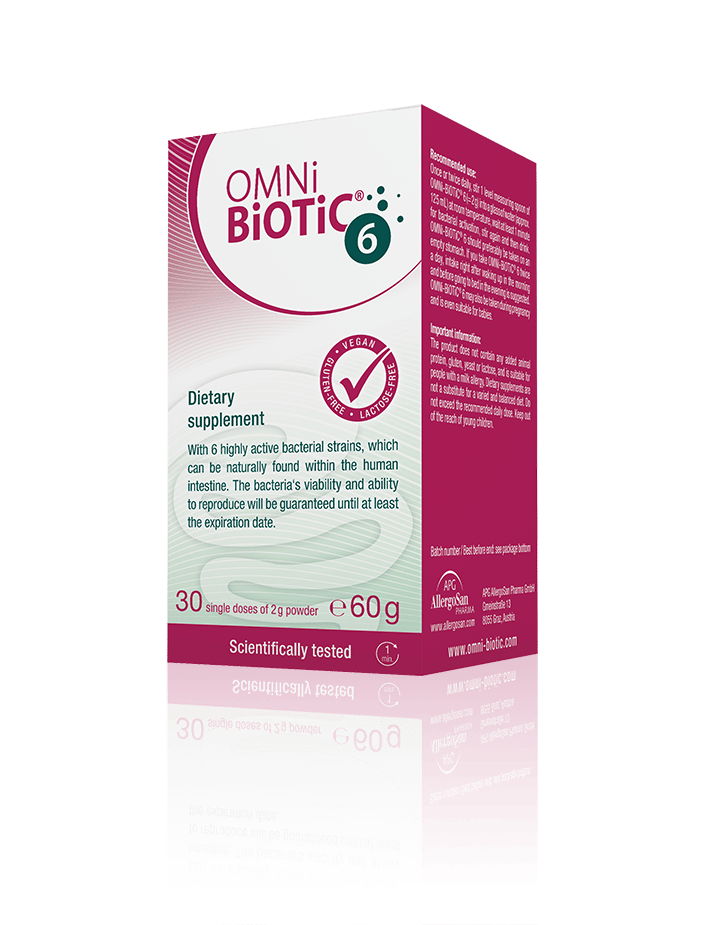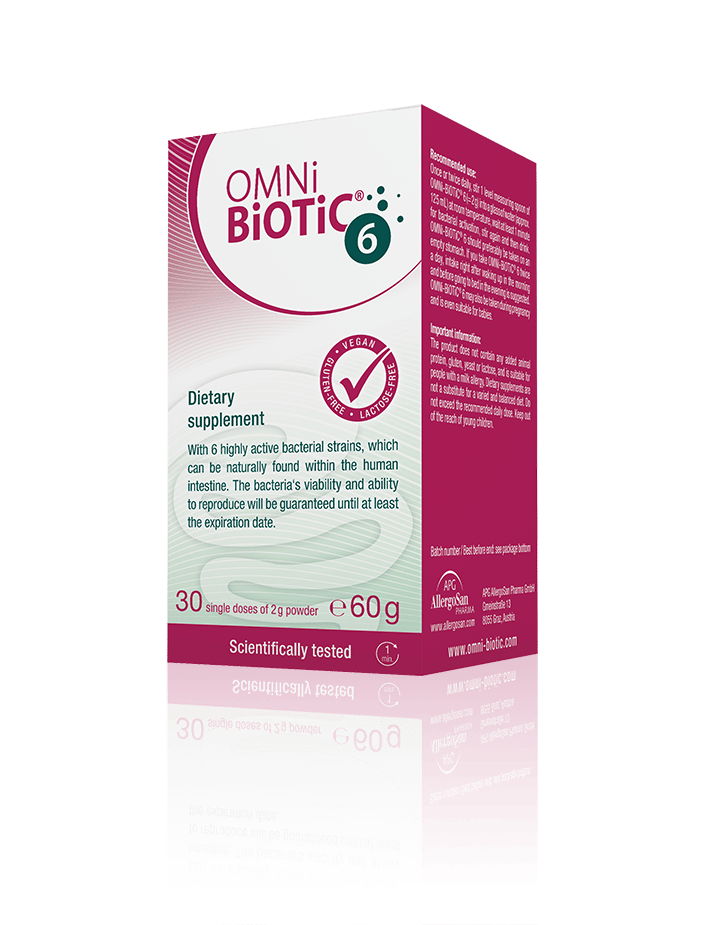 OMNi-BiOTiC® 6
The all-rounder for your gut
The intestine is the centre of our immune system and well-being: Nutrition, medication and stress have a decisive influence on the composition of our intestinal flora. OMNi-BiOTiC® 6 has been the daily companion for the whole family since it was first developed 25 years ago.
Information
Function
Recommended use
Composition
Nutritional information
Package size
Online Shop
Information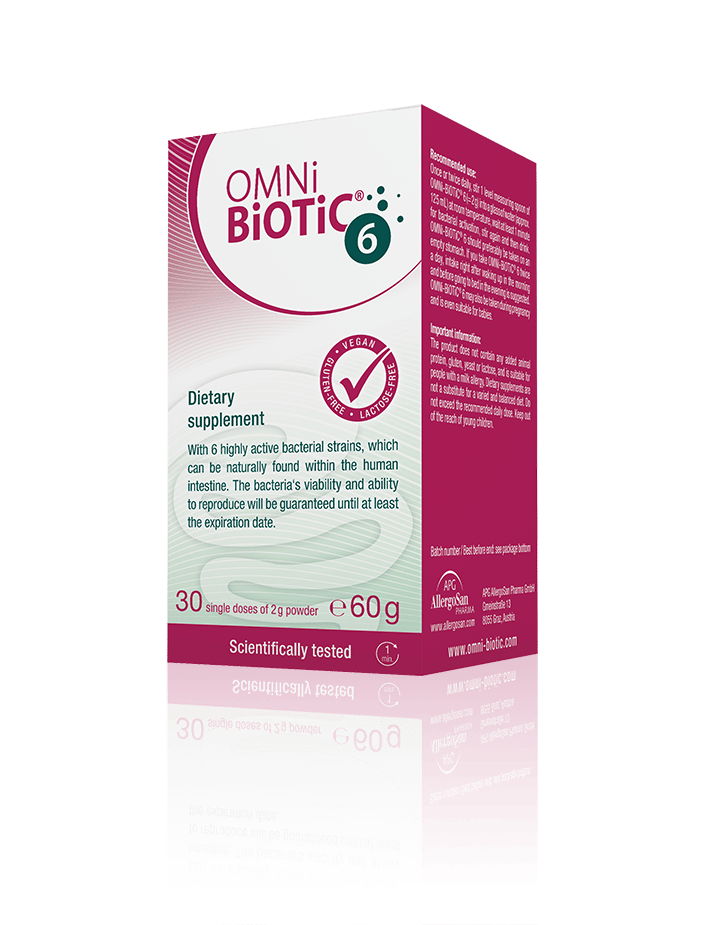 Our bodies have a plethora of different defence mechanisms: Pathogens usually try to enter the organism through the mucous membranes – which is why important defence systems, such as immune cells and beneficial bacteria, are located here.
The digestive tract plays a particularly important role in all of this and the intestines are a vital part of our immune system: 80% of the body's immune cells are located in the intestines, and also includes the intestinal bacteria that are so essential for our health.
The intestinal bacteria can, however, be significantly influenced by our lifestyles: Diets that are high in fat and sugar, medication and stress can kill off large numbers of these important "helpers ". Ultimately, the number and diversity of the intestinal flora, which is so important, is reduced.
That is why we should support the intestines with billions of bacteria from the important bacterial strains that are combined in OMNi-BiOTiC ® 6. OMNi-BiOTiC® 6 is the daily companion for you and your family – trusted and proven for 25 years!
Function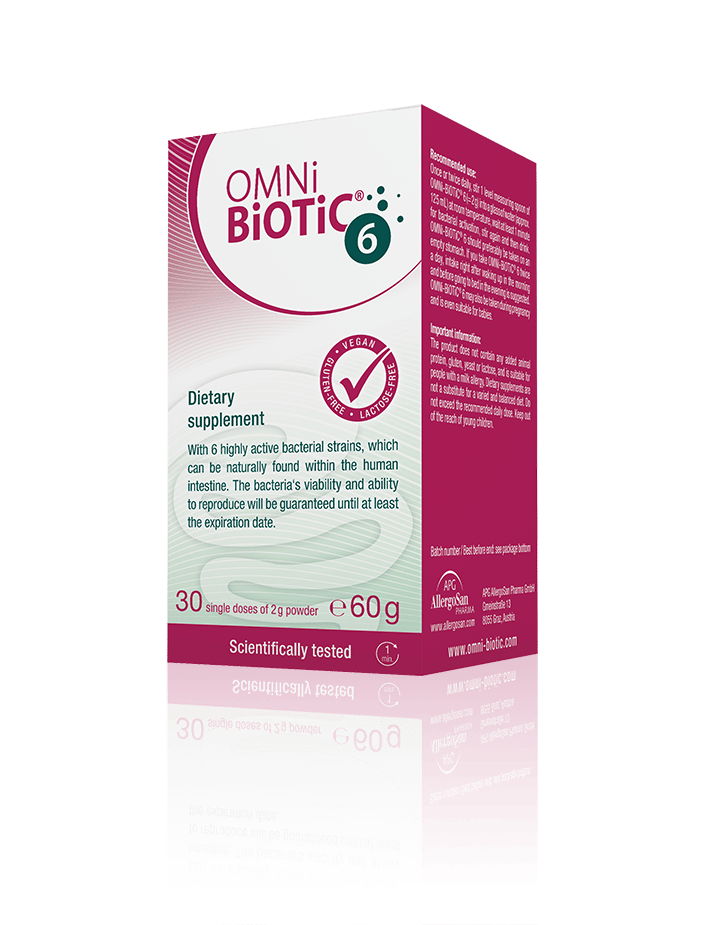 OMNi-BiOTiC® 6 contains six important, highly active, essential bacterial strains that inhabit every inch of our intestines. Essential bacterial strains are characterised by their high stability and activity, as well as their ability to undergo horizontal gene transfer (= the transfer of crucial characteristics to other bacteria).
The majority of OMNi-BiOTiC® products, including OMNi-BiOTiC® 6, also contain soluble fibres, which act as food for the bifidobacteria and lactobacilli in the large intestines.
Scientifically proven, selected essential bacterial strains for your intestines – feel the effects after only a few weeks of consumption!
Recommended use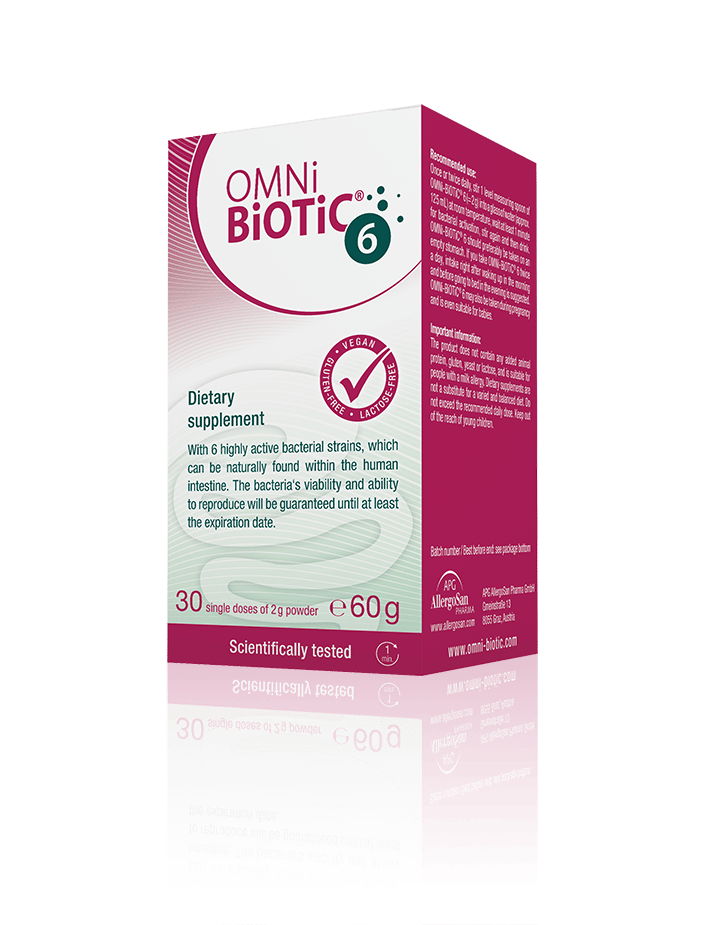 Once or twice daily, stir 1 level measuring spoon of OMNi-BiOTiC® 6 (= 2 g) into a glass of water (approx. 125mL) at room temperature, wait at least 1 minute for bacterial activation, stir again and then drink.
OMNi-BiOTiC® 6 should preferably be taken on an empty stomach.
If you take OMNi-BiOTiC® 6 twice a day, intake right after waking up in the morning and before going to bed in the evening is suggested. OMNi-BiOTiC® 6 may also be taken during pregnancy and is even suitable for babies.
Additional information
If you suffer from fructose intolerance, then you should extend the activation time of OMNi-BiOTiC® 6 to at least 30 minutes. During this time, the bacteria metabolise all of the fructooligosaccharides without any of it reaching the intestines.
Composition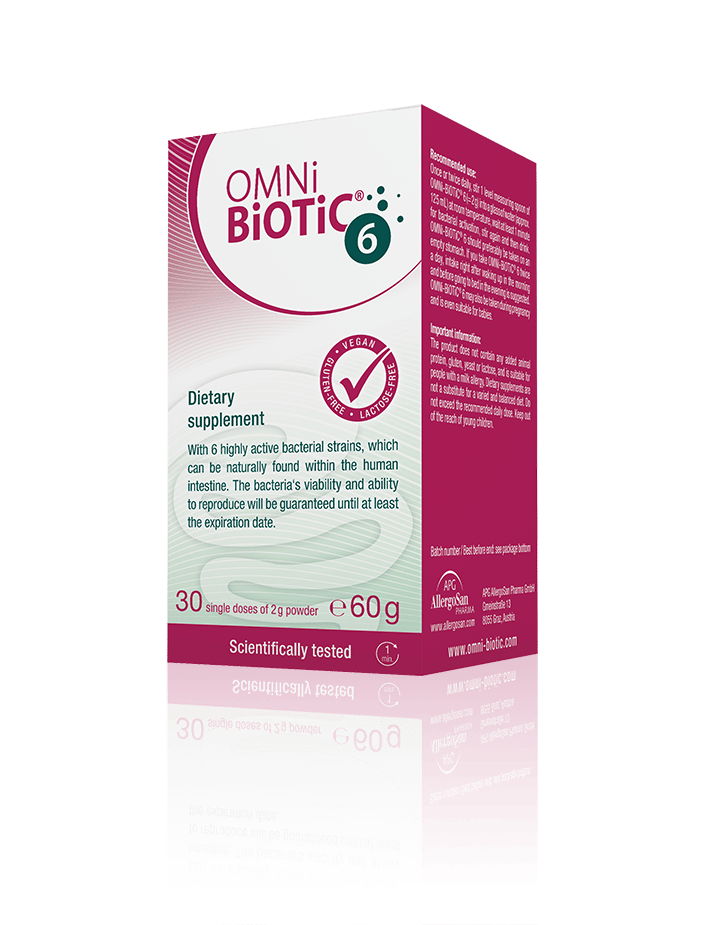 Ingredients
Corn starch, maltodextrin, fructooligosaccharides (FOS), inulin, polydextrose, potassium chloride, bacterial strains*, plant protein (rice), magnesium sulphate, enzymes (amylases), manganese sulphate
*6 bacterial strains with a minimum of 2 billion organisms per single dose (= 2 g) and 4 billion organisms in 2 single doses (= 4 g):
Bifidobacterium animalis W53
Lactobacillus acidophilus W55
Lactobacillus salivarius W57
Enterococcus faecium W54
Lactococcus lactis W58
Lactobacillus casei W56
The viability and reproducibility of the scientifically tested bacteria is guaranteed until at least the best before date.
Important information
This product does not contain any added animal proteins, gluten, yeast or lactose and is suitable for people with milk allergies. Dietary supplements are not a substitute for a varied and balanced diet. Do not exceed the recommended daily dose. Keep out of reach of young children.
Nutritional information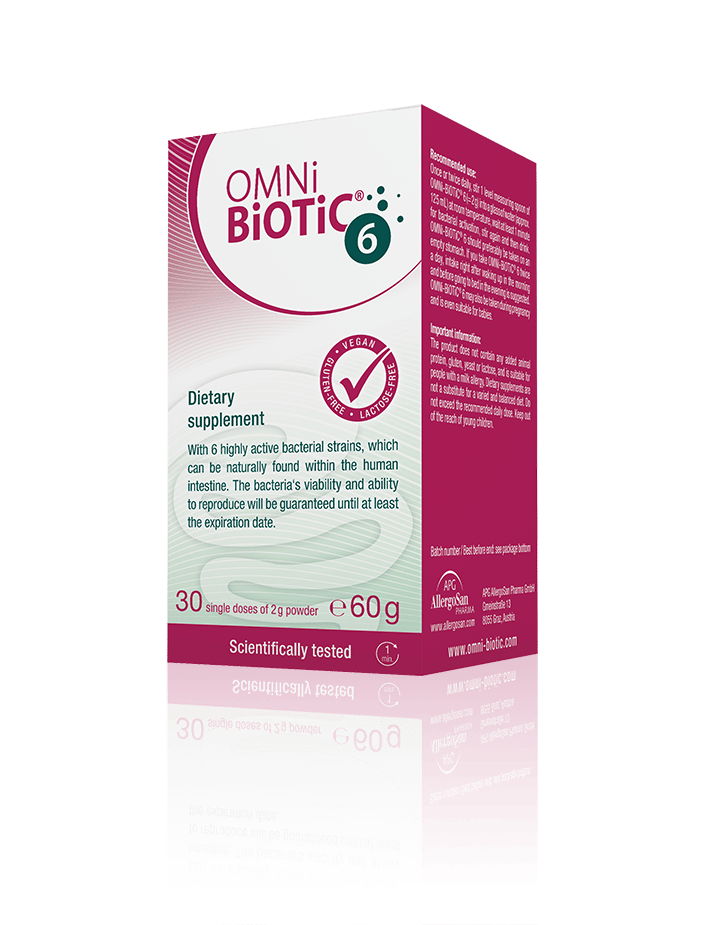 per 2 g (= single dose)
4 g
100 g
Energy
25.84 kJ
6.18 kcal
51.68 kJ
12.36 kcal
1,292 kJ
309 kcal
Fat
< 0.01 g
< 0.01 g
0.10 g
of which saturates
< 0.01 g
< 0.01 g
0.01 g
Carbohydrates
1.39 g
2.78 g
69.43 g
of which sugars
0.05 g
0.09 g
2.37 g
Protein
0.05 g
0.10 g
2.51 g
Salt
0.01 g
0.03 g
0.63 g
Package size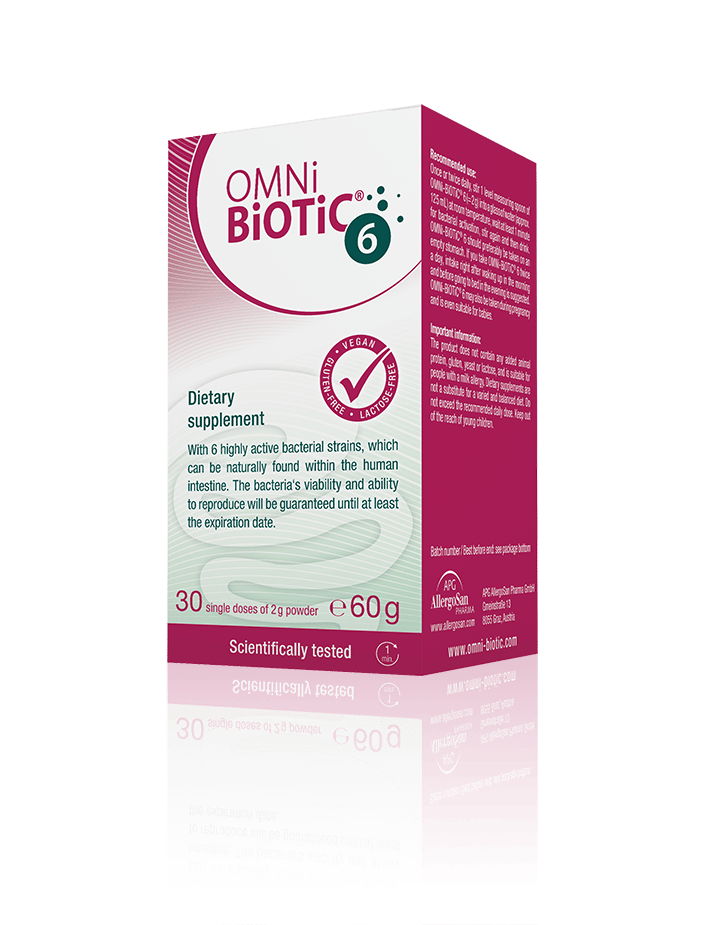 30 single doses of 2 g powder in glass container
Dietary supplement
With 6 highly active bacterial strains which can be found naturally within the human intestine. The bacteria's viability and ability to reproduce will be guaranteed until at least the expiration date.