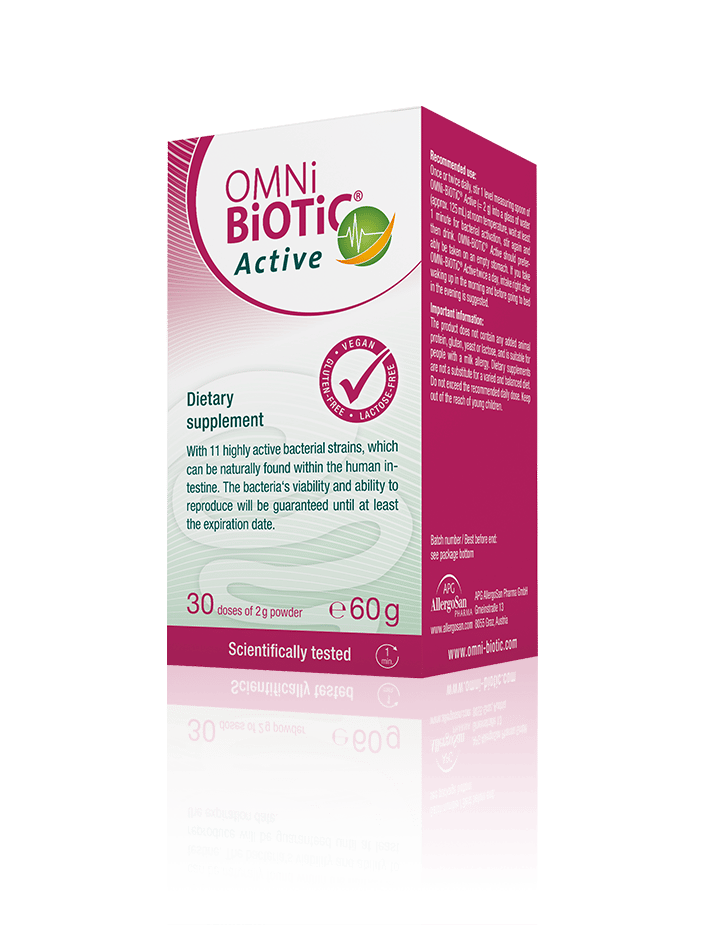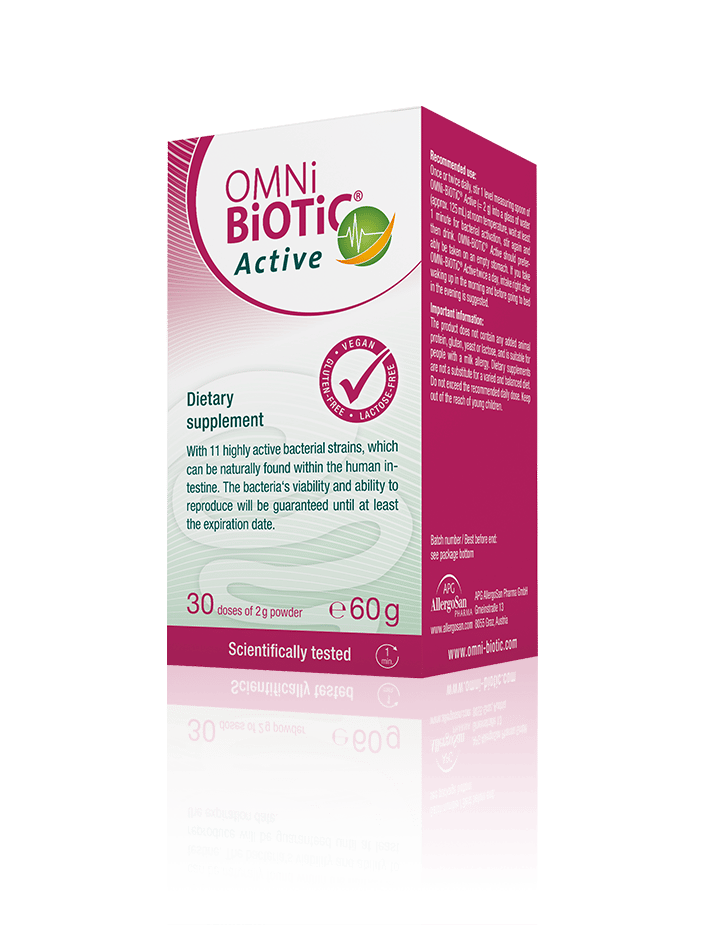 OMNi-BiOTiC® Active
Vitality at every age!
OMNi-BiOTiC® Active contains eleven specially selected, scientifically tested bacterial strains. These bifidobacteria, lactobacilli and lactococci populate the entire intestines in high numbers and boost the intestinal flora, which can be decimated by changes in metabolism, unhealthy food, an unbalanced diet and strong medication.
Who wouldn't want to live a life full of energy and actively enjoy every day?
Information
Function
Recommended use
Composition
Nutritional information
Package size
Online Shop
Information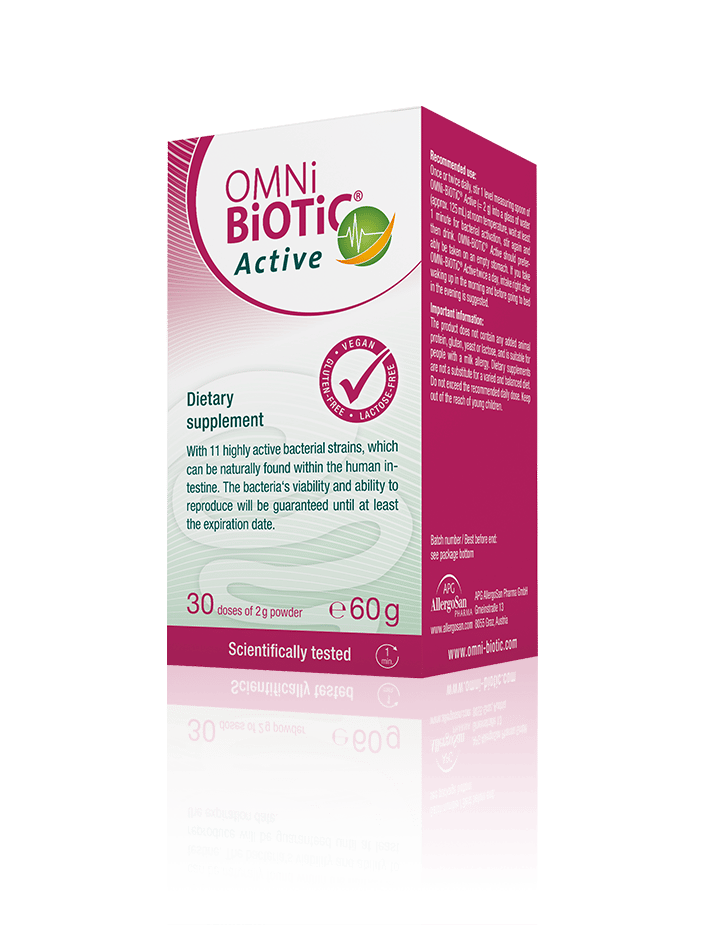 A healthy diet, drinking enough and exercising regularly are, of course, essential for staying active and full of energy.
Scientific research clearly shows that the availability of important vitamins and trace elements (and thus vitality and energy) largely depends on whether we have the right amount and variety of intestinal bacteria in our bodies.
Changes in our metabolism, unhealthy and one-sided diets, and strong drugs reduce the number of bifidobacteria and lactobacilli throughout our lives, giving putrid bacteria the chance to multiply instead.
Function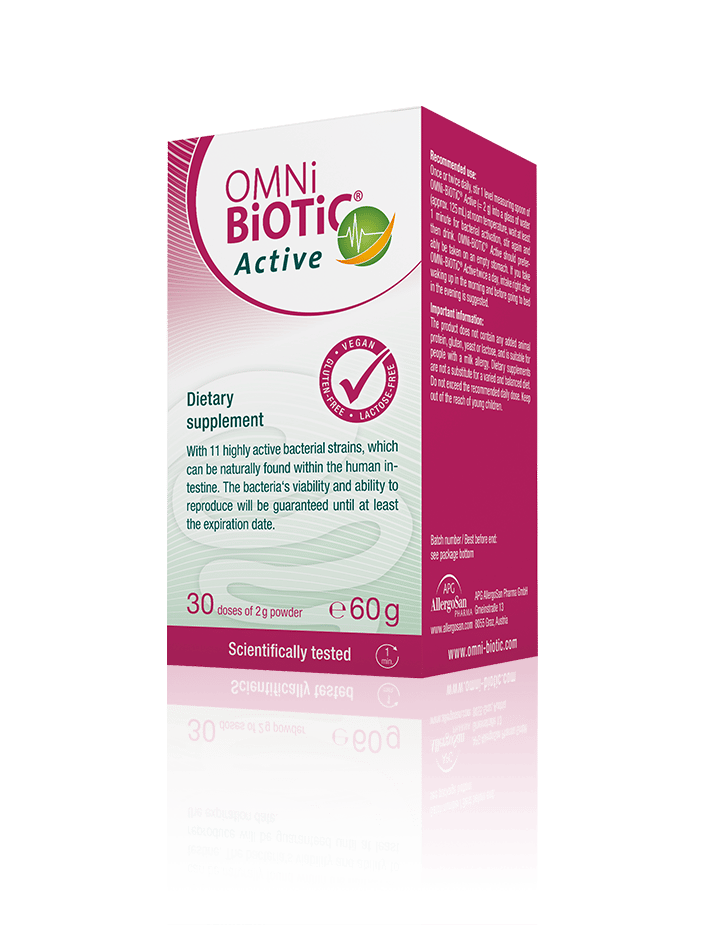 OMNi-BiOTiC® Active contains eleven specially selected and scientifically well researched bacterial strains.
The large number of bifidobacteria, lactobacilli and lactococci within this product colonise the entire intestines:
Each serving (=2g) of OMNi-BiOTiC® Active contains five billion natural intestinal bacteria.
Recommended use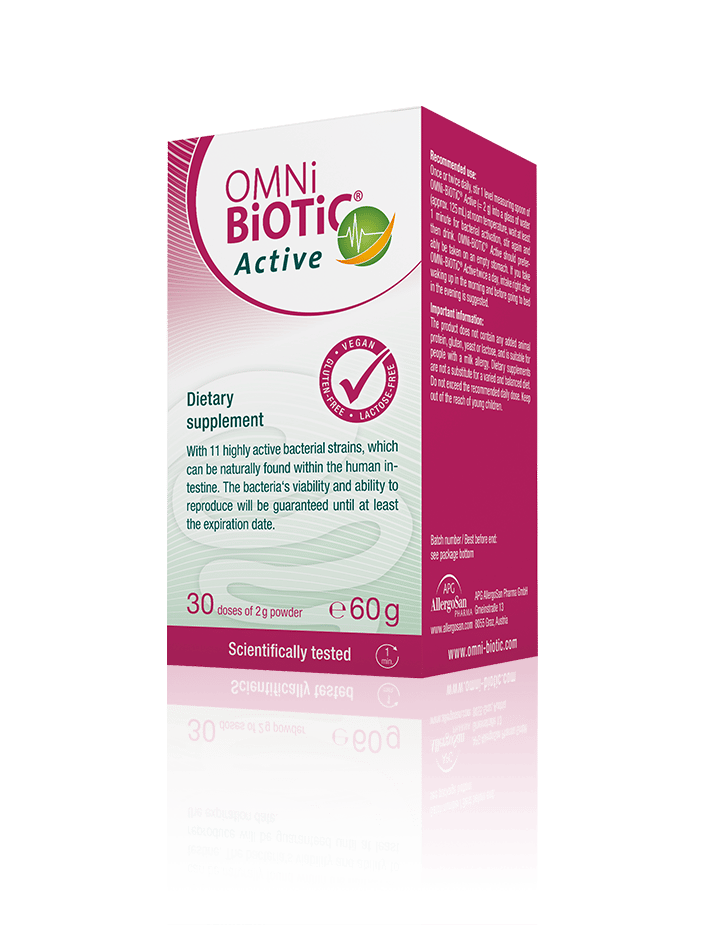 Once or twice daily, stir 1 level measuring spoon of OMNi-BiOTiC® Active (= 2 g) into a glass of water (approx. 125 mL) at room temperature, wait at least 1 minute for bacterial activation, stir again and then drink.
OMNi-BiOTiC® Active should preferably be taken on an empty stomach. If you take OMNi-BiOTiC® Active twice a day, intake right after waking up in the morning and before going to bed in the evening is suggested.
Composition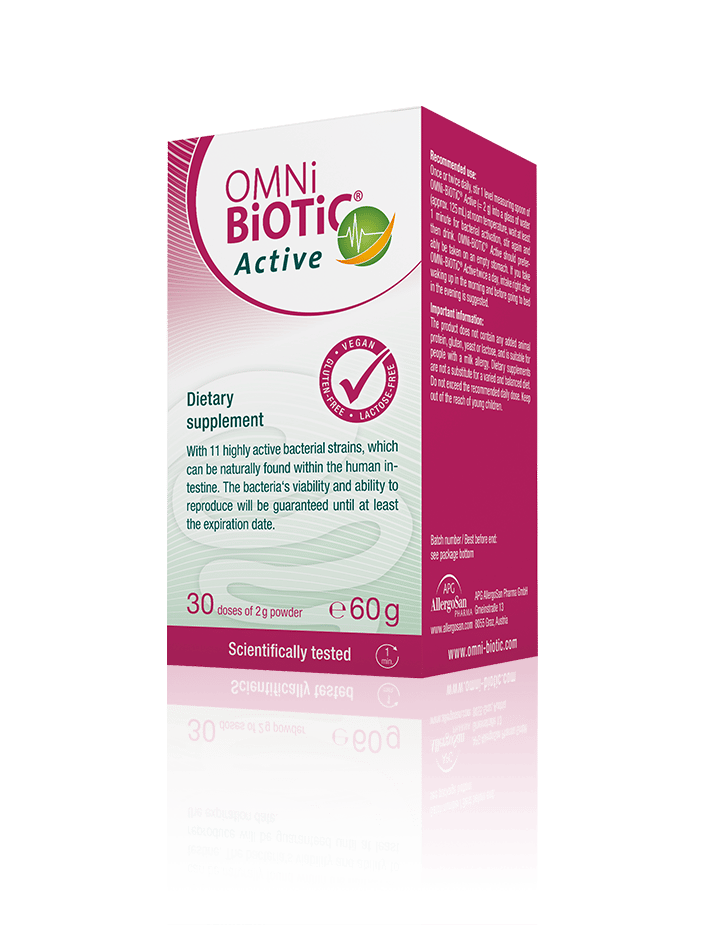 Ingredients
Rice starch, maltodextrin, potassium chloride, bacterial strains*, plant protein (rice), magnesium sulphate, manganese sulphate
* 11 bacterial strains with a minimum of 5 billion organisms per single dose (=2 g) and 10 billion organisms in 2 single doses (=4 g):
Lactobacillus casei W56
Lactobacillus acidophilus W37
Lactobacillus brevis W63
Lactococcus lactis W58
Lactococcus lactis W19
Bifidobacterium lactis W52
Bifidobacterium longum W108
Lactobacillus salivarius W24
Bifidobacterium breve W25
Bifidobacterium lactis W51
Bifidobacterium bifidum W23
The viability and reproducibility of the scientifically tested bacteria is guaranteed until at least the best before date.
Important information
This product does not contain any added animal proteins, gluten, yeast or lactose and is suitable for people with milk allergies. Dietary supplements are not a substitute for a varied and balanced diet. Maintain a healthy lifestyle and do not exceed the recommended daily dose. Keep out of reach of young children.
Nutritional information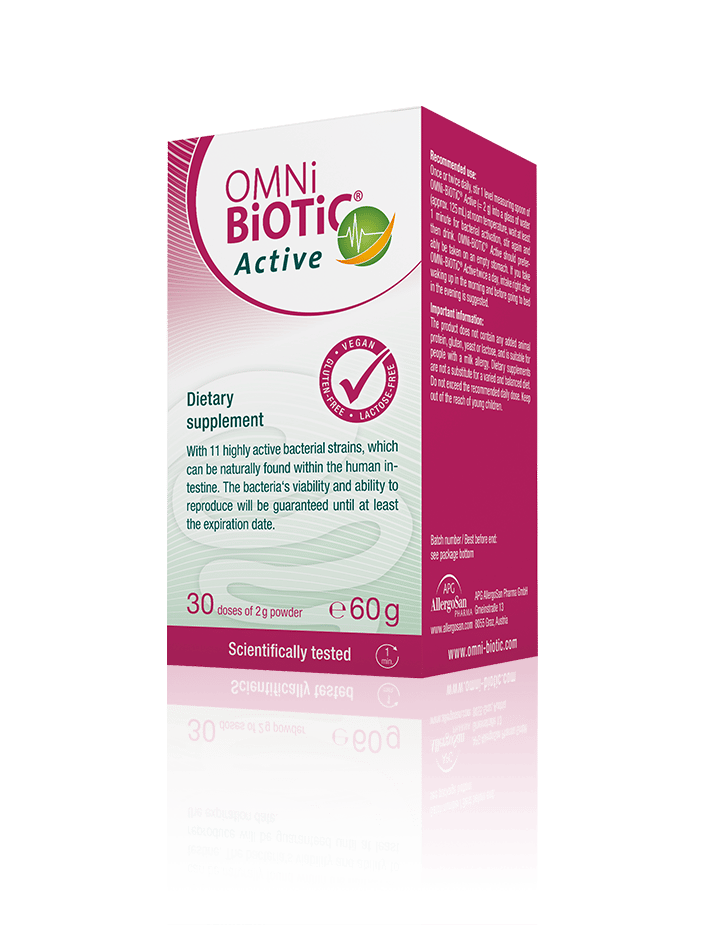 per 2 g (= single dose)
4 g
100 g
Energy
31.38 kJ
7.50 kcal
62.76 kJ
15 kcal
1,569 kJ
375 kcal
Fat
0.01 g
0.02 g
0.52 g
of which saturates
< 0.01 g
0.02 g
0.39 g
Carbohydrates
1.75 g
3.50 g
87.40 g
of which sugars
0.06 g
0.12 g
3.11 g
Protein
0.09 g
0.18 g
4.60 g
Salt
< 0.01 g

0.01 g

0.37 g
Package size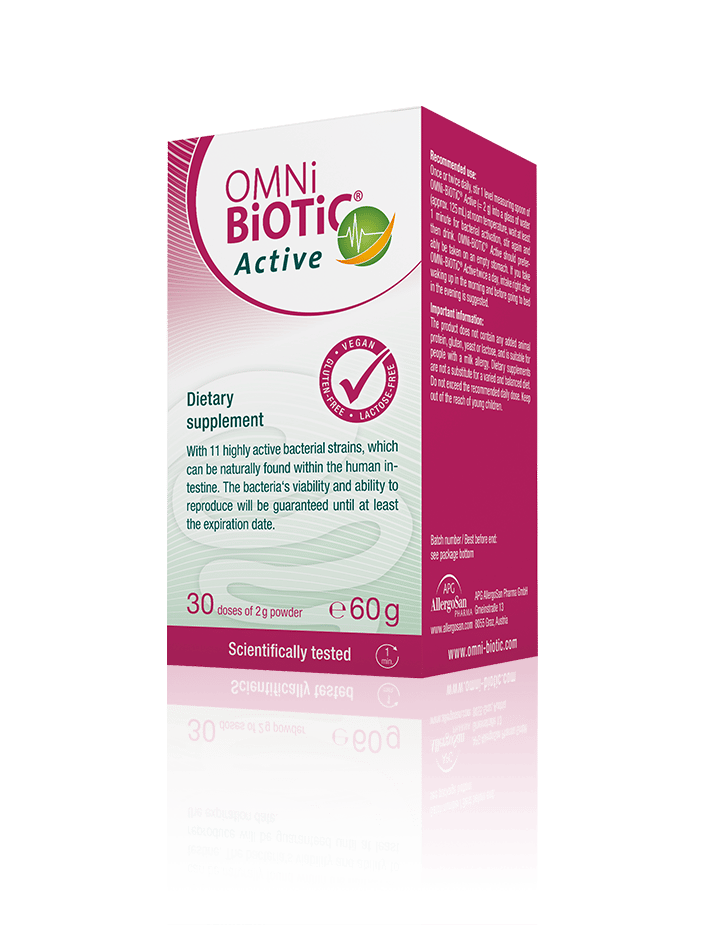 60g powder in a glass
Dietary supplement
With 11 highly active bacterial strains which can be found naturally within the human intestine. The bacteria's viability and ability to reproduce will be guaranteed until at least the expiration date.