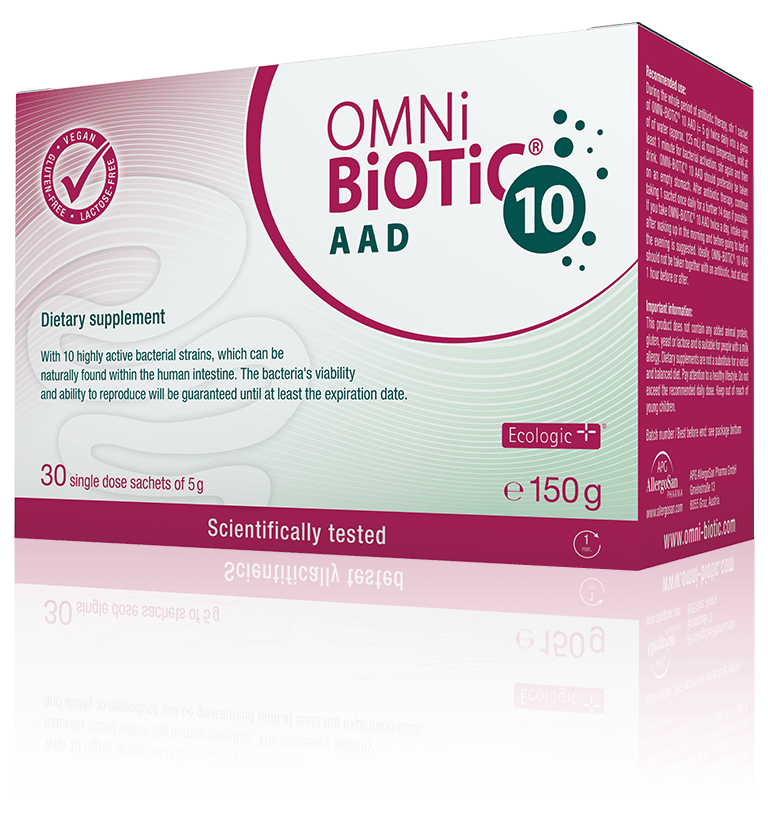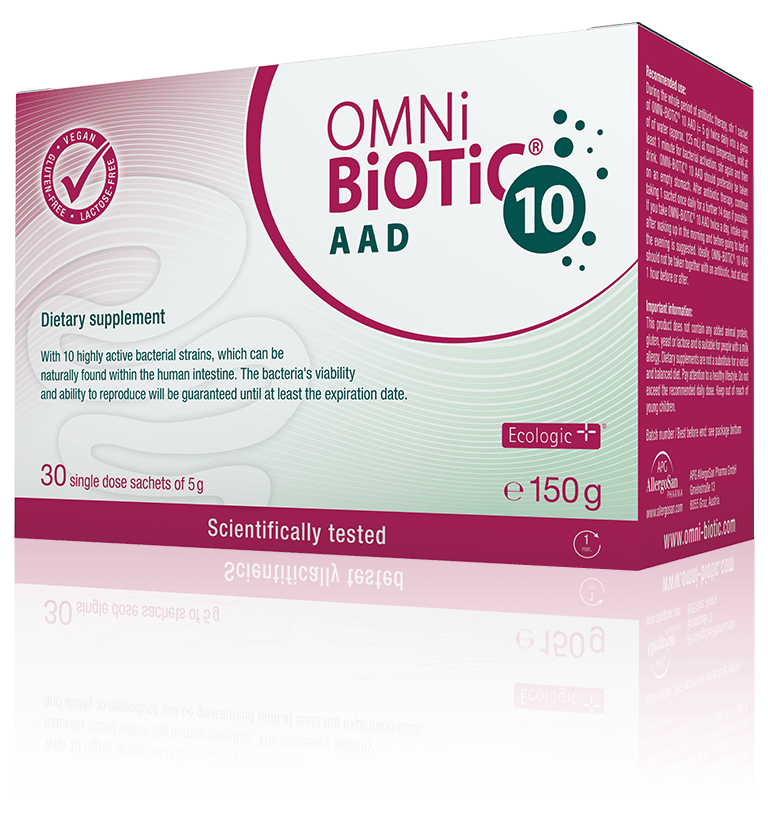 OMNi-BiOTiC® 10 AAD
The perfect supplement to any antibiotic therapy
The simultaneous use of probiotics during antibiotic therapy is crucial for regenerating the natural intestinal flora, minimizing side effects of antibiotic therapy such as diarrhoea, and displacing dangerous germs (e.g., Clostridium difficile).
Information
Function
Recommended use
Composition
Nutritional information
Package size
Online Shop
Information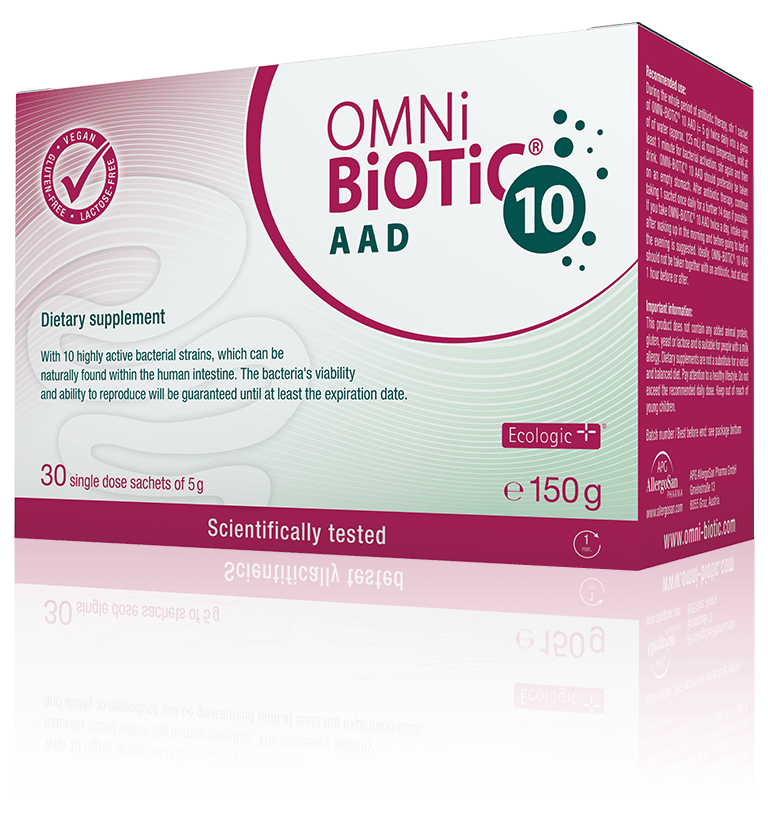 Antibiotics are real "silver bullets" against bacterial diseases. During antibiotic therapy, however, not only are the harmful bacteria in our gut wiped out, our "good" intestinal inhabitants are also decimated. The result: Barren intestines. This allows harmful germs (such as Clostridium difficile) and their toxins to multiply rapidly.
This imbalance (= disbalance) in the intestine can result in diarrhoea, the so-called antibiotic-associated diarrhoea (AAD). This antibiotic-associated diarrhoea can occur immediately or even weeks after the first antibiotic intake.
Furthermore, each antibiotic therapy reduces the diversity of bacterial strains in our intestines. A rich and diverse mix of intestinal bacteria is necessary to ensure that the intestines can perform their various tasks. These include the immune defence, as well as breaking down and absorbing nutrients.
Therefore, it is important to regulate your intestinal flora during antibiotic therapy with the specially selected intestinal bacteria included in OMNi-BiOTiC® 10 AAD.
Function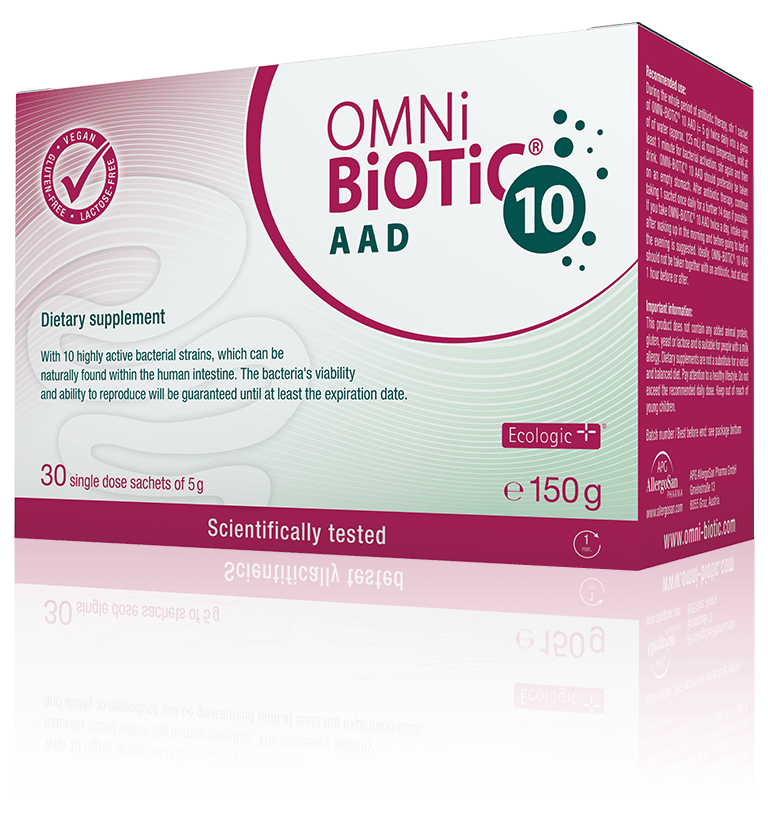 The simultaneous use of probiotics during antibiotic therapy is crucial for regenerating the natural intestinal flora and displacing dangerous germs (e.g., Clostridium difficile).
Extensive scientific studies show that OMNi-BiOTiC® 10 AAD can regulate the side effects of an antibiotic therapy – namely a bacterial disbalance in the intestines – and can restore the intestinal flora.
OMNi-BiOTiC® 10 AAD contains ten specially selected, scientifically tested bacterial strains, with the following proven effects::
Preventing the reproduction of pathogenic germs (e.g., Clostridium difficile)and therefore limiting diarrhoea
Reducing the release of toxins by Clostridium difficileand thus preventing the destruction of the intestinal mucosa
OMNi-BiOTiC® 10 AAD is a dietary supplement.
Recommended use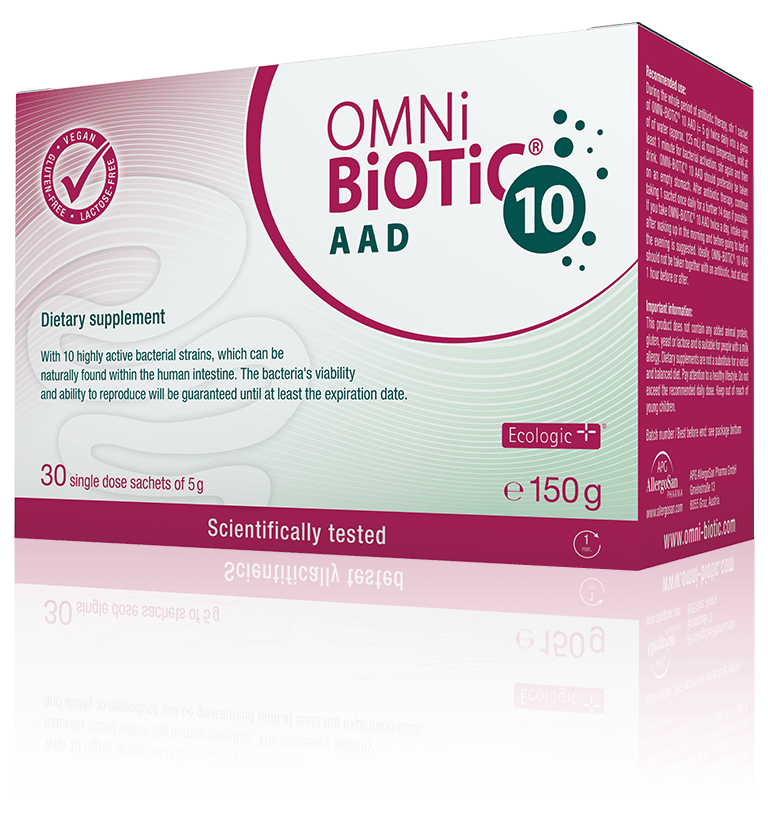 During the whole duration of antibiotic therapy, stir 1 sachet of OMNi-BiOTiC® 10 AAD (= 5 g) twice daily into a glass of water (approx. 125 mL) at room temperature, wait at least 1 minute for bacterial activation, stir again and then drink.
After the antibiotic therapy, continue taking 1 sachet daily for another 14 days if possible.
Children until the age of 3, need to take half of the daily dosage.
OMNi-BiOTiC® 10 AAD should preferably be taken on an empty stomach.
If you take OMNi-BiOTiC® 10 AAD twice a day, intake right after waking up in the morning and before going to bed in the evening is suggested.
Ideally, OMNi-BiOTiC® 10 AAD should not be taken together with an antibiotic but rather 1 hour beforehand or afterwards.
Additional information
If you suffer from fructose intolerance, then you should extend the activation time of OMNi-BiOTiC® 10 AAD to at least 30 minutes. During this time, the bacteria metabolise all of the fructooligosaccharides without any of it reaching the intestines.
Composition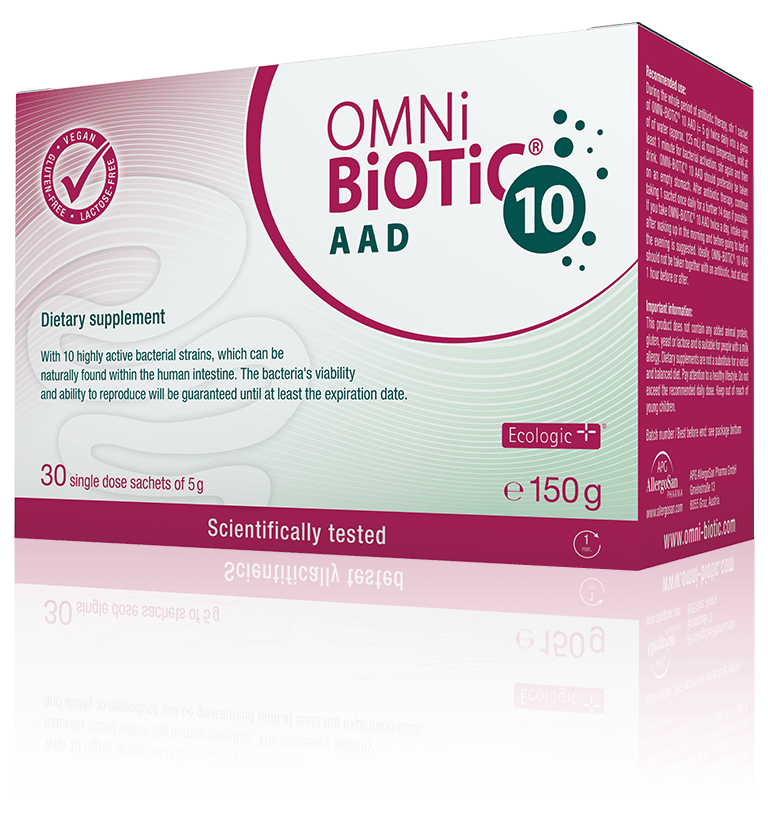 Ingredients
Corn starch, maltodextrin, inulin, potassium chloride, plant protein (rice), magnesium sulphate, fructooligosaccharides (FOS), bacterial strains*, enzymes (amylases), vanilla flavouring, manganese sulphate
* 10 bacterial strains with a minimum of 5 billion organisms per single dose (= 5 g) and 10 billion organisms in 2 single doses (= 10 g):
Lactobacillus acidophilus W55
Lactobacillus acidophilus W37
Lactobacillus paracasei W72
Lactobacillus rhamnosus W71
Enterococcus faecium W54
Lactobacillus salivarius W24
Lactobacillus plantarum W62
Bifidobacterium bifidum W23
Bifidobacterium lactis W18
Bifidobacterium longum W51
These scientifically tested bacteria are guaranteed to maintain their viability and ability to replicate until the best before date.
Important information
The product does not contain any added animal protein, gluten, yeast or lactose and is suitable for people with a milk allergy. Dietary supplements are not a substitute for a varied and balanced diet. Maintain a healthy lifestyle and do not exceed the recommended daily dose. Keep out of reach of young children.
Nutritional information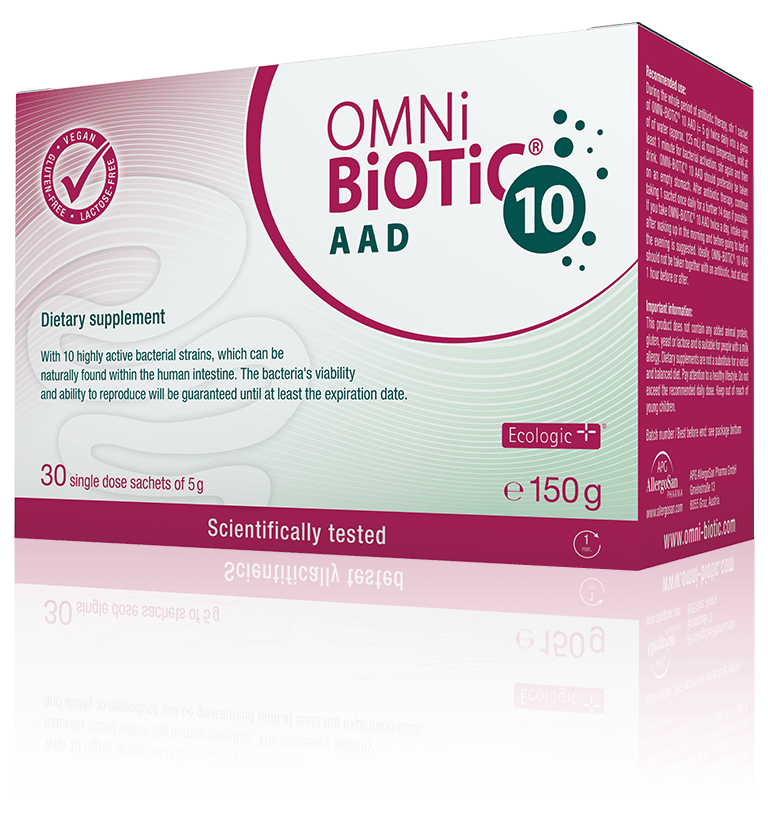 per 5 g (= single dose)
10 g
100 g
Energy
77.60 kJ
18.55 kcal
155.20 kJ
37.10 kcal
1,552 kJ
371 kcal
Fat
<0.01 g
0.01 g
0.10 g
of which saturates
<0.01 g
<0.01 g
0.02 g
Carbohydrates
4.52 g
9.04 g
90.40 g
of which sugars
0.19 g
0.38 g
3.78 g
Protein
0.11 g
0.22 g
2.20 g
Salt
0.03 g
0.07 g
0.66 g
Package size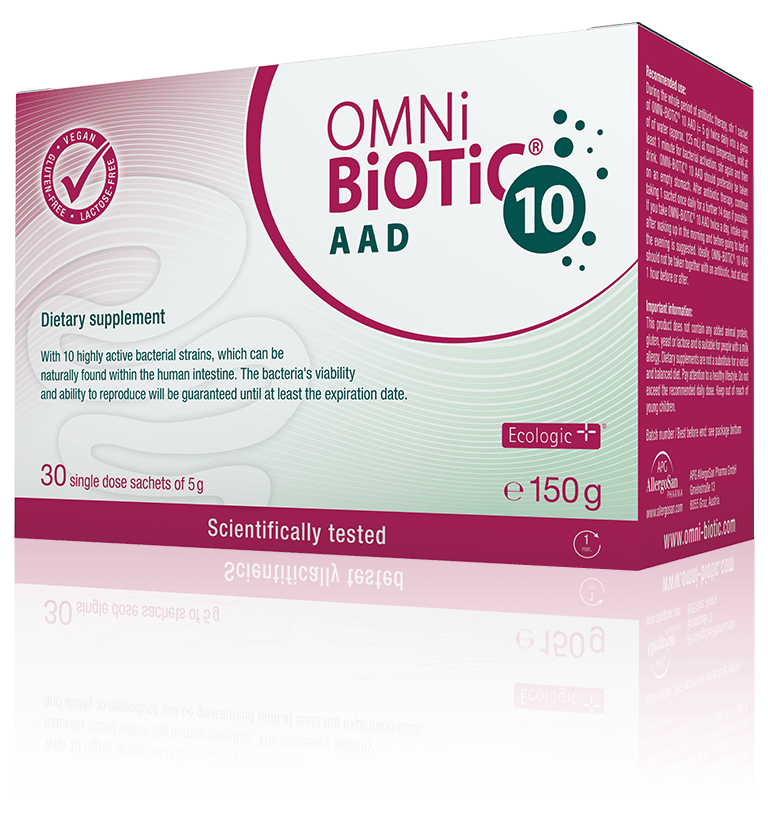 10 sachets each 5 g
30 sachets each 5 g
With 10 highly active bacterial strains which can be found naturally within the human intestine. The bacteria's viability and ability to reproduce will be guaranteed until at least the expiration date.