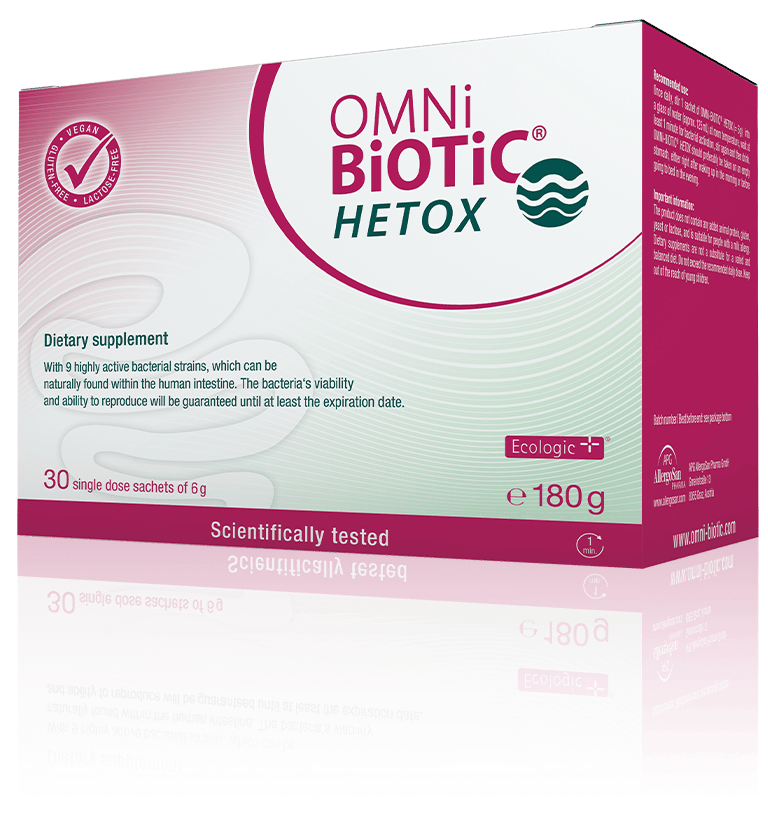 Information
Function
Recommended use
Composition
Nutritional information
Package size
Online Shop
Information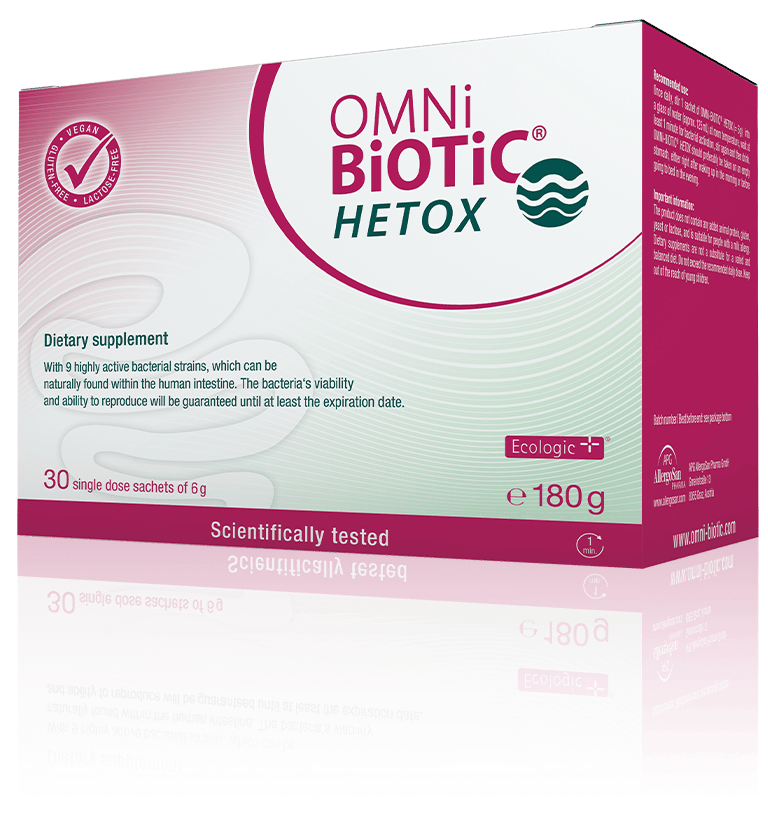 Our liver is a very large and vital organ that is responsible for a multitude of different processes in our body: day after day, 2,000 litres of blood are filtered in the liver and freed from toxic substances (such as pollutants, alcohol or medicines) so that they do not enter our organism. At the same time, important food components (i.e., carbohydrates, fats and proteins) are metabolised by our liver and thus made available for the entire body.
This detoxification centre is much more resilient than the rest of the organs in our bodies: Within a few weeks, the liver can regenerate itself completely. But beware: even the strongest liver cannot withstand permanent and extensive strain!
Particulary dangerous: we do not feel damage of our liver immediately, because the liver does not emit painful stimuli, but suffers silently. Many symptoms of liver dysfunction (e.g. fatigue, loss of appetite, feeling of fullness, intolerance of fat, sensitivity to pressure in the upper abdomen) are very unspecific and do not directly indicate a liver disease.
Our current and often unhealthy lifestyle has an extremely negative impact on our intestines and the vital intestinal bacteria that live within. We eat too much fat and sugar, drink too much coffee and alcohol, and move too little. In addition, almost everyone is constantly stressed for one reason or another nowadays. The result: a "leaky gut"! The mucosal layer on the surface of the intestine changes, and many bacteria simply die off. As a result, all toxic substances that enter our bodies through our food are no longer simply excreted with the stool. Instead, they can pass unhindered into the underlying bloodstream and nerve pathways – straight into our circulation. A functional intestine is, therefore, an important prerequisite so that our liver is not overburdened and can perform its tasks normally.
Function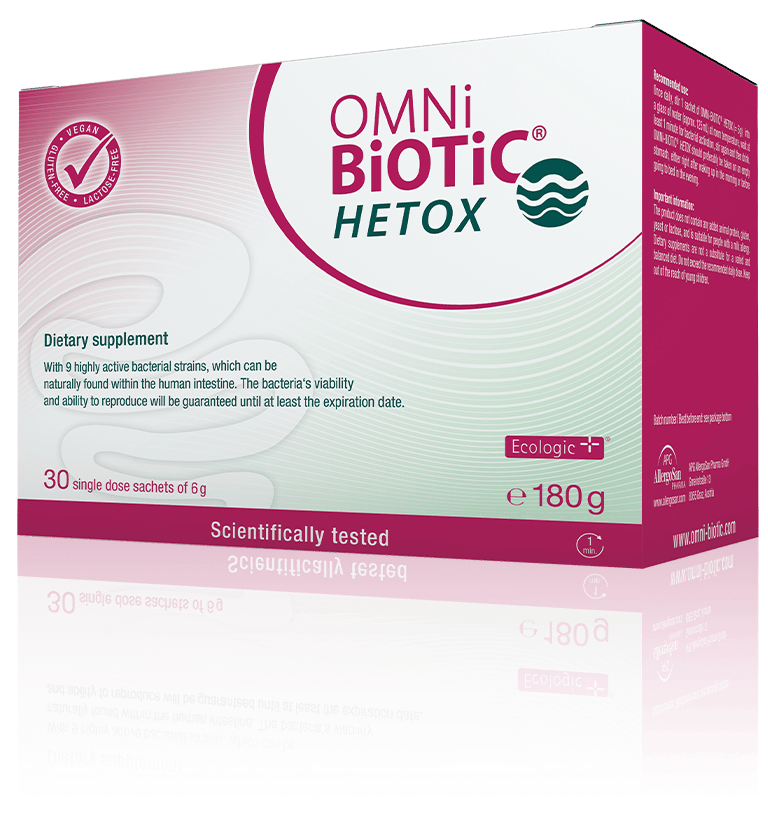 OMNi-BiOTiC® HETOX contains 15 billion intestinal bacteria per sachet, all belonging to 9 different strains that occur naturally within the human intestines.
This specially developed combination of bacteria has been used in scientific studies on people with impaired liver function.
Recommended use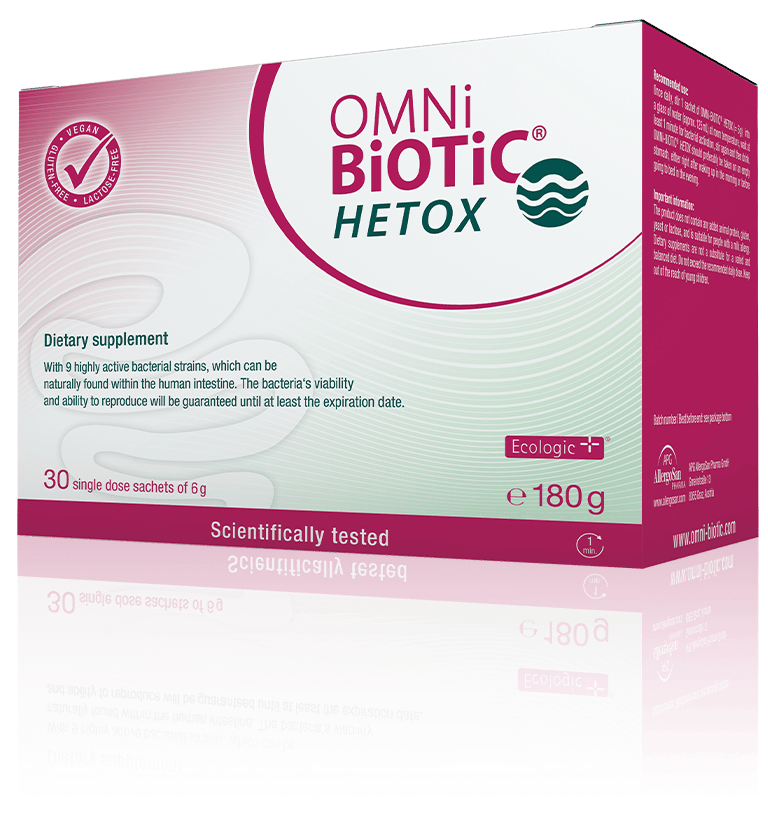 Once daily, stir 1 sachet of OMNi-BiOTiC® HETOX (= 6 g) into a glass of water (approx. 125 mL) at room temperature, wait at least 1 minute for bacterial activation, stir again and then drink. OMNi-BiOTiC® HETOX should preferably be taken on an empty stomach, either right after waking up in the morning or before going to bed in the evening.
Composition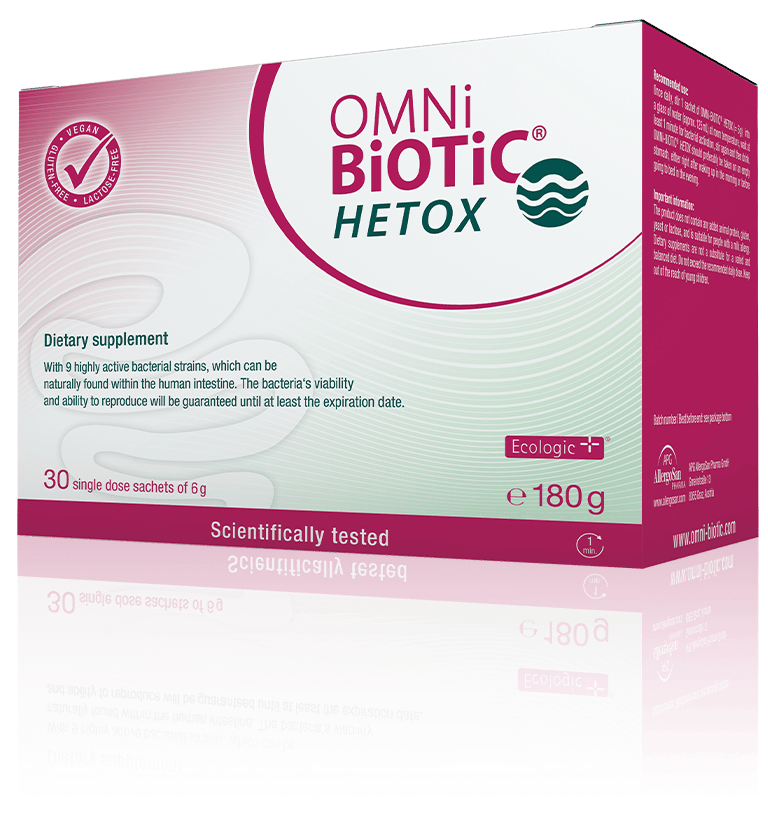 Ingredients
Corn starch, maltodextrin, plant protein (peas), potassium chloride, bacterial strains*, magnesium sulphate, enzymes (amylases), manganese sulphate
* 9 bacterial strains with a minimum of 15 billion organisms per single dose (= 6 g):
Lactobacillus casei W56
Lactobacillus acidophilus W37
Lactobacillus brevis W63
Lactococcus lactis W58
Lactococcus lactis W19
Bifidobacterium lactis W52
Lactobacillus salivarius W24
Bifidobacterium lactis W51
Bifidobacterium bifidum W23
The viability and reproducibility of the scientifically tested bacteria is guaranteed until at least the best before date.
Important information
The product does not contain any added animal protein, gluten, yeast or lactose and is suitable for people with a milk allergy.
Dietary supplements are not a substitute for a varied and balanced diet. Do not exceed the recommended daily dose. Keep out of reach of young children.
Nutritional information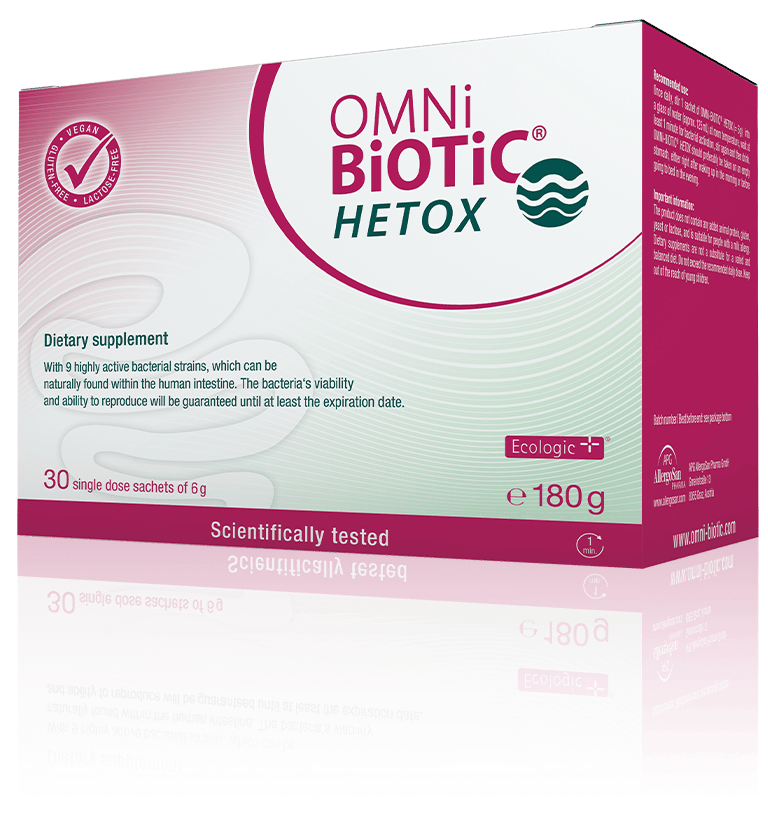 per 6 g (= single dose)
100 g
Energy
93.12 kJ
22.26 kcal
1,552 kJ
371 kcal
Fat
0.02 g
0.28 g
of which saturates
<0.01 g
0.07 g
Carbohydrates
5.24 g
87.40 g
of which sugars
0.25 g
4.13 g
Protein
0.29 g
4.79 g

Salt

0.04 g
0.68 g
Package size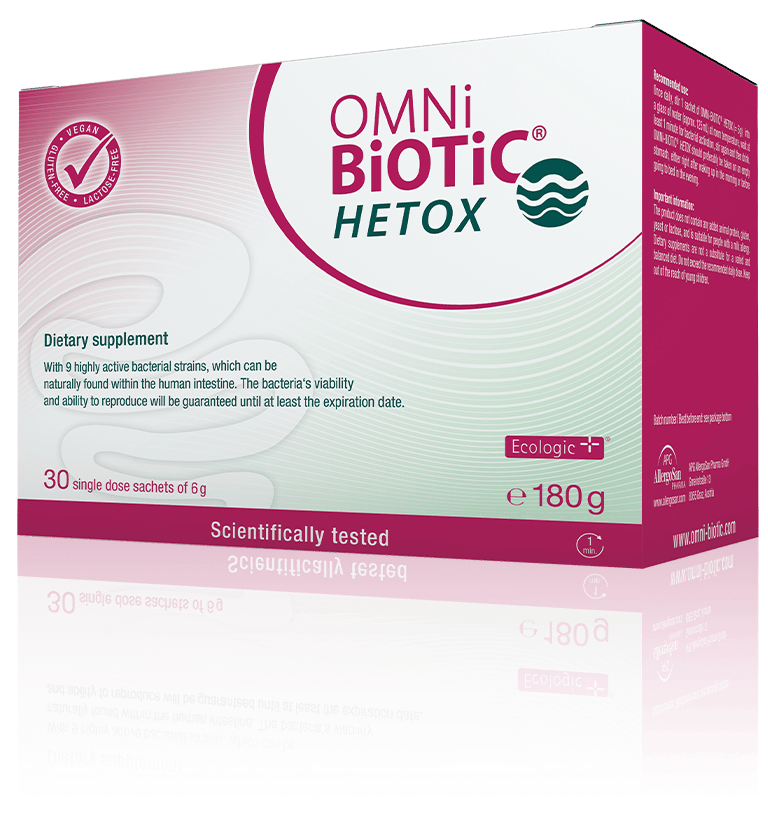 30 sachets each 6 g
Food for special medical purposes*
With 9 highly active bacterial strains which can be found naturally within the human intestine. The bacteria's viability and ability to reproduce will be guaranteed until at least the expiration date.
*status in Austria