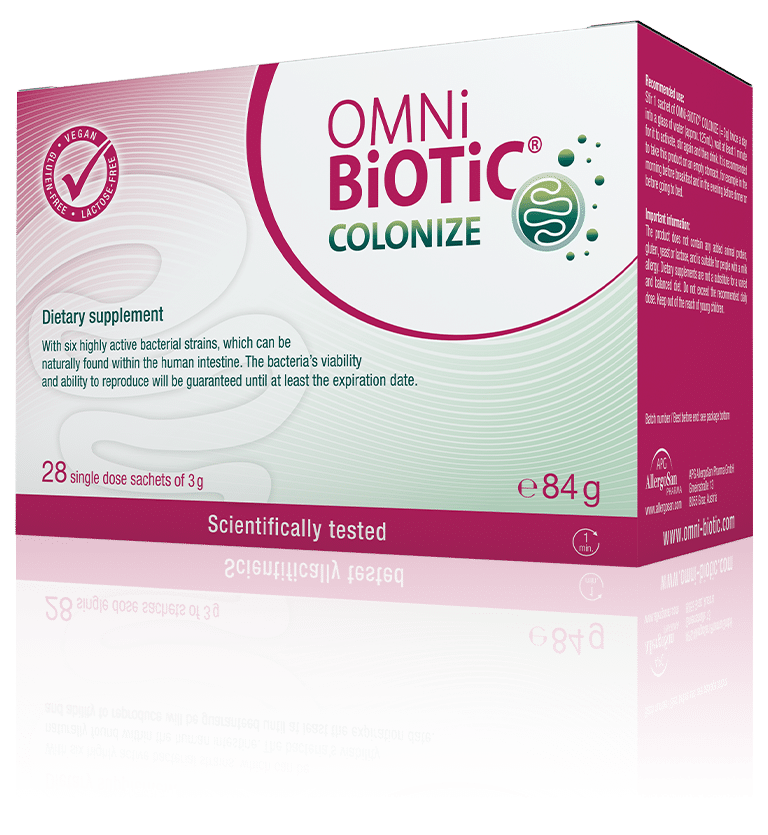 Information
Function
Recommended use
Composition
Nutritional information
Package size
Online Shop
Information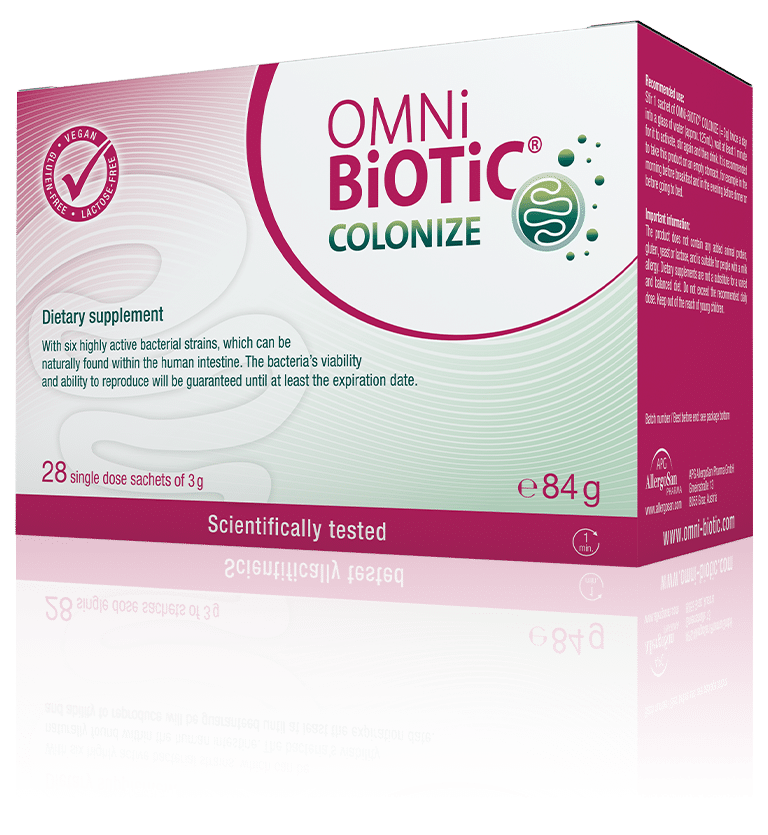 What influence does colonoscopy have on the intestinal flora?
A colonoscopy is nowadays recommended to all people over the age of 50 as a preventive examination to detect any changes in the (large) intestinal tissue. In order to really have a clear view of the intestines, appropriate preparation is required, including a thorough cleansing of the intestines. This is because the condition of the intestine can only be reliably assessed when it is empty.
For this purpose, a laxative (lavage) is taken with sufficient liquid to completely empty and thoroughly rinse the bowel. However, colon cleansing temporarily leads to a significant change in the natural intestinal flora. This is reduced to less than one-thirtieth during colonoscopy preparation.
Immediately after a colonoscopy, the intestine may be susceptible to new foreign germs due to the reduced competitive pressure. This is noticeable in up to 80% of people after a colonoscopy: Almost half experience flatulence, followed by diarrhoea, abdominal pain and constipation.
However, the fact that unwanted intestinal inhabitants such as putrefactive germs and co. are also flushed out offers the intestine and its microbiome the opportunity to free itself from old "burdens" and start anew. Ideally with as many useful bacteria as possible, so that undesirable germs no longer have room to settle.
Function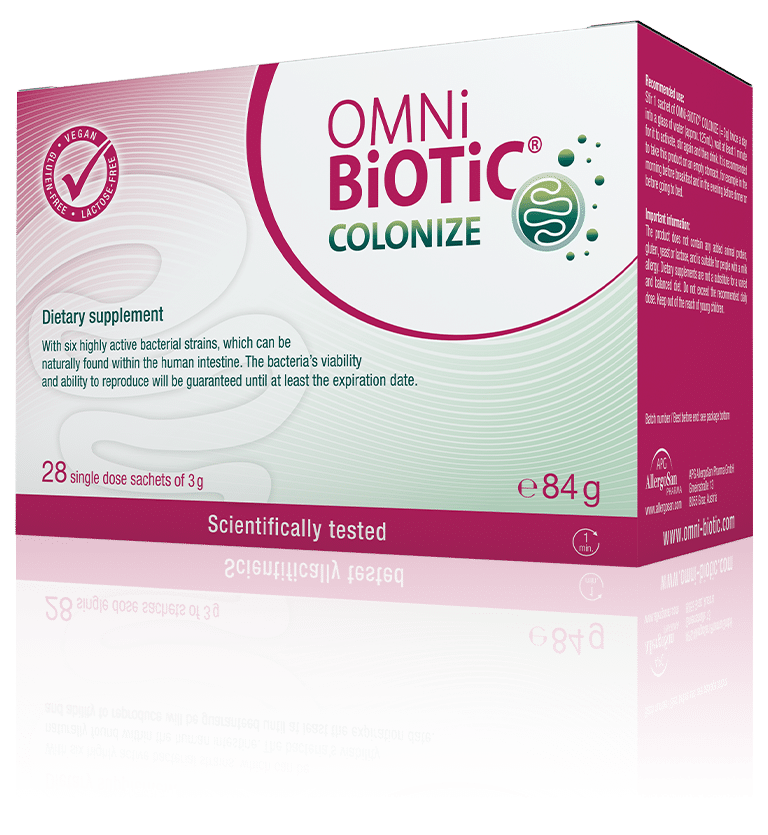 OMNi-BiOTiC® COLONIZE is the fresh start for your intestine and supplements the intestinal flora with 6 scientifically combined and naturally occurring bacterial strains in the human intestine. The special feature is the high number of 18 billion bacteria per daily dose, which have been proven to colonise the intestine naturally.
Recommended use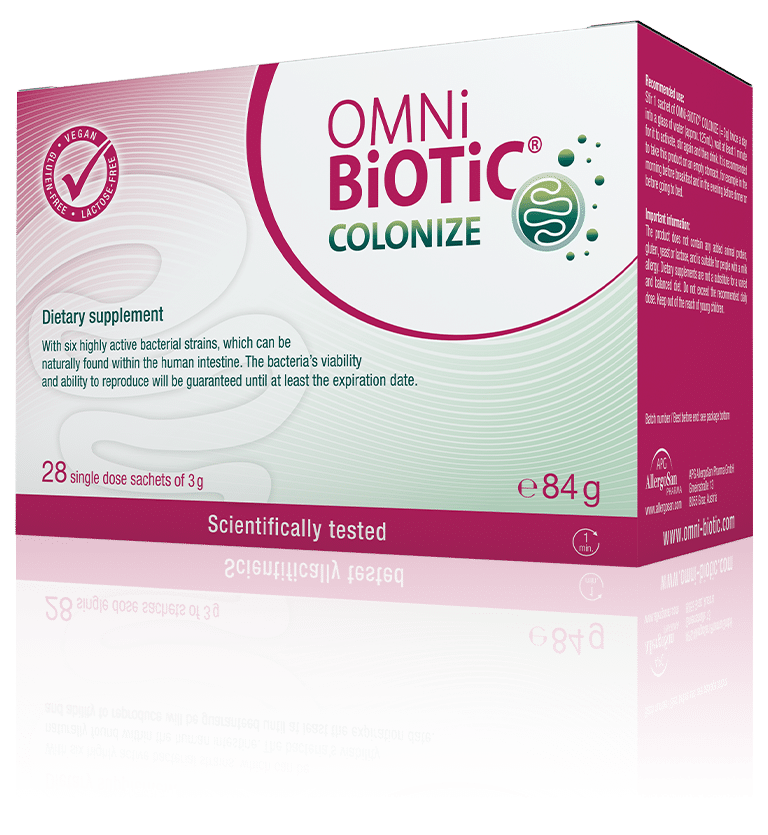 How is OMNi-BiOTiC® COLONIZE used?
Stir 1 sachet of OMNi-BiOTiC® COLONIZE (= 3 g) into approx. 125m l water twice a day, wait at least 1 minute for activation, stir again and then drink.
It is recommended to take it on an empty stomach if possible, e.g. in the morning before breakfast and in the evening before dinner or before going to bed.
The use of OMNi-BiOTiC® COLONIZE is recommended for at least four weeks after a colonoscopy and also after intestinal cures or colonic irrigation.
Composition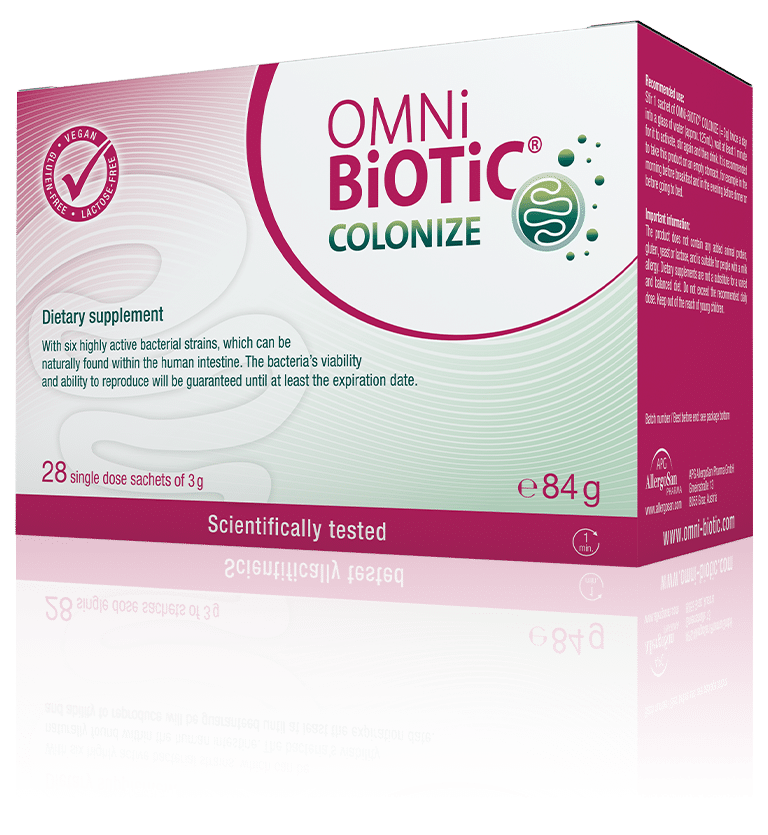 Rice starch, maltodextrin, vegetable protein (rice), potassium chloride, bacterial strains*, magnesium sulphate, manganese sulphate.
* 6 human bacterial strains with at least 18 billion germs per 2 servings (= daily dose, 6 g):
Lactobacillus acidophilus W37
Lactococcus lactis W19
Lactobacillus rhamnosus WGG
Bifidobacterium lactis W51
Enterococcus faecium W54
Bifidobacterium bifidum W23
Suitable for vegans, diabetics, children, pregnancy / lactation.
One monthly pack (56 pcs.) of OMNI-BiOTiC® COLONIZE contains a total of 504 billion bacteria capable of living and reproducing.
Nutritional information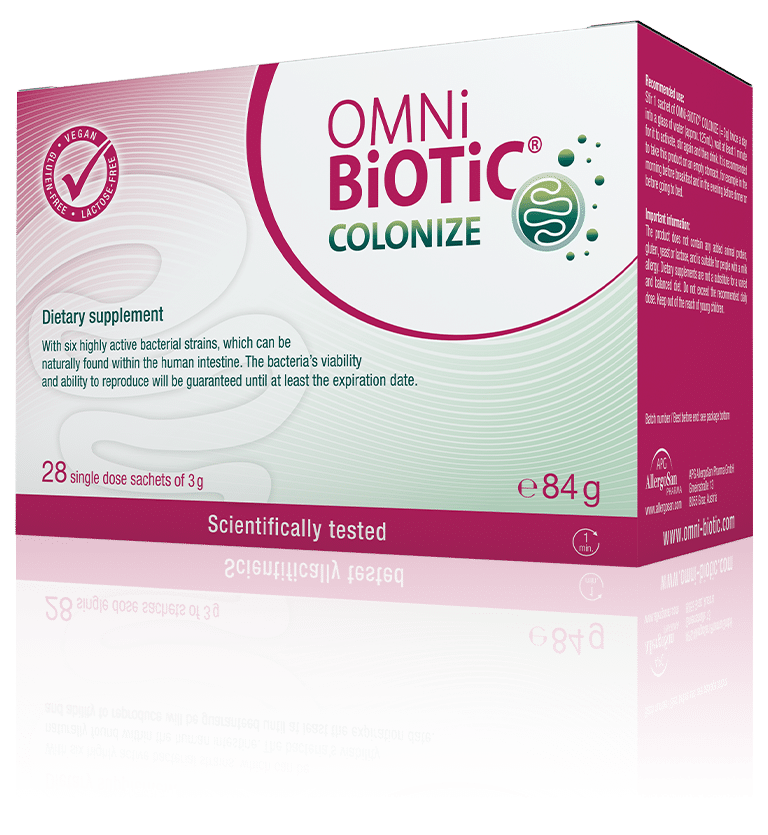 per 6 g (=single dose)
per 100 g
Energy
76.80 kJ
(18.36 kcal)
1.552 kJ (371 kcal)
Fat
0.03 g
0.50 g
of which saturates
0.02 g
0.38 g
Carbohydrates
4.09 g
68.10 g
of which sugars
0.28 g
4.60 g
Protein
 0.36 g
6.00 g

Salt

0.03 g

0.50 g
Package size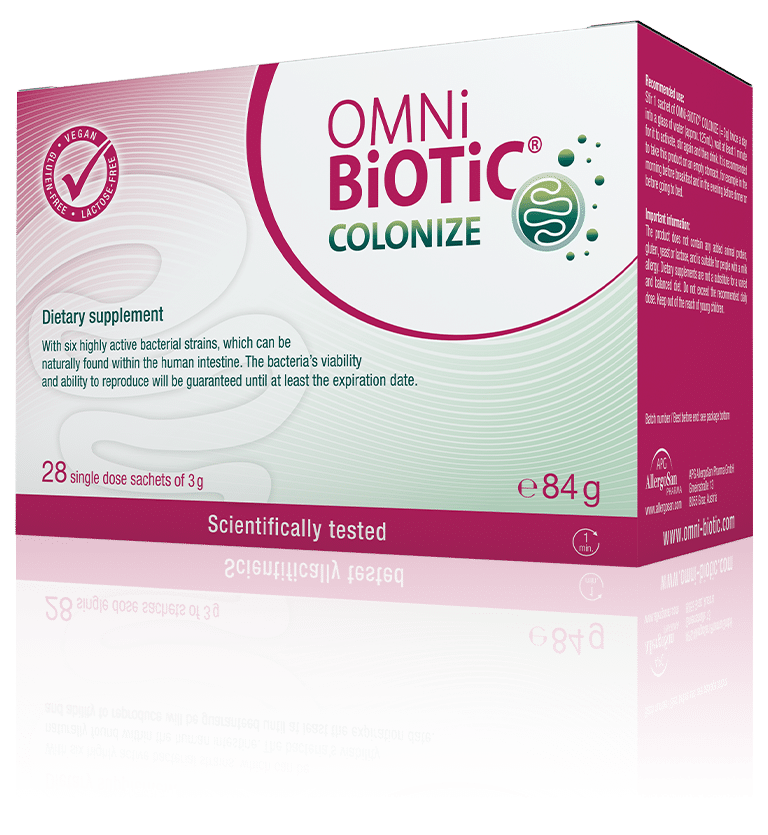 28 sachets à 3 g (RRP: 43,00 €)
56 sachets à 3 g (RRP: 78.00 €)
Food supplement with highly active intestinal symbionts.