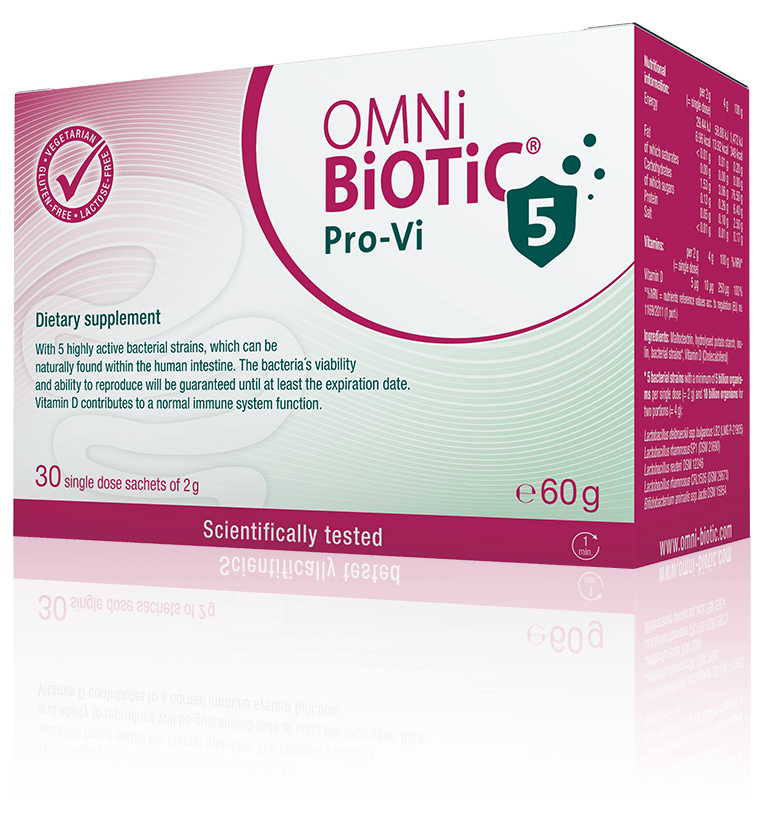 Information
Function
Recommended use
Composition
Nutritional information
Package size
Online Shop
Information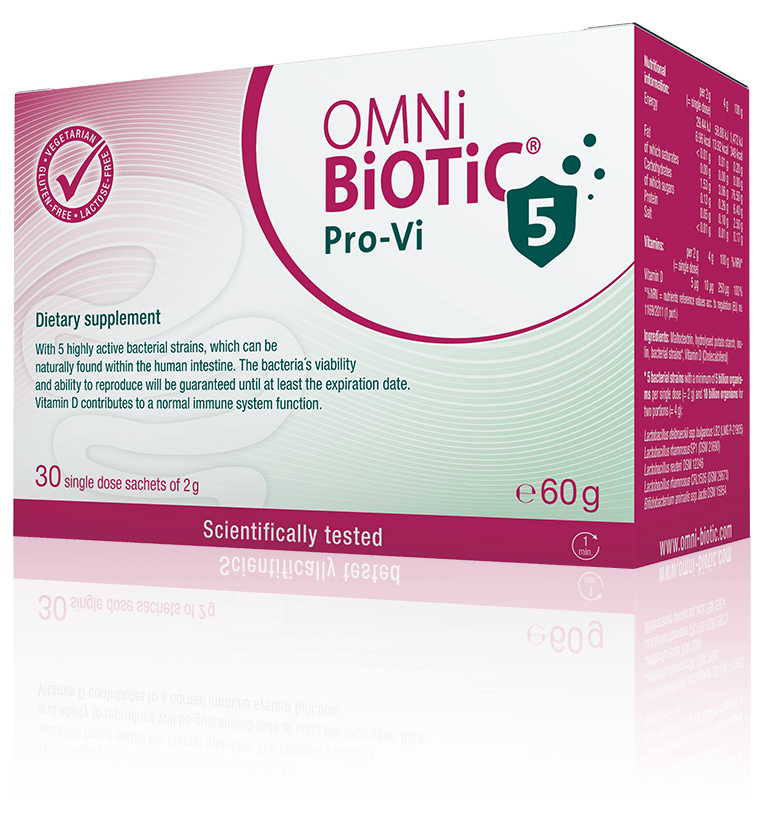 During the cold winter months, when the air is especially dry, our bodies defences are exposed to high amounts of airborne viruses and other pathogens. To cope with this assault, the immune system has to work overtime. A diet with too much sugar and too little fibres also alters the important intestinal flora. On top of it all, the short winter days and the lack of exercise out in the open results in a vitamin D deficiency.
If we add stress and/or psychological strain to the equation, the immune system suffers from burnout and can't protect our body the way it should.
That is why we recommend OMNi-BiOTiC® Pro-Vi 5 whenever our body's defences are under strain.
Function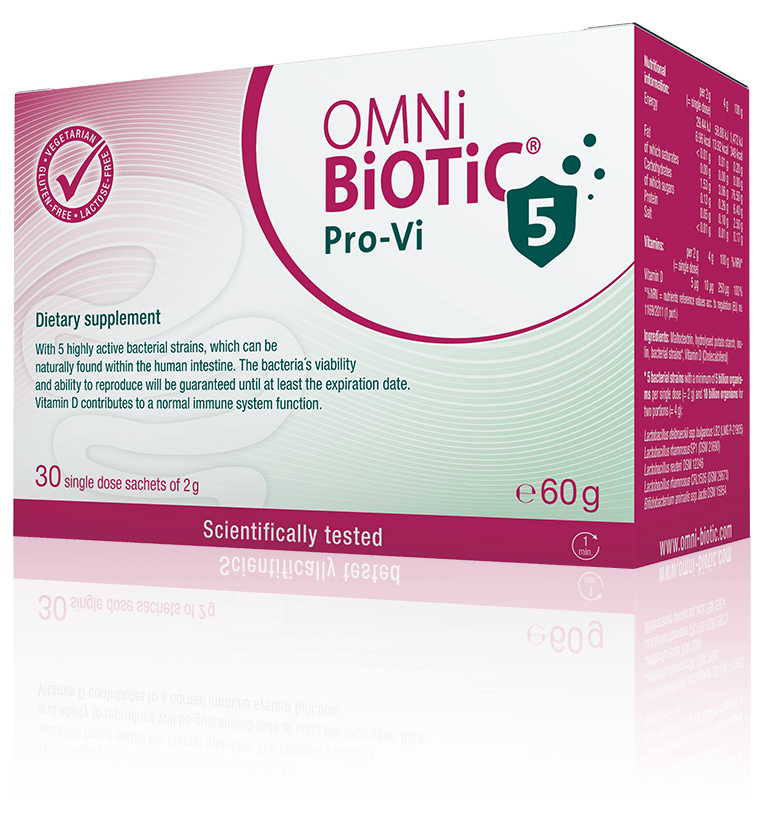 OMNi-BiOTiC® Pro-Vi 5 is the perfect companion for your body's defences: This innovative and worldwide unique probiotic combines 5 specially selected bacterial strains that supplement your intestinal flora with 5 billion symbionts. All of which are naturally found in the human intestines.
In addition, these scientifically selected bacteria have been combined with vitamin D, which plays an important role in maintaining a normal and functional immune system.
As with all OMNi-BiOTiC® products, the bacterial strains within OMNi-BiOTiC® Pro-Vi 5 were selected according to their own specific characteristics. Furthermore, the effectiveness of this multispecies combination was verified in a variety of scientific studies.
Recommended use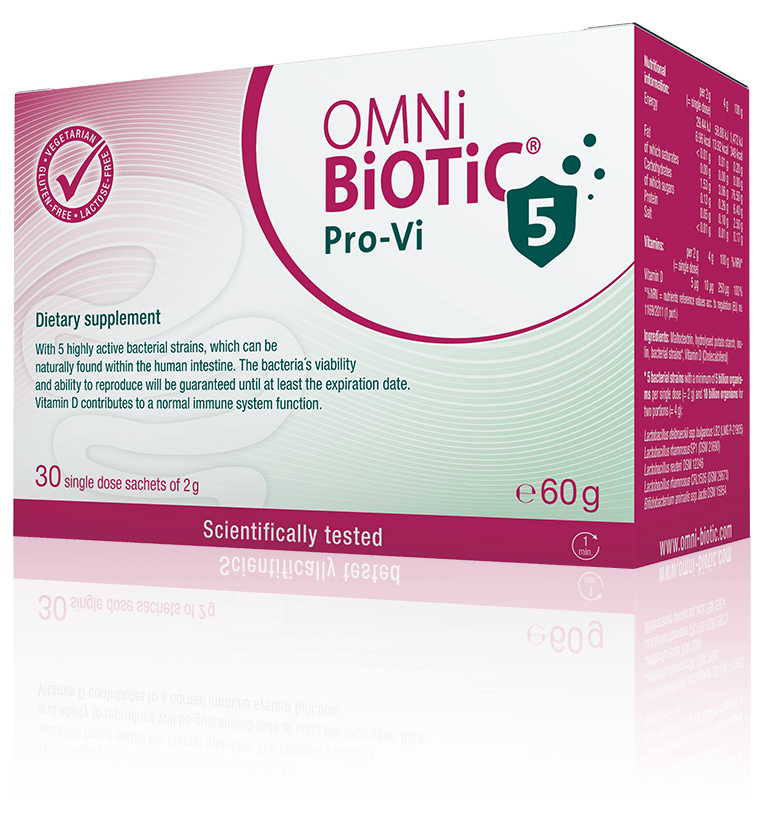 Once or twice daily, stir 1 sachet of OMNi-BiOTiC® Pro-Vi 5 (= 2 g) into a glass of water (approx. 125 ml) at room temperature, wait at least 1 minute for bacterial activation, stir again, and then drink.
OMNi-BiOTiC® Pro-Vi 5 should preferably be taken on an empty stomach. If you take OMNi-BiOTiC® Pro-Vi 5 twice a day, intake right after waking up in the morning and before going to bed in the evening is suggested.
For children, the daily use of 1 sachet of OMNi-BiOTiC® Pro-Vi 5 is recommended.
Composition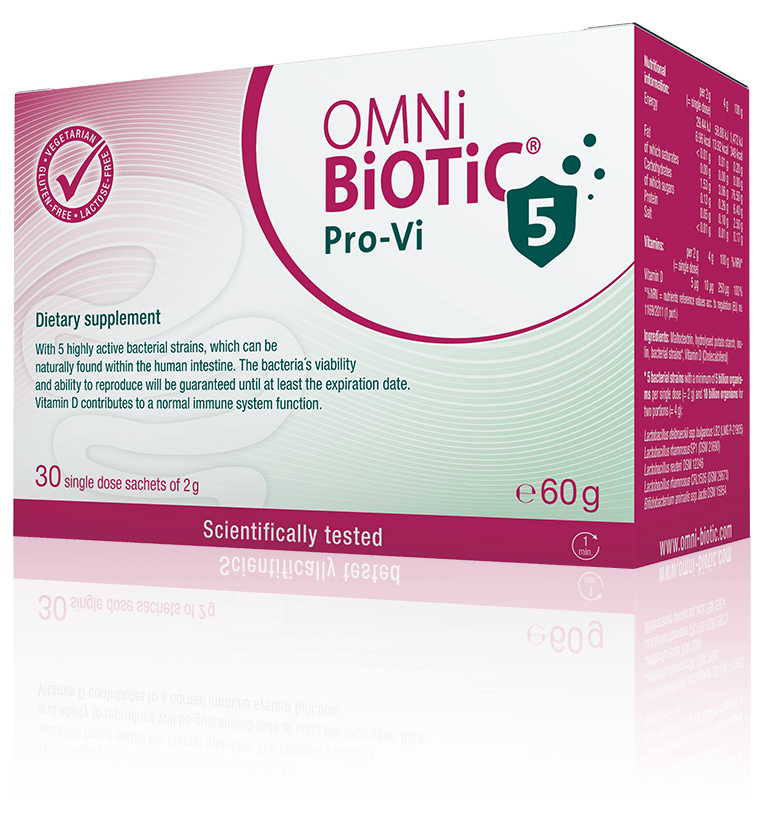 Ingredients
Maltodextrin, hydrolysed potato starch, inulin, bacterial strains*, Vitamin D (Cholecalciferol)
*5 bacterial strains with a minimum of 5 billion organisms per single dose (=2 g) and 10 billion organisms in 2 single doses (=4 g):
Lactobacillus delbrueckii ssp. Bulgaricus LB2 (LMG P-21905)
Lactobacillus rhamnosus SP1 (DSM 21690)
Lactobacillus reuteri DSM 12246
Lactobacillus rhamnosus CRL1505 (DSM 29673)
Bifidobacterium animalis ssp. Lactis DSM 15954
These scientifically tested bacteria are guaranteed to maintain their viability and ability to replicate until the best before date.
Important information
The product does not contain any added animal protein, gluten, yeast or lactose and is suitable for people with a milk allergy. Dietary supplements are not a substitute for a varied and balanced diet. Do not exceed the recommended daily dose. Keep out of the reach of young children.
Nutritional information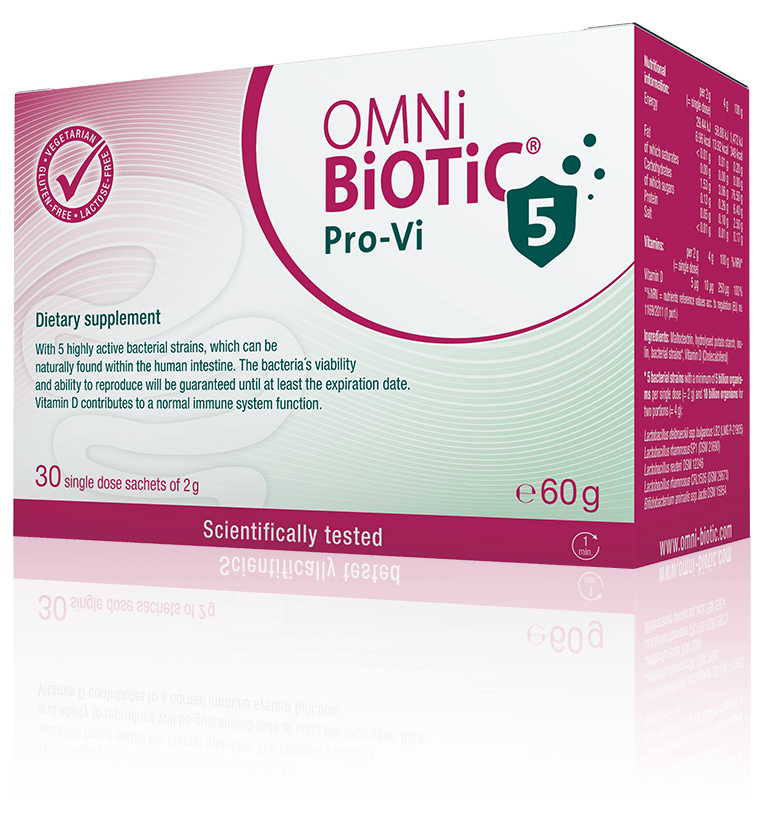 per  2 g (= single dose)
4 g
100 g
Energy
29.44 kJ
6.96 kcal
58.88 kJ
13.92 kcal
1,472 kJ
348 kcal
Fat
< 0.01 g
0.01 g
0.20 g
of which saturates
0.00 g
0.00 g
0.00 g
Carbohydrates
1.53 g
3.06 g
76.50 g
of which sugars
0.13 g
0.26 g
6.40 g
Protein
0.05 g
0.10 g
2.50 g

Salt

< 0.01 g
0.01 g
0.17 g
Vitamins
| | per 2 g (= single dose) | 4 g | 100 g | %NRV* |
| --- | --- | --- | --- | --- |
| Vitamin D | 5 μg | 10 μg | 250 μg | 100% |
* %NRV =  nutrients reference values acc. to regulation (EU) no. 1169/2011 (1 port.)
Package size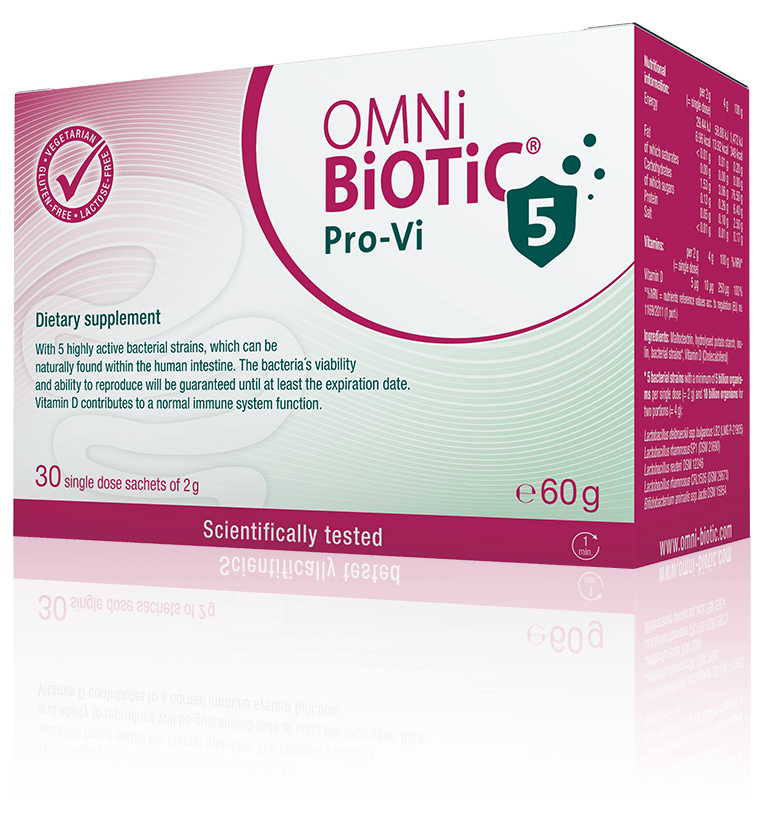 30 sachets each 2 g
Dietary supplement
With 5 highly active bacterial strains which can be found naturally within the human intestine. The bacteria's viability and ability to reproduce will be guaranteed until at least the expiration date.
Vitamin D contributes to a normal immune system function.