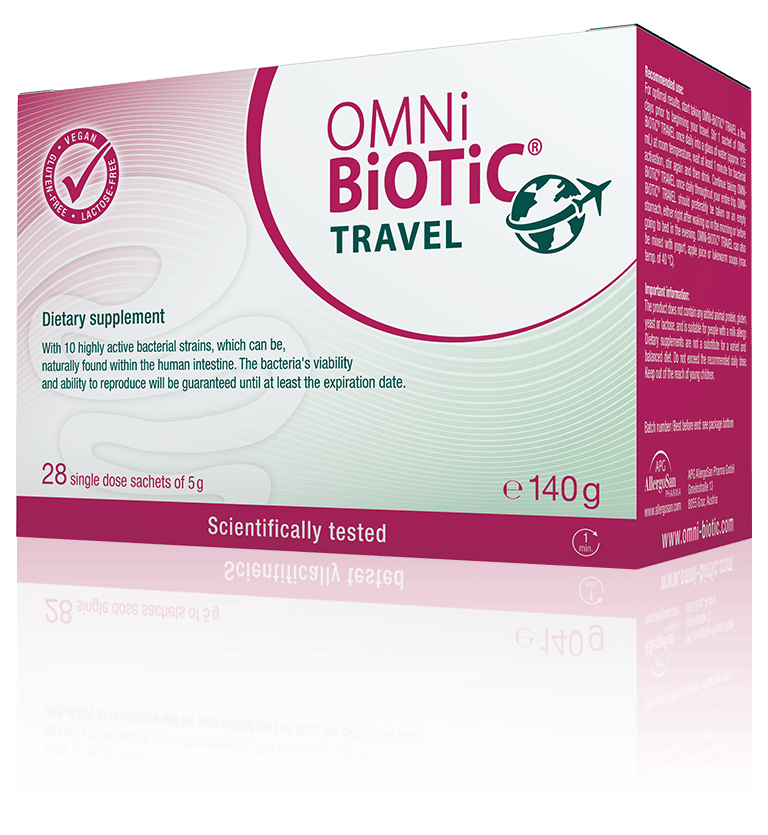 Information
Function
Interesting facts
Recommended use
Composition
Nutritional information
Package size
Online Shop
Information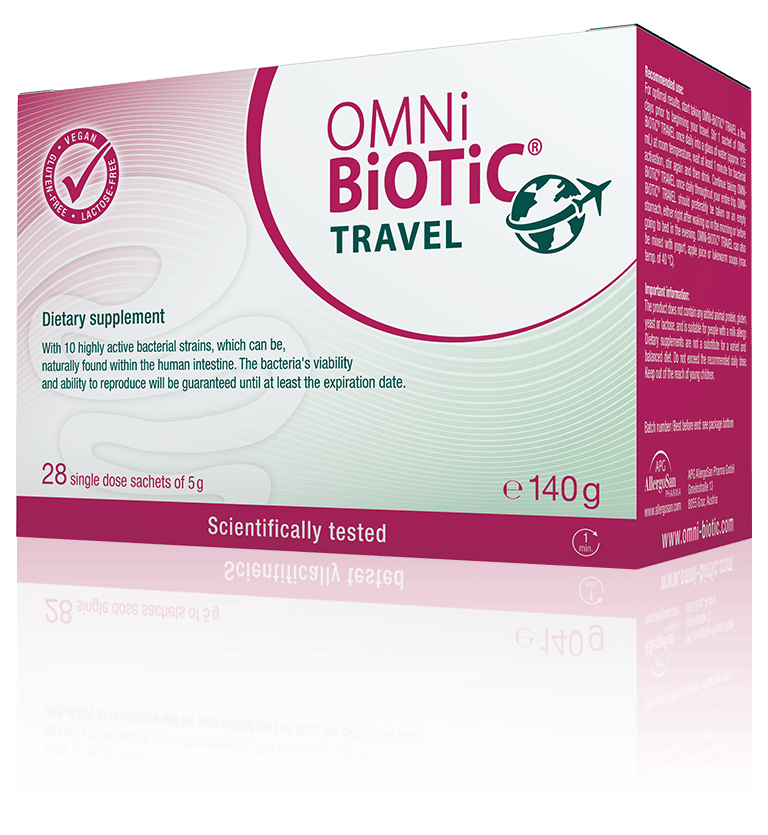 Sadly, not all holiday-makers come back home with pleasant memories. Foreign pathogens often come as a nasty surprise, with over 50% of all holiday-makers having to contend with traveller's diarrhoea – with traces of such "holiday souvenirs" often lasting a lifetime.
When staying abroad, the digestive system can be thrown out of balance through unusual foods and/or changes to our daily rhythm. It becomes even more unpleasant when harmful pathogens reach our digestive systems through tap water, ice cubes or even salads and unpeeled fruits.
That is why experts recommend that you prepare your intestines before any trip abroad. High-quality probiotics such as OMNi- BiOTiC® TRAVEL contain billions of highly-active, useful "helpers" (=gut bacteria) to help you through every day of your holiday.
Prepare your intestine for holidays with a good gut feeling!
Function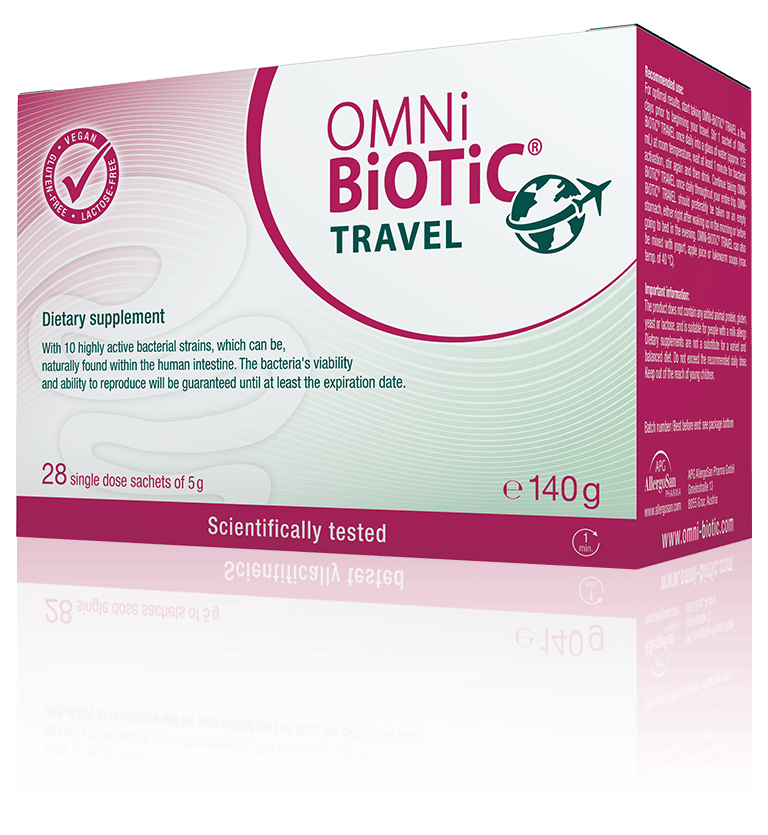 OMNi-BiOTiC® TRAVEL contains 10 highly active, specially selected bacterial strains. Every serving contains 5 billion highly active "helpers" (intestinal bacteria) to support your intestines so that you can enjoy your travels.
One outstanding feature of OMNi-BiOTiC® TRAVEL is the matrix in which the bacteria are stored. It contains enzymes and fibres that help stimulate the little synbiotic helpers and guarantee their survival through the hostile environments of the stomach and duodenum – and without any chemical additives such as capsules or coatings.
Interesting facts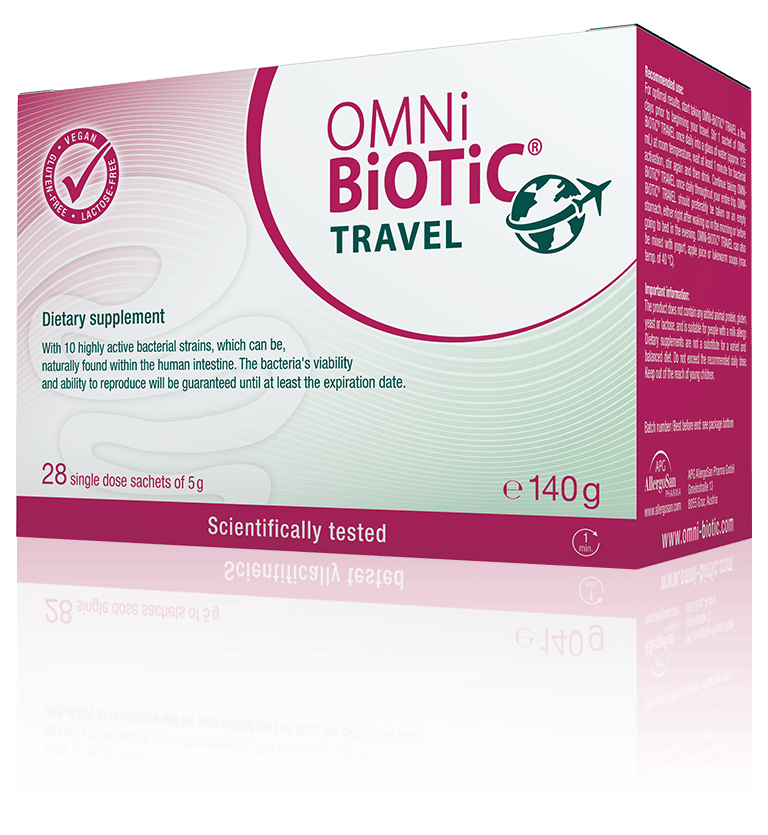 While abroad, our intestines are confronted by a different and unfamiliar bacterial environment, which can lead to diarrhoea and discomfort in the intestines.
To stay healthy and avoid the above-mentioned symptoms, follow this general rule of thumb: "cook it – peel it – or leave it!"
Recommended use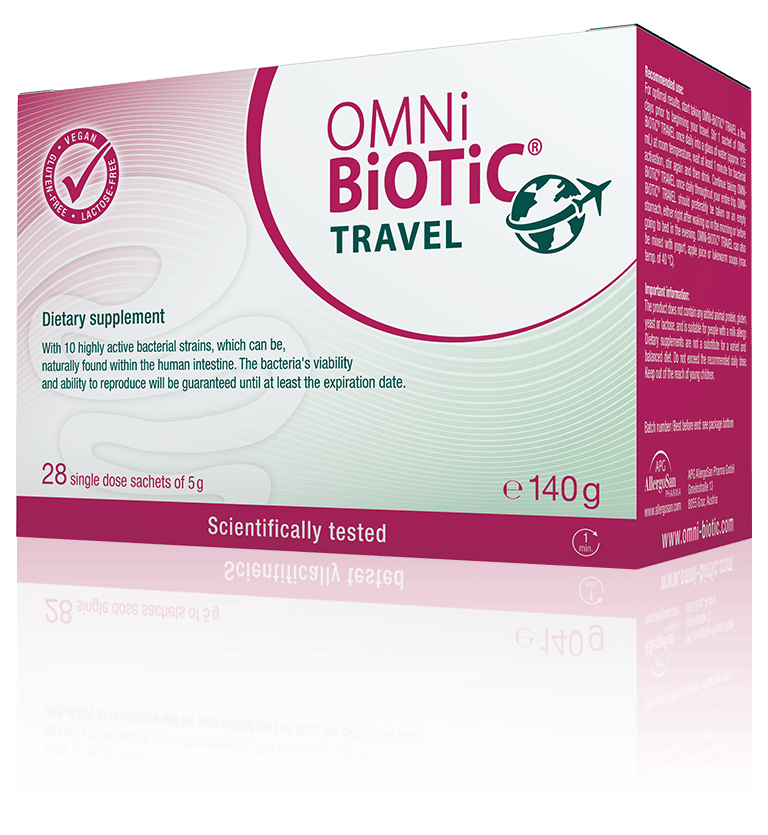 For optimal use, start taking OMNi-BiOTiC® TRAVEL a few days prior to the beginning your travel. Stir 1 sachet of OMNi-BiOTiC® TRAVEL once daily into a glass of water (approx. 125mL) at room temperature, wait at least 1 minute for bacterial activation, stir again and then drink.
Continue taking OMNi-BiOTiC® TRAVEL once daily throughout your entire trip.
OMNi-BiOTiC® TRAVEL should preferably be taken on an empty stomach, either right after waking up in the morning or before going to bed in the evening.
OMNi-BiOTiC® TRAVEL can also be mixed with yoghurt, apple juice or lukewarm soups (max. temp. of 40°C).
Composition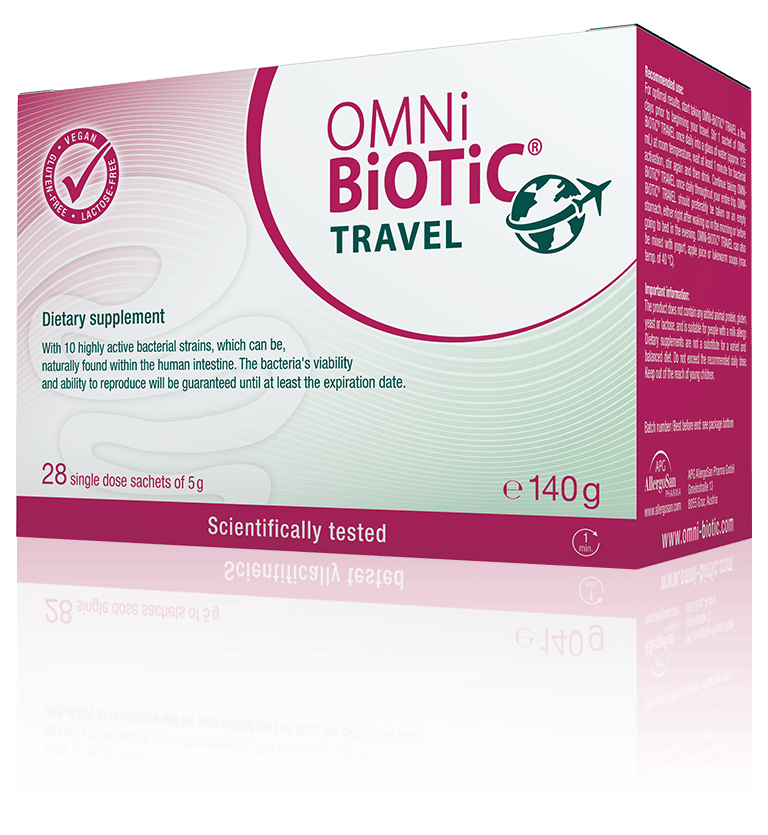 Ingredients
Corn starch, maltodextrin, fructooligosaccharides (FOS), corn dextrin, polydextrose, potassium chloride, rice protein, magnesium sulphate, bacterial strains*, enzymes (amylases), manganese sulphate
* 10 bacterial strains with a minimum of 5 billion organisms per single dose (= 5 g):
Lactobacillus acidophilus W37
Lactobacillus casei W56
Lactobacillus helveticus W74
Lactobacillus rhamnosus W71
Lactococcus lactis W58
Bifidobacterium breve W25
Lactobacillus salivarius W24
Lactobacillus plantarum W21
Bifidobacterium lactis W51
Bifidobacterium bifidum W23
These scientifically tested bacteria are guaranteed to maintain their viability and ability to replicate until the best before date.
Important information
The product does not contain any added animal protein, gluten, yeast or lactose and is suitable for people with a milk allergy. Dietary supplements are not a substitute for a varied and balanced diet. Do not exceed the recommended daily dose. Keep out of reach of young children.
Nutritional information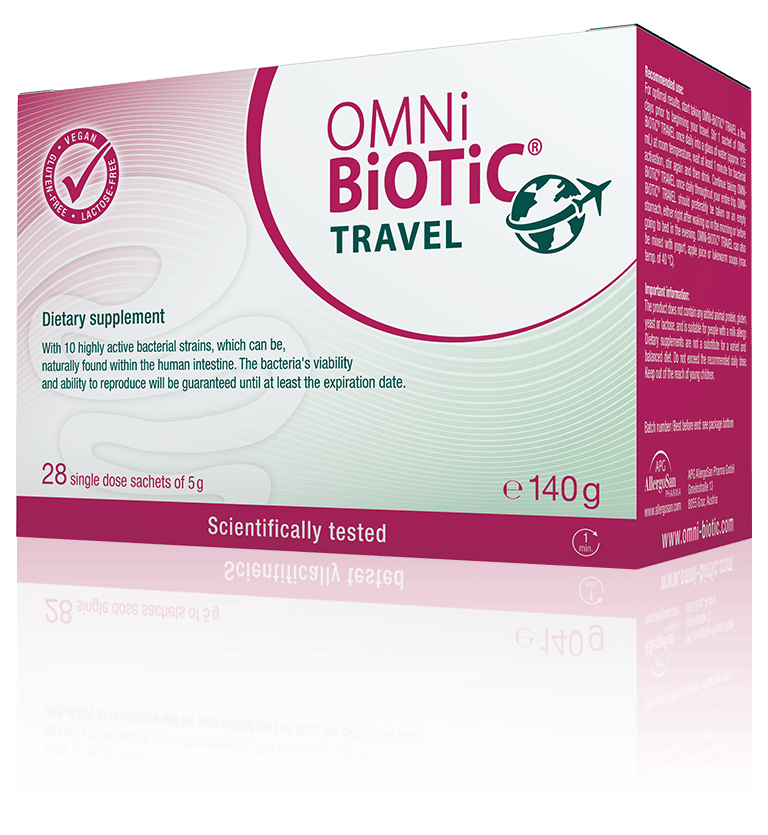 per 5 g (= single dose)
100 g
Calorific value
77.20 kJ
18.45 kcal
1,544 kJ
369 kcal
Fat
0.02 g
0.46 g
of which saturates
0.02 g
0.33 g
Carbohydrates
4.43 g
88.50 g
of which sugars
0.22 g
4.41 g
Protein
0.09 g
1.70 g

Salt

0.05 g
0.98 g
Package size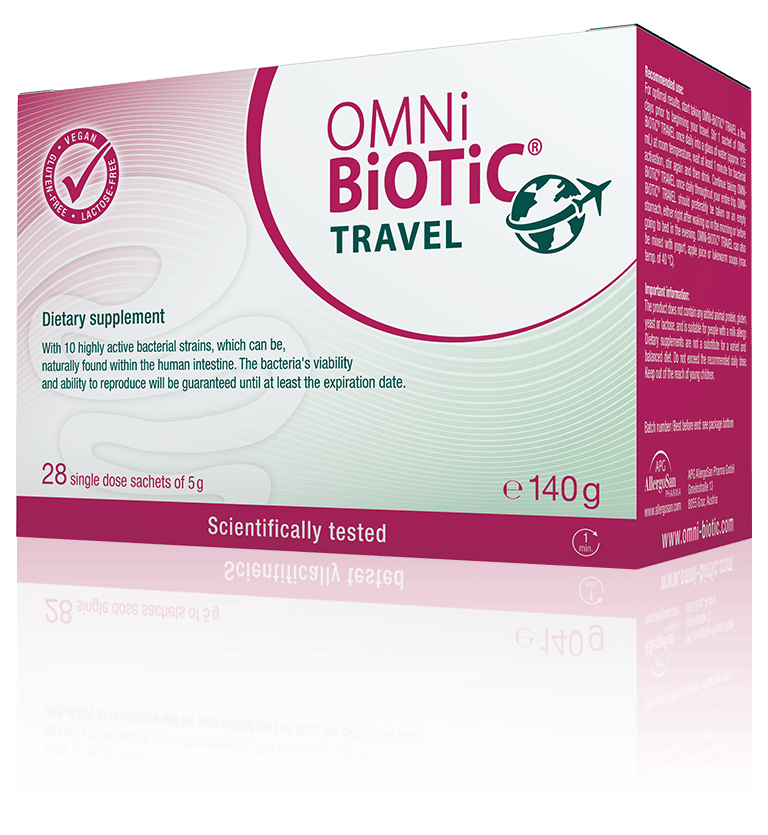 28 sachets each 5 g
Dietary supplement
With 10 highly active bacterial strains which can be found naturally within the human intestine. The bacteria's viability and ability to reproduce will be guaranteed until at least the expiration date.