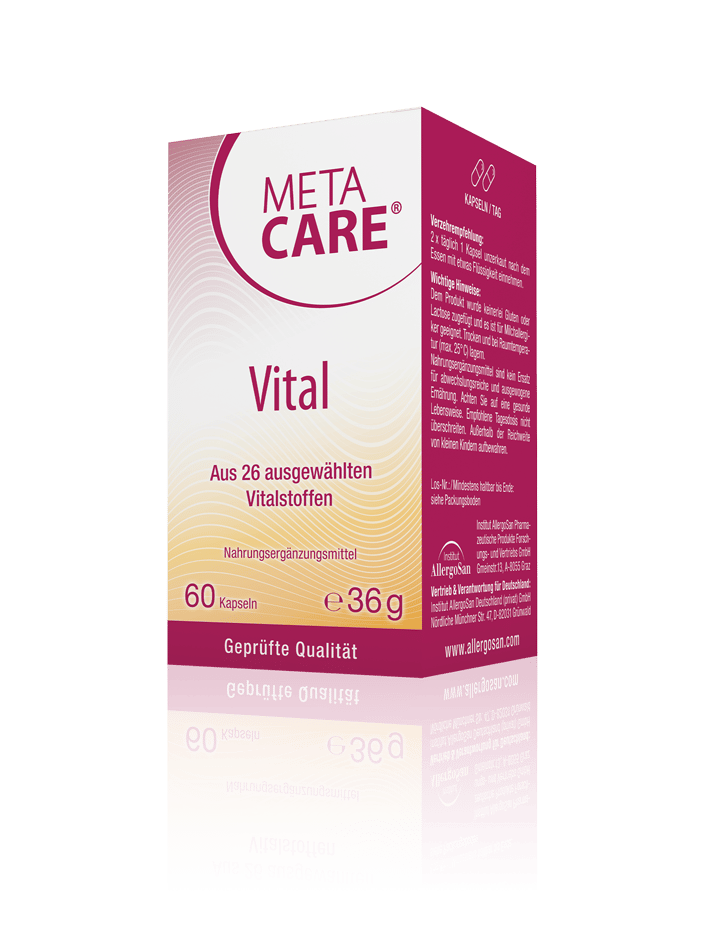 Information
Function
Recommended use
Composition
Ingredients
Package size
Online Shop
Information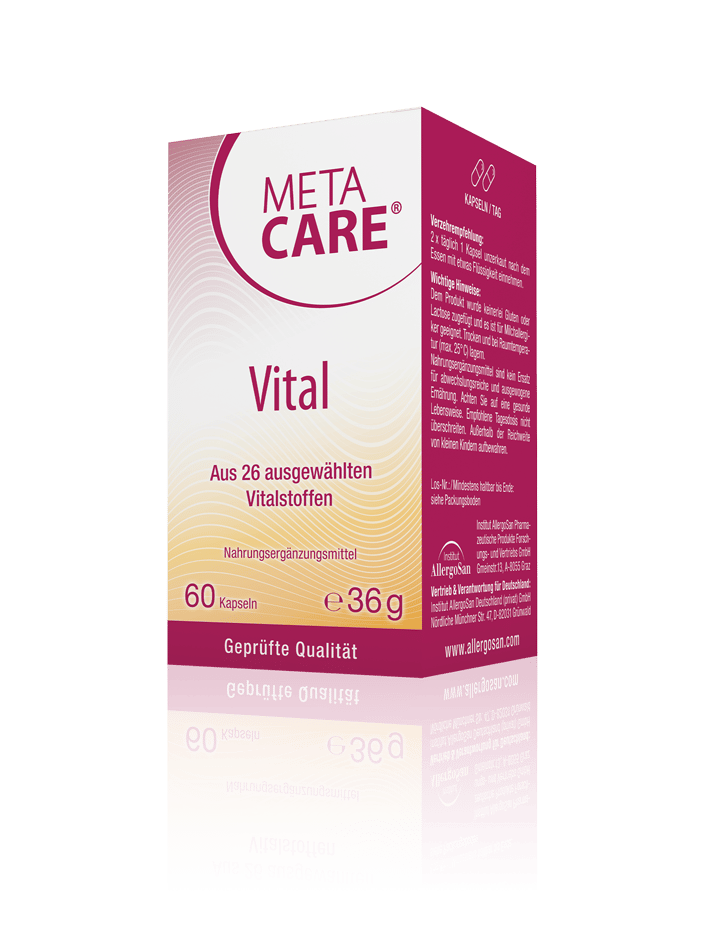 What is META-CARE® Vital?
All-round care with 26 valuable vital and protective substances
During strenuous physical activities, during pregnancy or also in the context of special diets, it often happens that the body needs more vitamins and minerals than can be supplied with food in order to maintain its vitality.
META-CARE® Vital is a comprehensive nutrient preparation with an ideally balanced combination of selected vitamins, trace elements and plant extracts. It contains 26 vital substances, including essential B vitamins, vitamin C, vitamin D, selenium and vitamin E. The formula is plant-supported with important flavonoids, for example from citrus extract, acerola, blueberries, grape seeds, buckwheat, as well as quercetin, lutein, polyphenols and anthocyanins. The comprehensive combination is ideal for improving the vitamin and vital substance intake – especially in case of increased need.
Function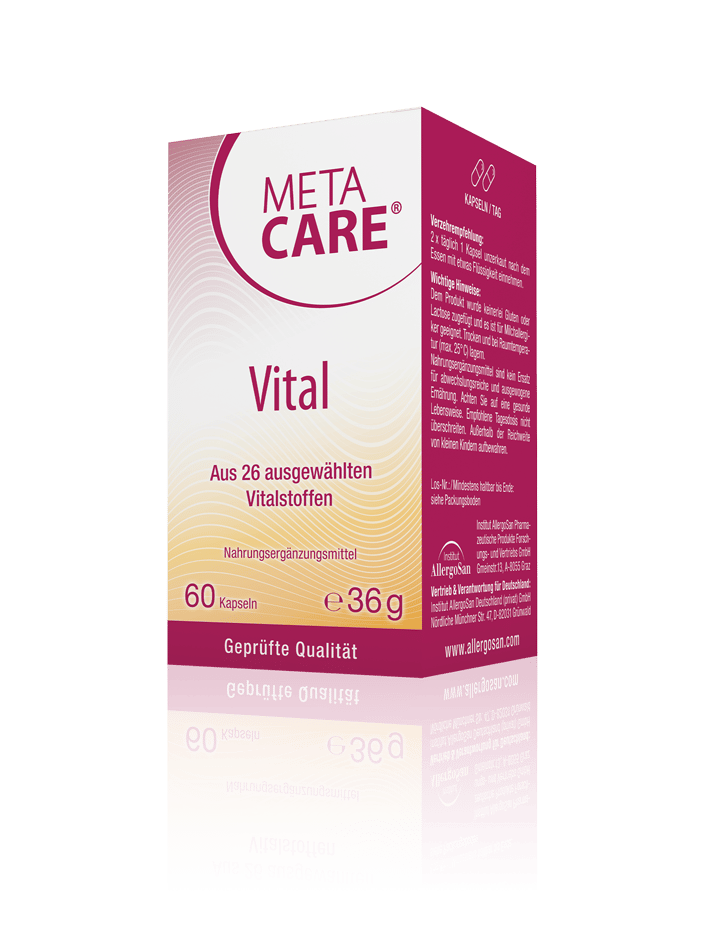 When can META-CARE® Vital be used?
For targeted nutrient supplement in the case of increased vital substance requirements and to support the maintenance of physical well-being.
Riboflavin (vitamin B2) helps reduce tiredness and fatigue
Biotin supports the normal metabolism of macronutrients
Zinc, selenium, vitamin C, vitamin E and manganese contribute to the protection of cells against oxidative stress
Ideal for increased nutritional needs, such as mental and physical stress, chronic diseases or during pregnancy.
Recommended use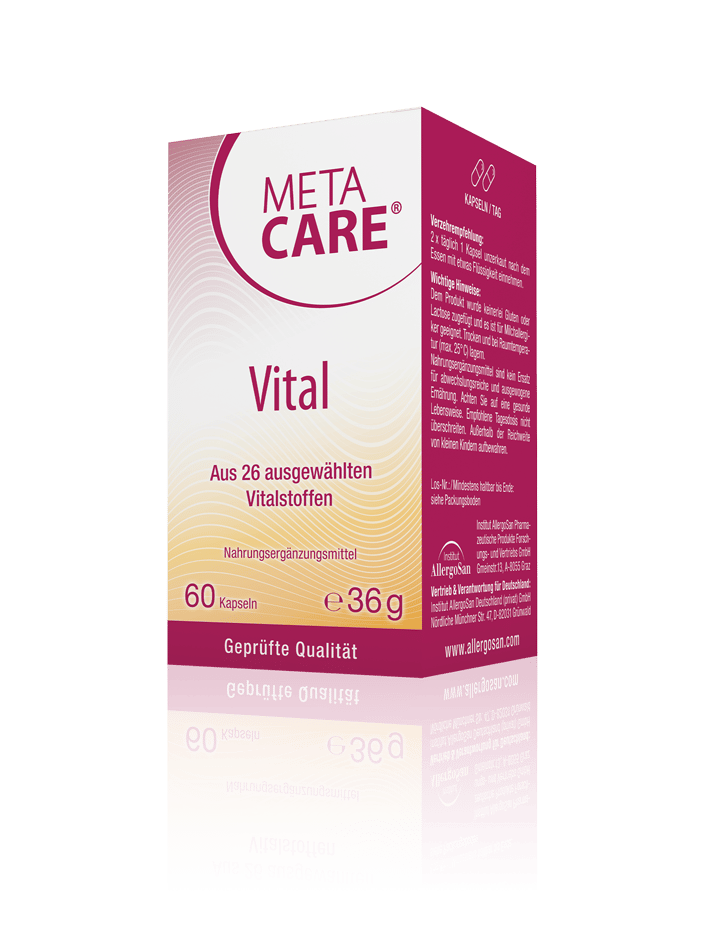 How is Meta-Care® Vital used?
Take 1 capsule twice daily with water, unchewed and after meals.
Composition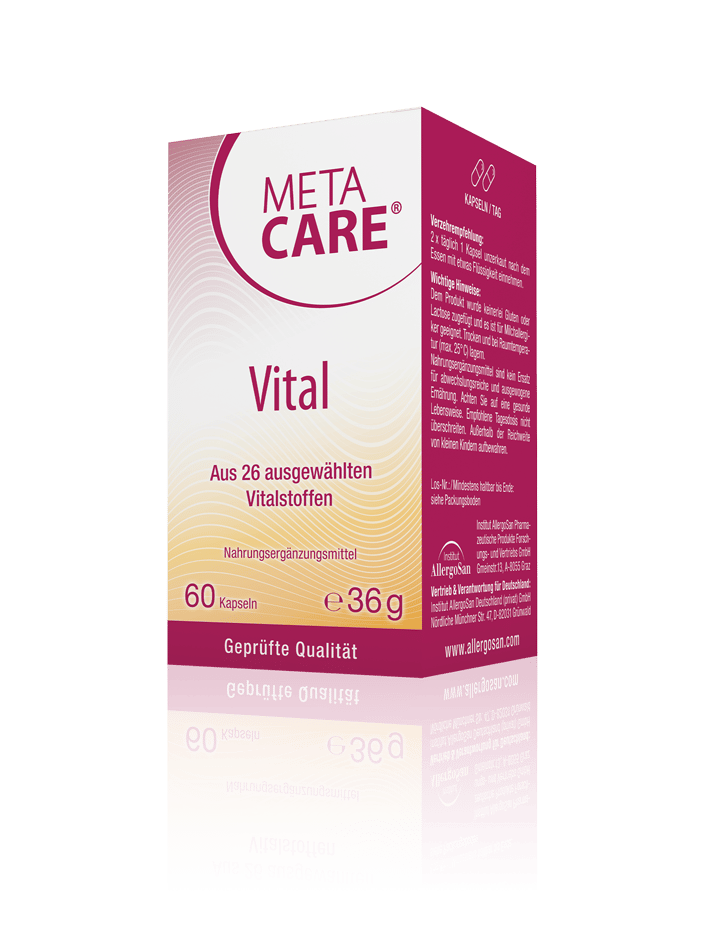 Composition
Acerola fruit extract; Omega-3 fish oil extract; Capsule shell: Hydroxypropylmethylcellulose; Onion extract; Zinc gluconate; Bilberry fruit extract; D-alpha-tocopheryl acetate;Nicotinamide; Dunaliella salina algae powder; Sodium selenate; corn starch;Grape seed extract; Buckwheat seed extract; Calcium D-pantothenate; Coenzyme Q10; Manganese gluconate; Citrus fruit extract; Sodium riboflavin-5-phosphate; Pyridoxal-5-phosphate; Sodium molybdate; Tagetes flower extract; Tomato fruit extract; Chromium chloride; Thiamine hydrochloride; Cholecalciferol; 5-Methyltetrahydrofolate glucosamine; D-Biotin; Methylcobalamin.
Free from gluten and lactose.
Suitable for diabetics and people allergic to milk.
This product is also safe for use during pregnancy and while breastfeeding.
Ingredients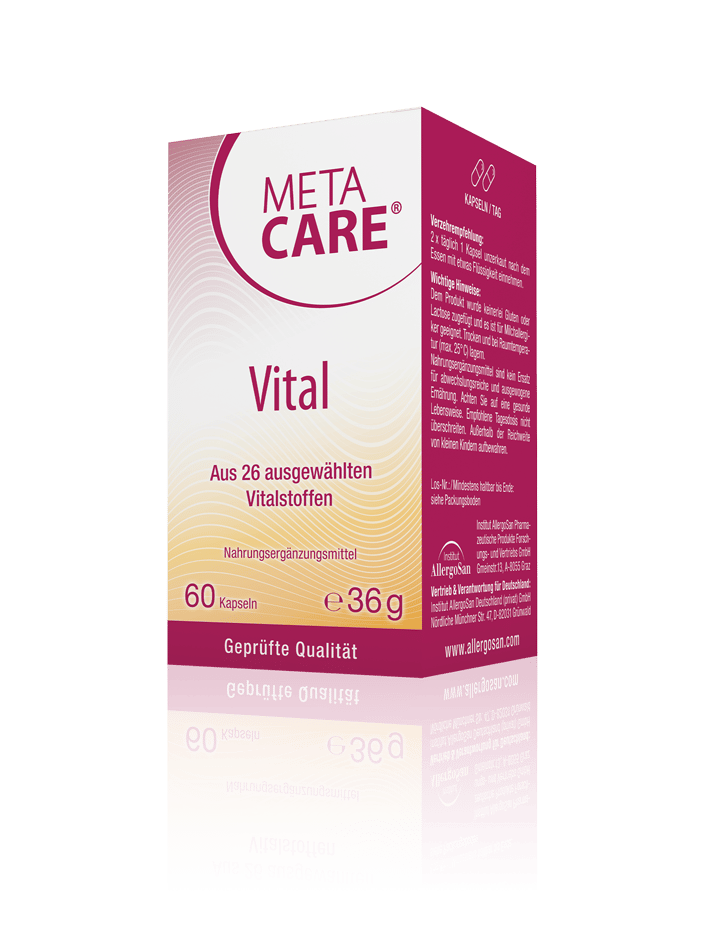 Ingredients
Contents per daily dose = 2 capsules
Beta-Carotene (2 mg; equivalent to Vitamin A 333,33 μg)
Vitamin D3 (3,4 μg / 136 IE)
Vitamin E (24 mg)
Acerola fruit extract (320 mg; of which Vitamin C 160 mg)
Thiamine (2,2 mg)
Riboflavin (5,6 mg)
Niacin (33,3 mg)
Vitamin B6 (5 mg)
Folic acid (334 μg)
Vitamin B12 (3,4 μg)
Biotin (100 μg)
Pantothenic acid (10 mg)
Zinc (12 mg)
Manganese (1 mg)
Selenium (40 μg)
Chrome (26,7 μg)
Molybdenum (33,3 μg)
Coenzyme Q10 (10 mg)
Omega-3-fish oil extract (233,3 mg; of which EPA 25,2 mg; of which DHA 16,8 mg)
Onion extract (100 mg; of which Quercetin 5 mg)
Blueberry extract(80 mg; of which Anthocyanins 20 mg)
Grape seed extract (16,7 mg; of which Polyphenols 15,8 mg, of which OPC 10 mg)
Buchweizen-Extrakt (14,2 mg; of which rutin 5 mg)
Citrus extract (8,2 mg; of which hesperidin 5 mg)
Marigold flower extract (3,3 mg; of which lutein 0,7 mg)
Tomato extract (3,3 mg; of which lycopene 0,7 mg)
Food supplement
Package size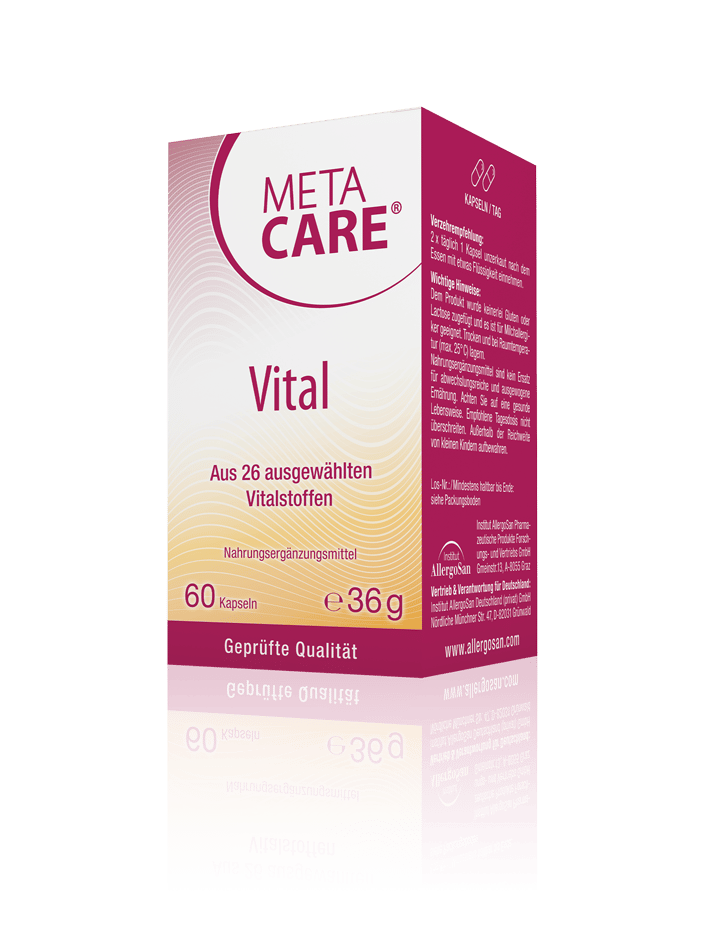 60 capsules
Available in our online shop
Food supplement