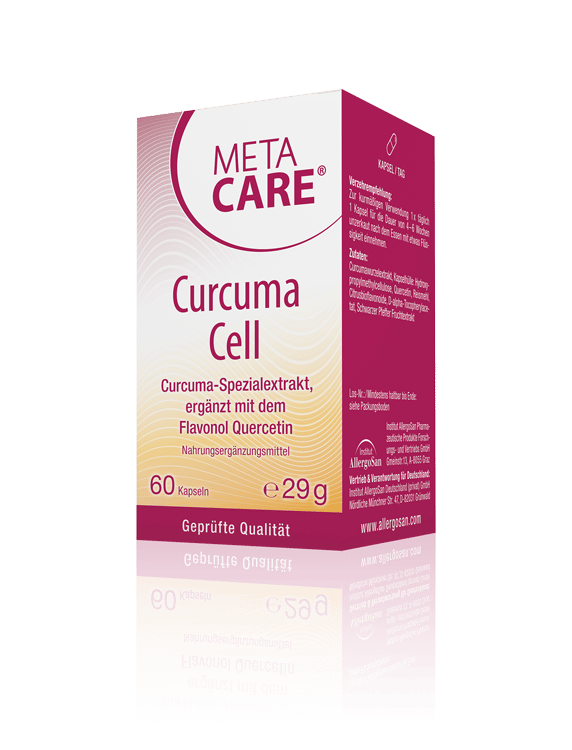 Information
Function
Recommended use
Composition
Ingredients
Package size
Online Shop
Information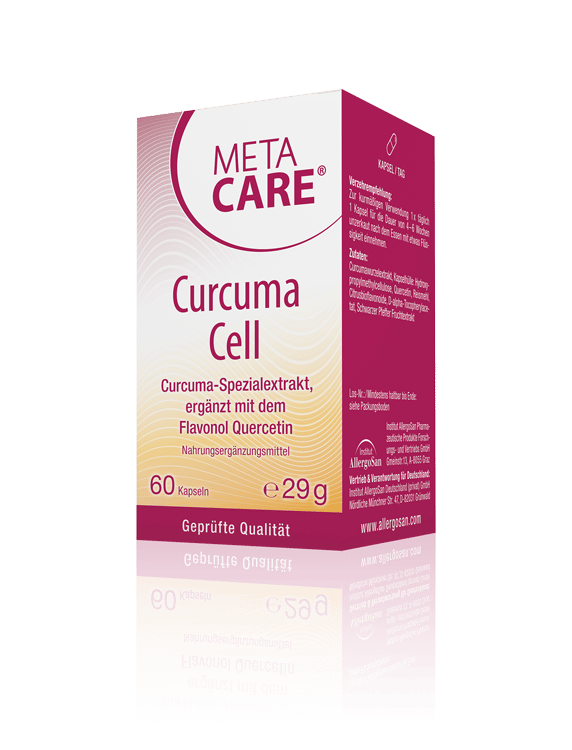 What is META-CARE® Curcuma Cell?
Antioxidant nutrient combination with curcumin and plant quercetin
Curcuma is obtained from the roots of the Curcuma longa (turmeric) plant, which belongs to the ginger family. Curcuma contains numerous valuable ingredients, such as curcuminoids and essential oils.
META-CARE® Curcuma Cell contains a clinically proven curcuma special extract standardised to the high proportion of 95 % curcuminoids. The specially added black pepper extract increases the bioavailability of curcumin in the body. The formula is supplemented with the flavonol quercetin, citrus bioflavonoids and vitamin E. Vitamin E is an important antioxidant component in protecting cells from free radical activity.
Function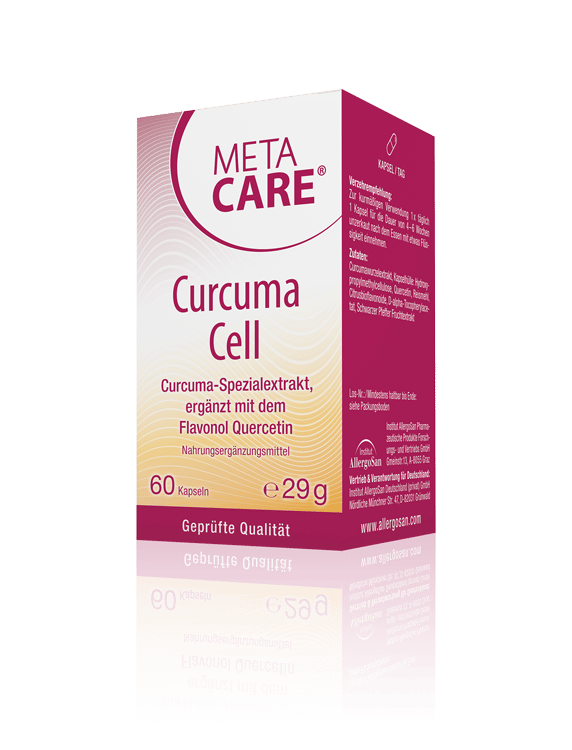 When can META-CARE® Curcuma Cell be used?
For the targeted supplement of curcumin and quercetin
To support cell protection against free radicals (vitamin E)
Ideal for the body's exposure to free radicals, which can increase as a result of stress, intensive sports or environmental pollution.
Recommended use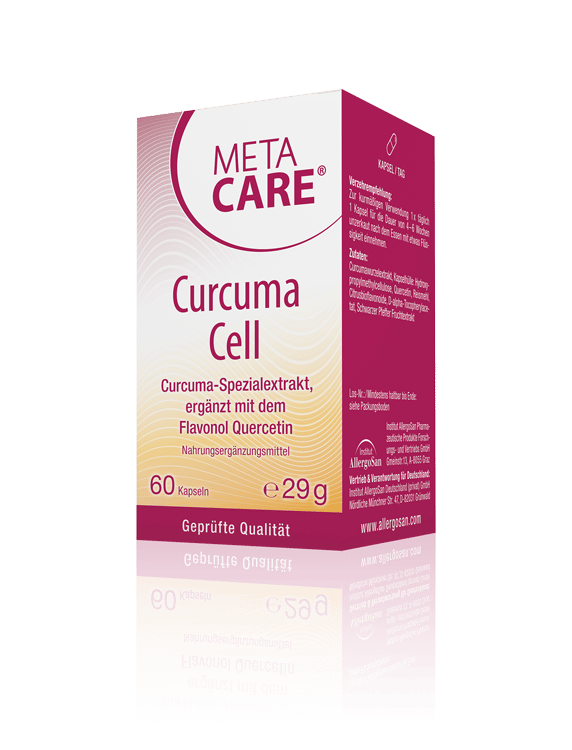 How is META-CARE® Curcuma Cell used?
Take 1 capsule once a day with water, unchewed and after a meal.
Please note
Due to the black pepper extract contained in the formula, we recommend consulting your doctor regarding use during pregnancy and while breastfeeding.
Composition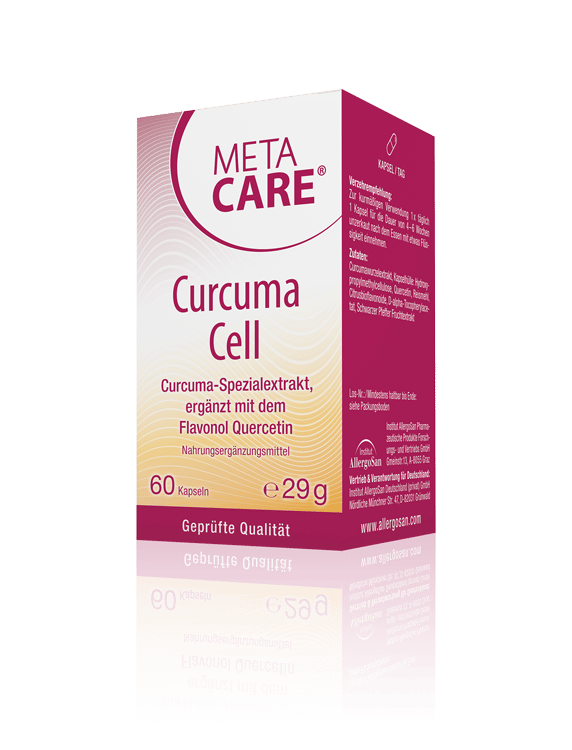 Composition
Curcuma root extract; capsule shell: hydroxypropylmethylcellulose; quercetin; rice flour; citrus bioflavonoids; D-alpha-tocopheryl acetate; black pepper fruit extract.
Free from animal protein, gluten and lactose.
Suitable for diabetics and people allergic to milk.
Ingredients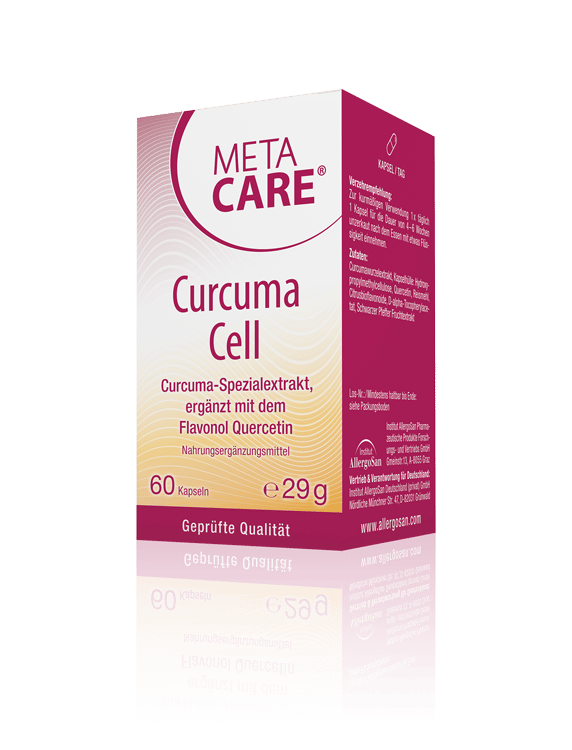 Ingredients
Ingredients per daily dose = 1 capsule
Vitamin E (3,0 mg)
Curcuma cxtract (263,0 mg; of which curcuminoids 250,0 mg)
Quercetin (50,0 mg)
Citrus bioflavonoids (10,0 mg)
Black pepper extract (2,6 mg; of which piperine 2,5 mg)
Food supplement
Package size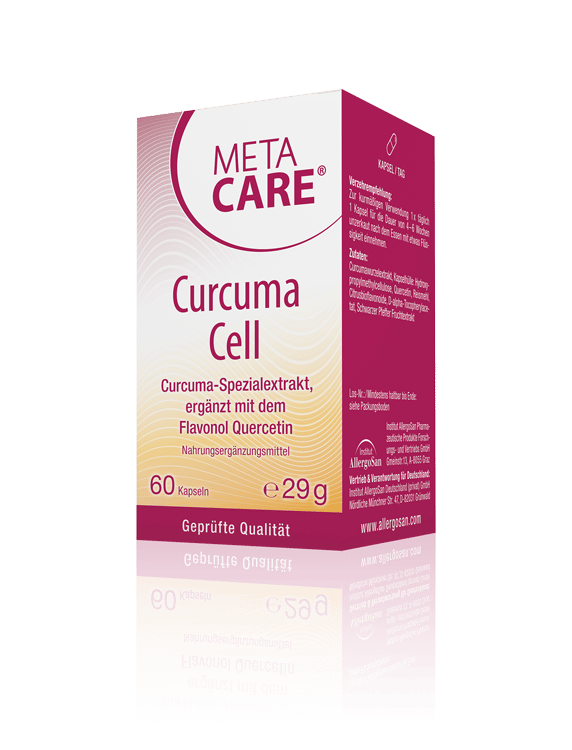 Contains 60 capsules
Available in our online shop
Food supplement