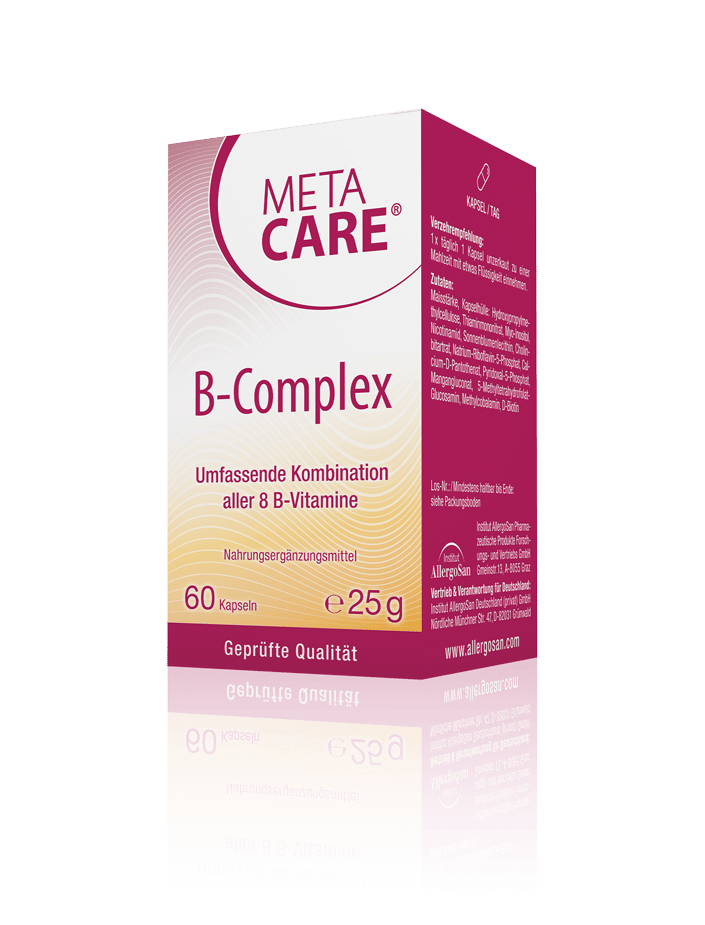 Information
Function
Recommended use
Composition
Ingredients
Package size
Online Shop
Information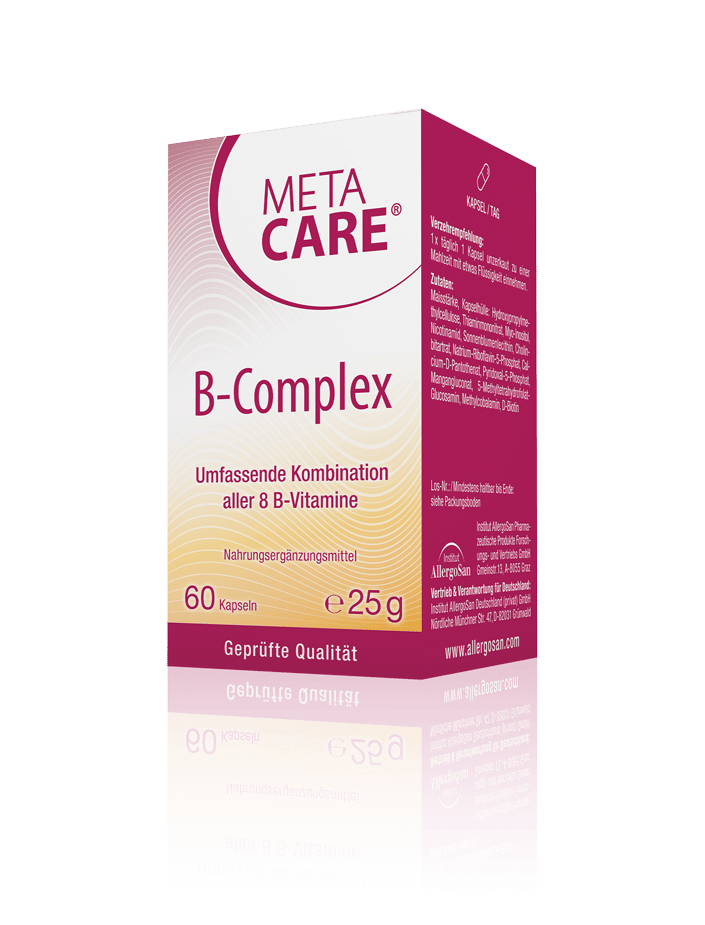 What is META-CARE® B-Complex?
Vitamin complex of all 8 B vitamins with important phosphatidylserine
B vitamins fulfil a variety of tasks in the metabolism and are essential for our well-being. META-CARE® Vitamin B-Complex contains all 8 B vitamins in their biologically active form. This makes the vitamins quickly available for a wide variety of metabolic processes.
The formula is ideally supplemented with phosphatidylserine, which occurs in particularly high quantities in the brain. Phosphatidylserine is an essential component of all cell membranes. It also plays a special role in the transmission of stimuli between nerve cells and is thus responsible for the processing and transmission of information. The formula also contains inositol and choline, which have long been assigned to the B vitamin complex under the names vitamin B8 and B4 and fulfil many important functions in the body.
Function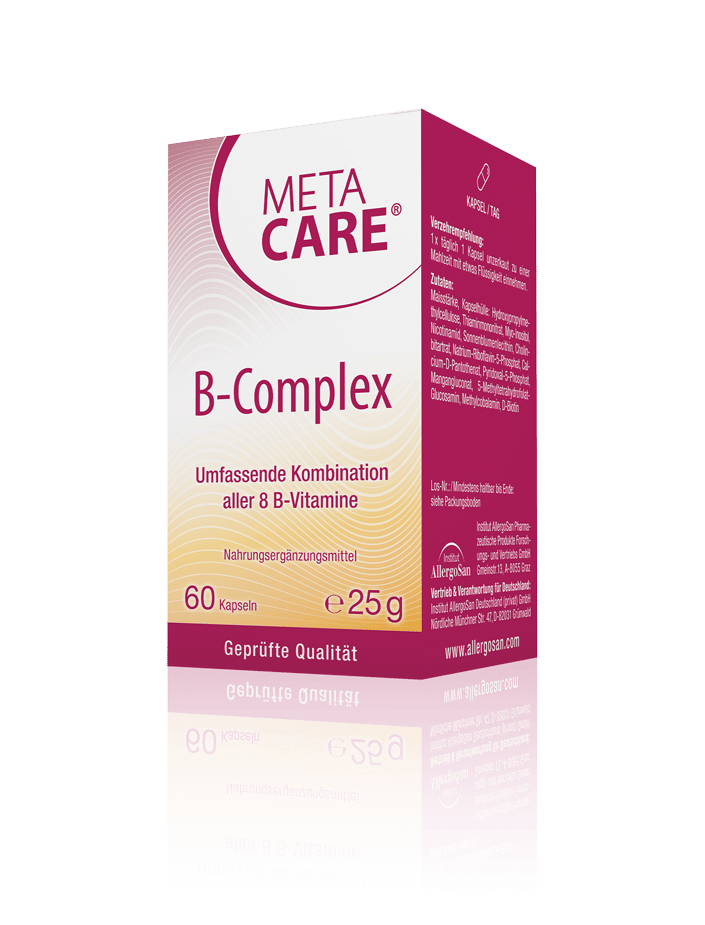 When can META-CARE® B-Complex be used?
For the targeted supplement of all 8 B vitamins
To support the normal function of the nervous system (vitamins B2, B6, B12, thiamine, niacin, biotin).
Contribution to normal mental function (vitamin B1, B6, B12, niacin, biotin, folic acid)
Contribution to normal mental performance (pantothenic acid)
Ideal for supporting the nervous system, especially in times of increased stress.
Recommended use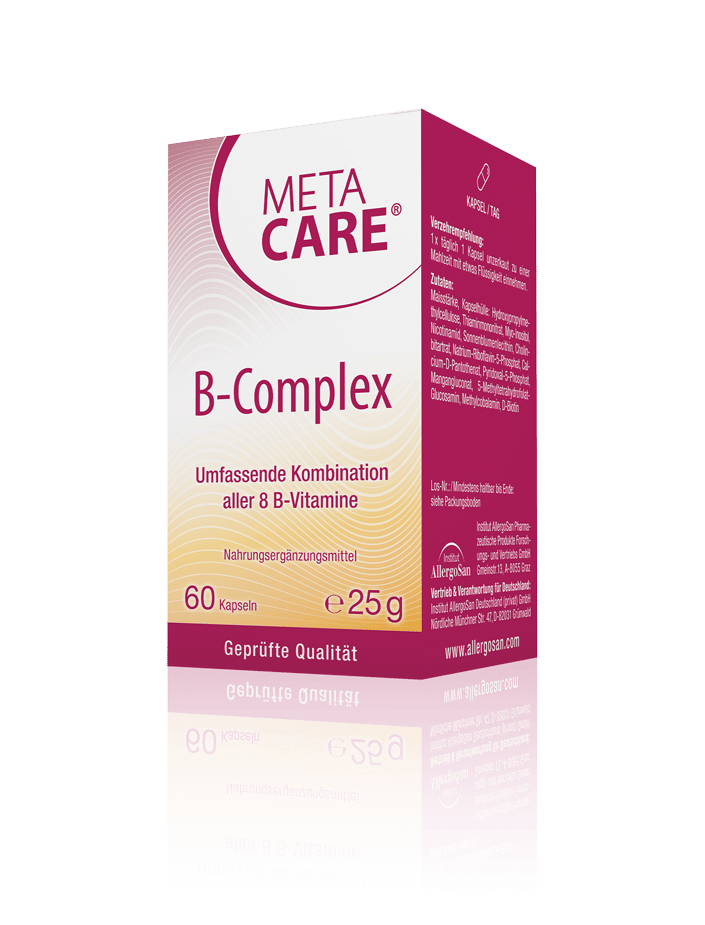 How is META-CARE® B-Complex used?
Take 1 capsule daily with water, unchewed and with a meal.
Composition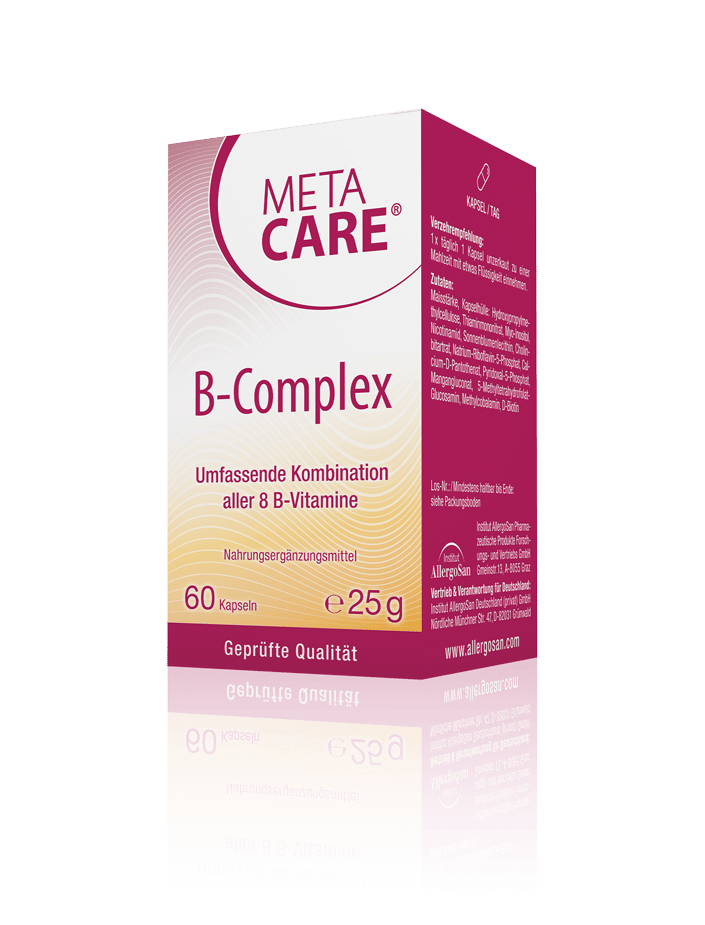 Composition
Corn starch; capsule shell: hydroxypropylmethylcellulose; thiamine mononitrate; myo-inositol; nicotinamide; sunflower lecithin; choline bitartrate; sodium riboflavin-5-phosphate; calcium D-pantothenate; pyridoxal-5-phosphate; manganese gluconate; 5-methyltetrahydrofolate glucosamine; methylcobalamin; D-biotin.
Free from animal protein, gluten and lactose.
Suitable for diabetics and people allergic to milk. This product is also safe to use during pregnancy and while breastfeeding.
Ingredients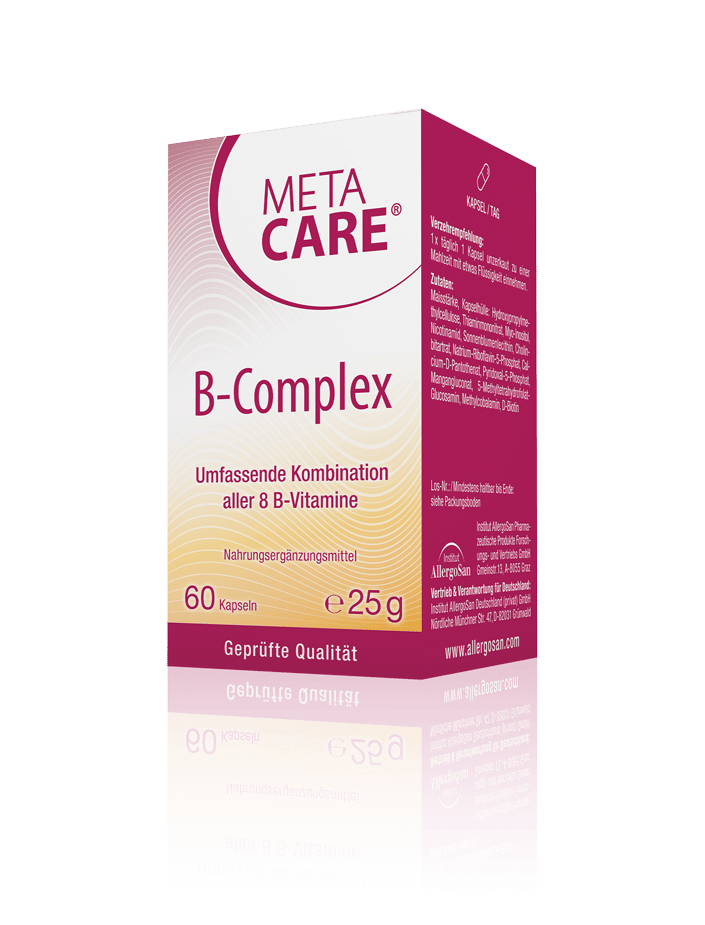 Ingredients
Contents per daily dose (= 1 capsule)
Thiamine (25 mg)
Riboflavin (10 mg)
Niacin (25 mg)
Vitamin B6 (10 mg)
Folsäure (200 μg)
Vitamin B12 (50 μg)
Biotin (50 μg)
Pantothenic acid (10 mg)
Manganese (1,0 mg)
Myo-Inositol (25 mg)
Sunflower lecithin (25 mg; davon Phosphatidylserine 10 mg)
Choline (10 mg)
Food supplement
Package size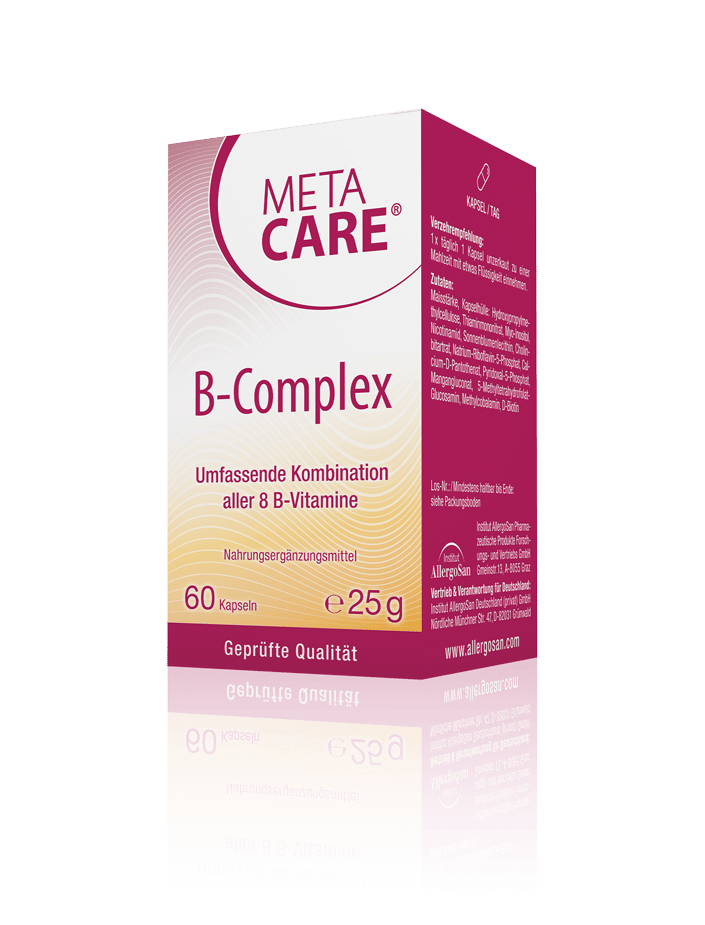 Contains 60 capsules
Available in our online shop
Food supplement