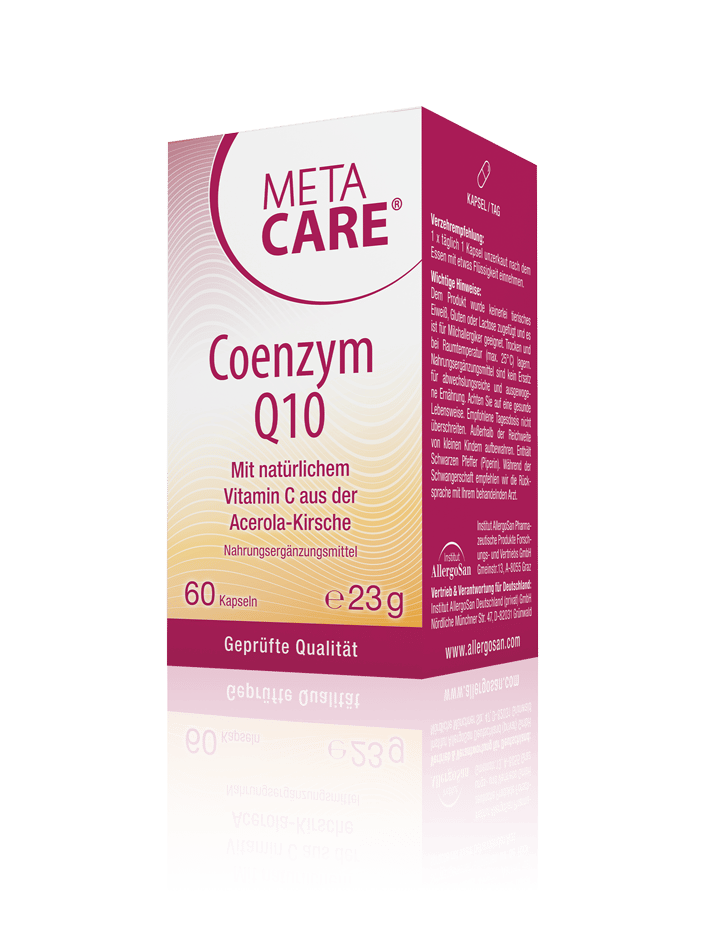 Information
Function
Recommended use
Composition
Ingredients
Package size
Online Shop
Information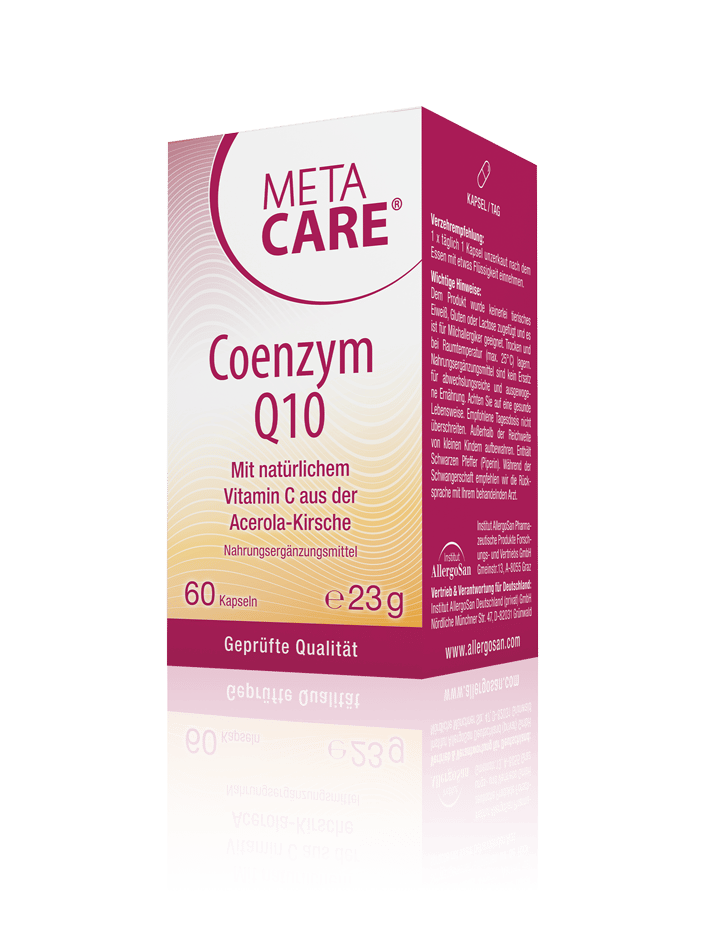 What is META-CARE® Coenzyme Q10?
Innovative combination of coenzyme Q10, curcuma and herbal vitamin C
Coenzyme Q10 is a vital substance that is produced naturally in the body, which every cell needs to produce energy. That is why it is found in organs that have especially high energy requirements. Coenzyme Q10 can be produced by the body itself. However, as we age, the ability to do so decreases, which is why taking a supplement is highly recommended as we get older.
META-CARE® Coenzyme Q10 contains an ideally balanced combination of high-quality coenzyme Q10, curcumin, vitamin E, plant-based vitamin C from acerola cherries and black pepper extract. The vitamin C supports normal energy metabolism and helps protect the cells from oxidative stress. The clinically proven black pepper extract increases the bioavailability of coenzyme Q10 in the body. The formula is optimised with valuable curcuminoids from the root of the plant Curcuma longa.
Function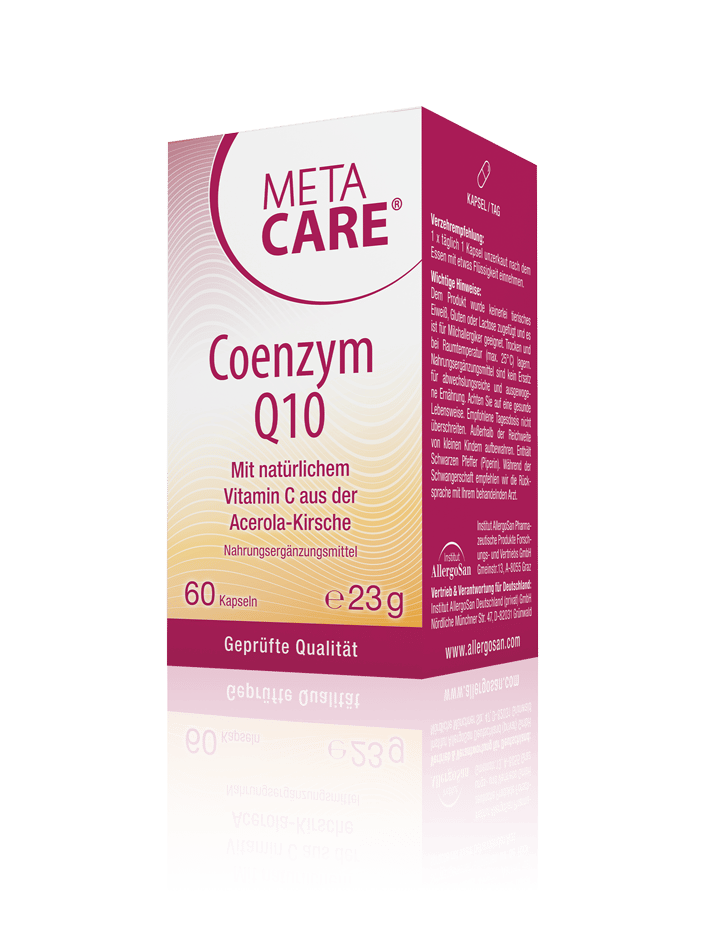 When can META-CARE® Coenzyme Q10 be used?
For the targeted supplement of coenzyme Q10
Contribution to the maintenance of a normal energy metabolism (vitamin C)
Contribution to the reduction of tiredness and fatigue (vitamin C)
Contribution to the protection of cells against oxidative stress (vitamin C, vitamin E)
To support an intact immune system during and after intensive physical activity (vitamin C).
Ideal for when high energy levels are required, such as during phases of intense physical exertion or intensive exercise.
Recommended use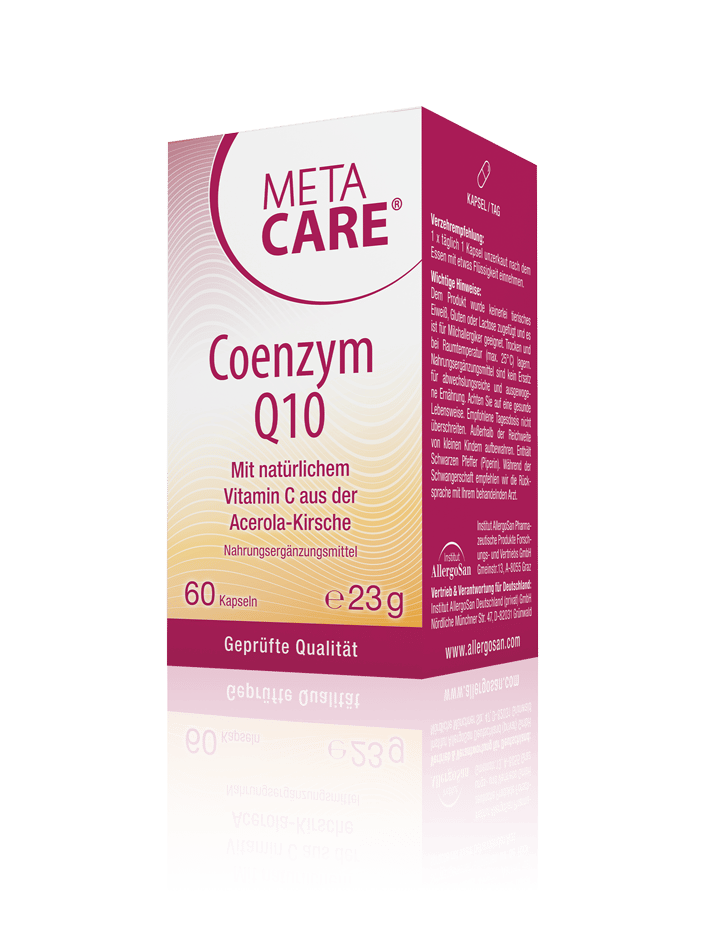 How is META-CARE® Coenzyme Q10 used?
Take 1 capsule daily with water, unchewed and after a meal.
Please note
Due to the black pepper extract contained in the formula, we recommend consulting your doctor regarding use during pregnancy and while breastfeeding.
Composition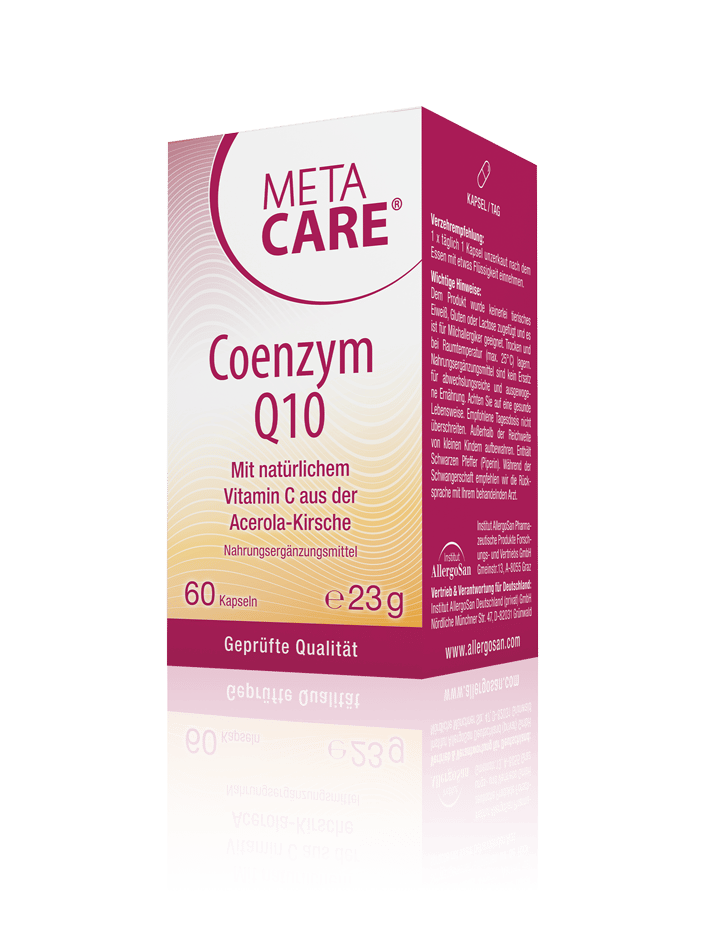 Composition
Acerola fruit powder, coenzyme Q10, capsule shell: hydroxypropylmethylcellulose, curcuma root extract, D-alpha- Tocopheryl acetate, calcium ascorbate, anti-caking agent: (magnesium salts of fatty acids, silicon dioxide), black pepper fruit extract
Free from animal protein, gluten and lactose.
Suitable for diabetics and people allergic to milk.
Ingredients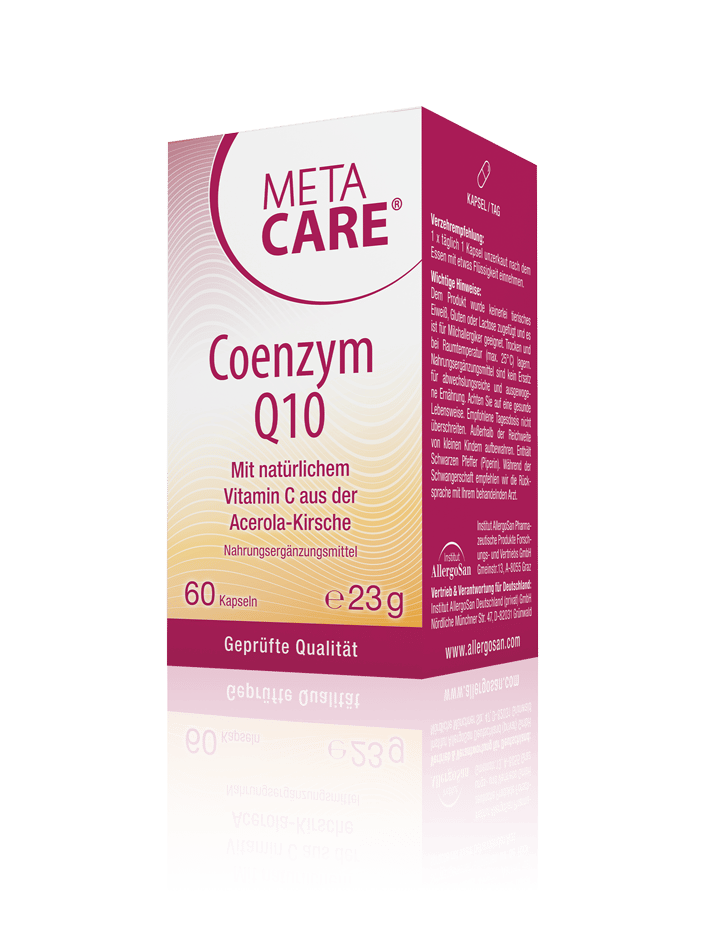 Ingredients
Contents per daily dose = 1 capsule
Coenzyme Q10 (100 mg)
Curcuma extract (30 mg; of which curcuminoids 28,5 mg)
Black pepper extract (3 mg; of which piperine 2,9 mg)
Vitamin E (10 mg)
Vitamin C (30 mg; from acerola 18 mg; from calcium ascorbate 12 mg)
Food supplement
Package size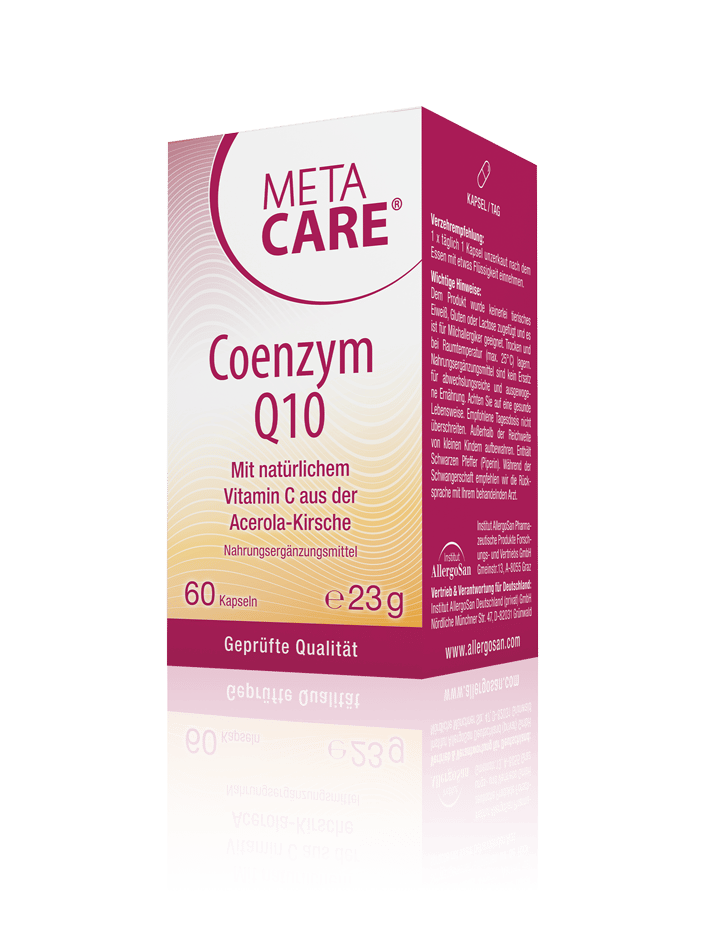 60 capsules
Available at our online shop
Food supplement